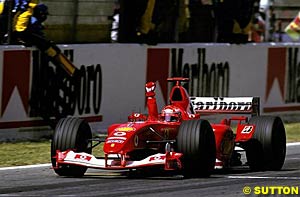 Some people said the San Marino Grand Prix would be the turning point of the 2003 season, and two weeks later it's hard not to agree. Formula One's return to Europe saw the return to form of Michael Schumacher and his Ferrari team, and last Sunday's Spanish Grand Prix was further proof that, after his worst start of a Grand Prix season, the German has brought his rivals back to reality.
The interesting part, however, is that no one yet knows what that reality is. Will Ferrari sweep the field from now on? Or is the new F2003-GA not as quick as expected? And who is Schumacher's main rival? The reality seems to be that, after the first five races of the 2003 season, the only certain fact is that the German five-time champion will be there fighting for victory in every race. As for the rest, the Spanish Grand Prix raised more questions than answers.
So Ferrari finally introduced their new car, and to some the "Red Shark" failed to live up to the expectations. "I wasn't really impressed by the pace of the new Ferrari," said McLaren chief Ron Dennis. "It's a step but not a very big step on the pace of their old car."
It is still too early to judge the new F2003-GA, but it's worth remembering what Dennis said when Ferrari introduced the F2002 last year: "It was a pretty impressive performance really by Michael but at least they didn't have the level of dominance that was anticipated from the new car. I think it is beatable. Some people are portraying it as unbeatable, but time will tell." And everybody knows what time told.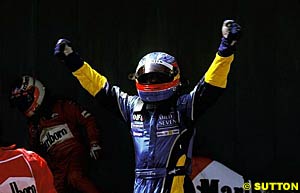 The performance of the new Ferrari was hard to judge, although few could argue something against a car that sets pole and wins out of the box. What's clear is that the World Champions were wise enough to wait until they felt the car was ready to make it to the end of the race before debutting it. The cautious approach paid off, both at Imola and at Barcelona, and, after a poor start to their year, now the pendulum has swung back to the World Champions and it seems like their rivals will have to play catch up.
Schumacher's flawless weekend not only helped Ferrari continue with their amazing record when it comes to debutting new cars - for the last five years, each time the Maranello-based squad have introduced a new car, they have come away with victory - but it also allowed the German to move right back into the hunt for the Championship, currently led by Kimi Raikkonen.
As unimpressed as Ron Dennis was by the new F2003-GA, it has to be said that all the signs in Spain suggested he had reasons to be concerned. If Schumacher's performance did not look totally dominating it was only because of Renault's, read Fernando Alonso's, pace during the whole weekend.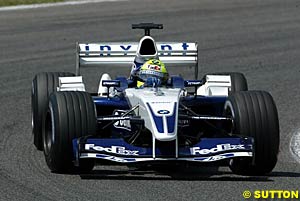 Like Renault's technical director Mike Gascoyne said at Barcelona, Alonso is the sort of driver who could win races in a car that should not be doing it. That's something else he will have in common with Schumacher the day he scores his maiden Grand Prix victory. In Spain, Alonso managed to do something very few drivers had achieved in the past: he put Michael Schumacher under immense pressure in an inferior car, something the German had to for a long time himself before Ferrari became the class of the field.
With a car reportedly much less powerful than the Ferrari, Alonso's driving was perfect from start to finish and those already drawing comparisons between him and Schumacher had more reasons to support their point. Like Schumacher, Alonso was consistently quick throughout the whole race; like Schumacher, he was relentless when putting pressure on their rivals; and like Schumacher, he looked totally in control at all times.
The Spaniard's third place in the standings after five races is no fluke and, in a country where Formula One used to be overlooked by most, Alonso is now hailed a hero and is making the headlines day in day out.
If Alonso made his team look better than their car is, the opposite could be said about David Coulthard and Kimi Raikkonen, whose McLaren team would have been better off skipping the race weekend altogether. Both men were off the pace on Friday and Saturday, and Raikkonen did not help his cause when he went off during his final flying lap. In the end both paid the price for their low starting positions and the Woking-based team could begin packing after less than 20 laps.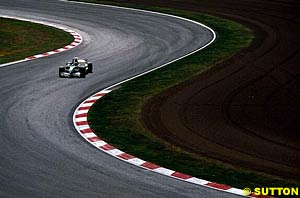 With the new qualifying rules, and considering McLaren's tendency to start the race with more fuel than their rivals, their drivers will always run the risk of clashing with other drivers. While in the first races the strategy paid off, in Spain it backfired and left McLaren with Ferrari breathing down their necks.
If there was something positive for McLaren it was that, at least, Ferrari were unable to draw comparisons about the race pace of their new car with the old MP4-17D, something that didn't apply to Williams, who despite scoring good points, proved to be very far from the Ferraris on a track where they have probably tested more than any other team. Despite their hard work, the FW25 is still lacking downforce and both Ralf Schumacher and Juan Pablo Montoya struggled to drive the car on the limit.
The Spanish Grand Prix left some of the other teams with mixed feelings, especially BAR and Toyota, who again failed to materialise their impressive qualifying performances. At least the Japanese squad scored their first points of the year thanks to Cristiano da Matta, who like Jaguar's Mark Webber and Ralph Firman in the Jordan finally managed to get into the top eight.
Qualifying Analysis
The early signs had already suggested the much-awaited F2003-GA had the necessary speed to be a worthy successor to the all-conquering F2002, and qualifying for the Spanish Grand Prix confirmed the signs were not misleading. The F2002 had been a winner out of the box, but the new Ferrari, named after the late Fiat patriarch Gianni Agnelli, went one better and got pole position in its first outing, something not even the F2002 had managed when the World Champions debuted it in Brazil last year.
The truth is that, having started from pole in Spain the previous three years, few were expecting to see other than Michael Schumacher clinch the top spot, especially after showing in the previous races that he has had no problems adapting to the new qualifying format.
Qualifying, however, is still proving to be something of a mystery this year, and not even the Friday session, where there aren't any strategic considerations to take into account, seems to show the true speed of the cars. The F2003-GA, in the very first stages of its evolution, proved to be nearly a second quicker than the McLarens and more than one than the Williams, while the Renaults, Toyotas and BARs looked like the real contenders on Friday.
The Spanish Grand Prix, on a circuit where most of the teams have tested thoroughly during the year, is always a good indicator that highlights the weak and strong points of the cars. This year that was the case, and what qualifying suggested was later confirmed in the race.
The Grid
1. Michael Schumacher Saturday time: 1:17.762
Friday Qualifying: 1st, 1:17.130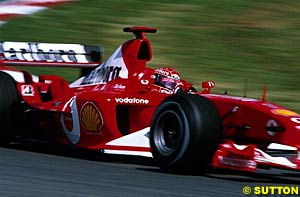 The expectation surrounding the debut of the F2003-GA was so great that it seemed some of Ferrari's rivals were expecting the new machine to be a second clear of the rest of the pack. So when Schumacher topped the times in Friday's qualifying by a mere 0.019 seconds over the Renault of Jarno Trulli there were some sights of relief. The gap, however, got substantially bigger on Saturday after the German put on a lap he said it was far from perfect, and only Alonso managed to stay in touch with the Ferraris.
Schumacher's pole was his sixth in Spain and the 53rd of his career, but most importantly it gave the new F2003-GA the perfect start. Asked to put into words the differences between the new and the old cars, Schumacher just replied: "It's faster."
2. Rubens Barrichello Saturday time: 1:18.020
Friday Qualifying: 3rd, 1:17.218
Barrichello, like Schumacher, felt at home at the wheel of the new Ferrari, although the Brazilian was unable to match the flying lap of his German teammate. He admitted a couple of errors and a too cautious performance cost him some tenths. Still, he managed to complete a perfect day for Ferrari, completing the second front row lockout for the World Champions in 2003.
3. Fernando Alonso Saturday time: 1:18.233
Friday Qualifying: 10th, 1:18.100
Alonso not only demonstrated his amazing speed with his performance on Saturday, but also proved that Renault's pace is truly remarkable given the right circumstances. If two weeks earlier Imola's requirements proved too much for the underpowered Renault engine, the Barcelona circuit was the perfect match for the R23 chassis. And Alonso took full advantage of it. In front of his crowd, the Spaniard recovered from a disappointing first day to put on a flawless lap on Saturday. He was the only driver to finish within half a second of the Ferraris.
4. Jarno Trulli Saturday time: 1:18.615
Friday Qualifying: 2nd, 1:17.149
Trulli was unable to repeat his performance from Friday, when he finished less than two hundreds of a second behind Schumacher, but his final qualifying was still good enough to help Renault secure a second row lockout, which was no fluke judging their race strategy. Alonso, in fact, pitted only moments earlier than Schumacher, so if someone thought Renault's pace was down to a light fuel load, they were forced to think again. Trulli's flying lap was far from the best in the first two sectors, but a brilliant final split made up for it.
5. Jenson Button Saturday time: 1:18.704
Friday Qualifying: 5h, 1:17.613
Aided by yet another evolution of the Honda engine and by a pretty efficient chassis, Button shone during most of the weekend and put on his best performance of the season with a strong fifth place both on Friday and Saturday. His pace was encouraging especially after the first session, where he outqualified Villeneuve by nearly a second. In the final session he repeated the feat, although this time the Canadian driver had more fuel on board as he was on a different strategy.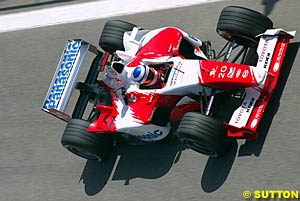 6. Olivier Panis Saturday time: 1:18.811
Friday Qualifying: 6th, 1:17.746
As seen in testing earlier this season, the Toyota suited the Barcelona circuit well and Panis took full advantage of it with another solid drive that showed he is not losing any of his speed. The Frenchman was not completely happy with the TF103's handling on Friday, but some set-up changes for Saturday made him happier and the end result was another good start for the Japanese squad.
7. Ralf Schumacher Saturday time: 1:19.006
Friday Qualifying: 11th, 1:18.409
Despite thousands of miles of testing at the Barcelona circuit, the Williams team failed to compensate for the lack of aerodynamic efficiency of their FW25, although the end result was a boost for them following a very poor Friday session. For the third consecutive race, Ralf was Williams' top man, outqualifying Montoya as both struggled with the balance of their cars.
8. David Coulthard Saturday time: 1:19.128
Friday Qualifying: 9th, 1:18.060
With enough fuel to go for a two-stop strategy, the Scottish McLaren driver had to be content with a place on the fourth row, especially after a troubled session. Coulthard suffered an engine problem prior to the start of the session, and although his mechanics managed to change it in time for the start of qualifying, he had already committed to using the spare car, which, to add insult to injury, was set up for Raikkonen.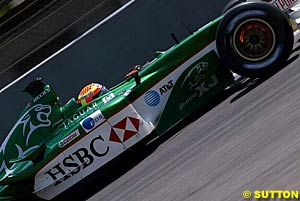 9. Juan Pablo Montoya Saturday time: 1:19.377
Friday Qualifying: 14th, 1:18.607
Struggling all weekend to find the right balance for his car, there was little the Colombian could do to get closer to the top, although unimpressively he lost out to Ralf Schumacher for the third race in a row. Like the German, Montoya improved on Saturday despite being forced to use the spare car after his race machine suffered a problem with the fuel pump.
10. Heinz-Harald Frentzen Saturday time: 1:19.427
Friday Qualifying: 16th, 1:18.909
After a torrid Friday session, Frentzen and Sauber were able to solve some of the aerodynamic problems that had hampered them in first qualifying and the German boosted his hopes of scoring points with a solid top ten finish. Frentzen survived a scare in the warm-up, where his car suddenly started vibrating. Fortunately for him, the team only needed to change the brakes to solve the problem.
11. Jacques Villeneuve Saturday time: 1:19.563
Friday Qualifying: 12th, 1:18.461
Unlike Button, Villeneuve did not have a good two qualifying sessions. On Friday the Canadian complained that his Honda-powered 005 was "virtually undriveable" and finished nearly a second behind his British teammate. On Saturday things were not any better after he shunted his car heavily in practice. His mechanics were quick to repair it and Villeneuve was much happier than on the first day considering he had enough fuel for a two-stop strategy.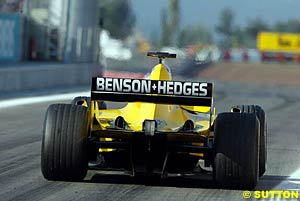 12. Mark Webber Saturday time: 1:19.615
Friday Qualifying: 7th, 1:17.793
Following his spectacular performances both in Brazil and San Marino, 12th position was something of a disappointment from Webber, although he could have gone faster but for Jaguar's conservative strategy, aimed at the race. With the harder of the Michelin compounds and a lot of fuel on board, the Australian drove an unspectacular lap that was good enough to put him in a decent position to fight for his first points of the season.
13. Cristiano da Matta Saturday time: 1:19.623
Friday Qualifying: 4th, 1:17.443
Da Matta showed on Friday he can be quick given the right circumstances, like a car that's handling to his liking and a track he knows very well. His fourth quickest time was impressive and showed the potential of the Toyota TF103. On Saturday, however, the Brazilian was less happy with his car, complaining about too much oversteer, and finished nearly a second behind Panis, which was a disappointing result after the initial promise.
14. Nick Heidfeld Saturday time: 1:19.646
Friday Qualifying: 17th, 1:19.050
Like Frentzen, Heidfeld had a lot of problems with the balance of his C22 during a big part of the weekend. The young German was way off the pace on Friday, but thanks to a different set-up things got better in the grid-deciding Saturday session. A small error in the middle sector cost him some time on his flying lap, but he was still satisfied with the result.
15. Ralph Firman Saturday time: 1:20.215
Friday Qualifying: 18th, 1:19.195
For the first time in five races, Firman managed to outqualify his Jordan teammate Fisichella, and although it was mainly due to all the problems that affected the Italian, the rookie put on his best performance so far in 2003. On Friday he was less than three tenths of a second behind Fisichella, finally showing some of the talent Eddie Jordan saw when he hired him.
16. Antonio Pizzonia Saturday time: 1:20.308
Friday Qualifying: 13th, 1:18.528
Driving a Formula One car under intense pressure in your rookie season can't be easy, and the Brazilian driver knew that too well in Spain. With Alex Wurz knocking on Jaguar's door, Pizzonia was under fire and had to prove his worth. Whether it was down to the young Amazonian raising his game or Webber lowering his, Pizzonia did better than in Brazil and San Marino, although he still failed to set the world alight. With "no grip at all" the Jaguar driver had be content to be within a second of Webber.
17. Giancarlo Fisichella Saturday time: 1:20.976
Friday Qualifying: 15th, 1:18.879
Fisichella had a day to forget on Saturday, which resulted in the Italian being outqualified by Firman for the first time this season. The team "ran into a bit of a drama" while fitting Fisichella's race engine after a problem during practice, and as a consequence they were forced to use the spare car engine. While fitting it, however, they damaged the fuel pump on Fisichella's race car, so the mechanics had to get the engine back on the spare, which was set up for Firman. In the end, Fisichella failed to complete a lap in the warm-up and had to go for his flying lap in a car he hadn't driven.
18. Justin Wilson Saturday time: 1:22.104
Friday Qualifying: 20th, 1:21.100
As usual, the best the Briton could hope for was to outqualify his teammate and perhaps wait for someone else to make an error during his flying lap. He managed the former with a solid performance, and thanks to Raikkonen's error Wilson avoided the last row of the grid for the second consecutive time which, considering the Minardi package, it's something of an achievement.
19. Jos Verstappen Saturday time: 1:22.237
Friday Qualifying: 19th, 1:20.822
Handicapped by his machinery and by the lack of testing - Minardi are the only ones yet to test outside a Grand Prix weekend since the season began - there was little hope for Verstappen who, to make things worse, lost out to Wilson after making a mistake at turn four. The Dutchman decided to change some front wing settings after the warm-up and that also hampered his hopes of a better result as the changes only made the car slower.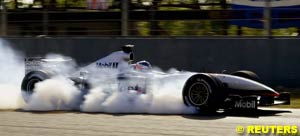 20. Kimi Raikkonen Saturday time: No time
Friday Qualifying: 8th, 1:17.862
Like his teammate Coulthard, the Finn driver's Spanish Grand Prix weekend was a non-event. Like his teammate, Raikkonen paid the price for his poor qualifying showing, which in the Championship leader's case meant he had to start from the back of the grid. Raikkonen's over-exuberance cost him dear when, coming into turn seven, he pushed too hard and went off the circuit. Also like Coulthard, Raikkonen was more than seven tenths of a second slower than the fastest of the Ferraris.
The Race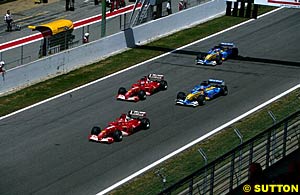 As in the previous two days, the sun shone brightly on Sunday, as it's usually the case during every Spanish Grand Prix, so the start took place with a track temperature of more than 35 degrees Celsius. At the start of the race, Alonso was the fastest off the line, immediately moving in front of Barrichello and getting himself right behind the rear wing of Michael Schumacher.
At the back of the pack, there was no luck for under-fire Pizzonia, whose Jaguar refused to move. Justin Wilson, starting right behind him managed to avoid him, but Raikkonen was not so lucky and hit the back of Pizzonia's car, his disappointing weekend coming to a premature end.
"Simply, the launch control system failed – exactly as it did in Imola – and unfortunately for Kimi, he was a victim of the fallout," explained Pizzonia. Raikkonen, who had been the only driver to have finished on the podium in every race, had to find consolation in the fact that he would be still leading the Championship at the end of the day, no matter what happened.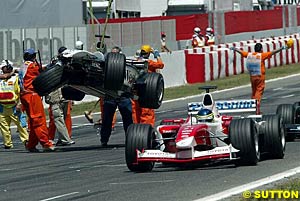 The leaders, meanwhile, arrived at the end of straight very close to each other. While Schumacher was trying to defend the inside line from the attack of Alonso, Barrichello saw the opportunity to go around the outside of the first corner. The move was good enough to pass Alonso, and he also came within inches of banging wheels with Schumacher. Fortunately for them, they avoided the clash, and Barrichello, who had to put two wheels on the dirt, managed to stay in second.
The same corner, however, provided bad news for both Renault and McLaren, as Trulli and Coulthard clashed, which resulted in the Scot going off the track and the Italian retiring from the race. As usual, both saw things differently, and while Trulli claimed Coulthard had cut the corner in front of him, the McLaren driver said: "You just have to try to make sure that you're not the one who runs into someone. I'm going to have a little dig and say that it's no surprise that Jarno runs into someone because it all gets a bit Italian for him when he gets into close quarters racing."
In the end Coulthard had to come into the pits and returned to the track at the back of the pack. Fortunately for him, however, the race director decided to bring the Safety Car out at the end of the lap while Raikkonen's and Pizzonia's car were removed.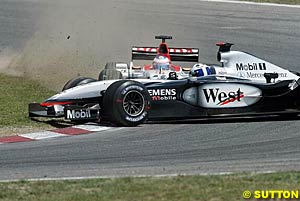 The Safety Car period was used by Firman, Frentzen and Heidfeld to come into the pits and change their strategy from a three to a two-stopper. When the race was restarted on lap six, Schumacher continued in the lead, with Barrichello in second, Alonso in third, Ralf in fourth, and Montoya, who overtook Button right after the Safety Car left the track.
Schumacher quickly began to open a small gap to Barrichello, who by lap ten had managed to get himself some breathing space from Alonso - around two seconds - after the Spaniard had been running right behind him for a while. With the majority of the drivers opting for three stops, the first round of scheduled pitstops began soon, and Button was the first of the top runners to come in for service on lap 14.
Alonso followed suit three laps later, returning to the track behind the Williams drivers, who had been unable to keep up with the leaders. Ralf Schumacher pitted next, dropping back to fifth. Behind him, and while he was charging back to the front, Coulthard's race came to an end when he was trying to overtake Button at the end of the straight. The McLaren driver touched the front wing of Button's car and was sent off the track, while the BAR driver lost part of his front wing and had to return to the pits.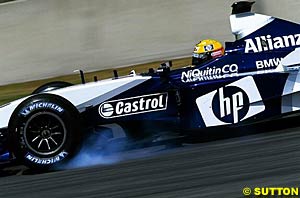 With the two McLarens out of the running, the Ferraris continued unaltered in front, and both Schumacher and Barrichello pitted next. The German was the first man to stop, while Barrichello did it a lap later. While Schumacher returned in first place, a quick charge from Alonso allowed him to move up to second after Barrichello had made his stop.
Ferrari's Schumacher began to push harder after his first stop, managing to open a five-second gap over Alonso by the end of lap 25. Barrichello had slowly closed down on Alonso, but his efforts came to nothing, the gap opening up again while the Brazilian tried to lap the Minardi drivers, who were fighting for position. On lap 30, Alonso was five seconds ahead of Barrichello, whose Bridgestone tyres were unable to keep up with the Michelins after the first few laps of use.
Albeit a few seconds behind, Alonso continued to put pressure on Schumacher, who was the first of the leaders to pit for the second time on lap 35 to the delight of the Spanish crowd who were packing the grandstands. The Renault driver was not only on the same strategy as Schumacher, but he was also managing to make the German champion sweat to keep in front.
Schumacher returned to the track behind his brother Ralf in fourth position and the Williams driver had his mirrors filled with red immediately. The German brothers fought it out for some corners before Michael's pressure paid off at turn six, where he moved ahead of Ralf.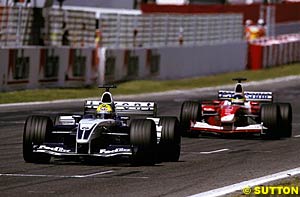 That, and an amazing 5.8-second pitstop allowed Alonso to get back to the race a close third after both he and Barrichello had made their respective pitstops. Ralf, who was still to stop for the second time, was in second with Alonso right behind him.
Like Schumacher earlier, Alonso was relentless behind Ralf, and the German again failed to keep his rival at bay. This time, however, the Williams driver ran wide at the exit of the third corner, going off the track and damaging his car in the meantime. He went straight into the pits and returned ahead of Montoya with a car that was oversteering badly due to the damage caused.
In the lead, Schumacher again opened the gap to Alonso, who was some eight seconds behind the German with 25 laps remaining. The on-track action, however, was taking place further behind, where Montoya had fought his way past Ralf following a close battle, moving up to fifth position behind da Matta, who had forced his way into the points.
With the Bridgestone tyres graining more quickly than the Michelins, Alonso was able to close the gap to Schumacher, and by the time the Ferrari driver pitted for the final time, the Spaniard was less than five seconds behind. On lap 50 Alonso and Barrichello also pitted, although the Brazilian was far from the Spaniard.
Da Matta also came into the pits, rejoining the race in sixth position behind a struggling Ralf, who was doing his best to avoid losing another position, something he achieved despite the numerous attempts from the Toyota driver, who was followed by Webber and Firman in the only surviving Jordan.
Taking advantage of the fresh rubber, Schumacher pulled away from Alonso and opened a gap of more than six seconds as the final laps went by. Not even then could Schumacher relax, as Alonso continued to push, crossing under the chequered flag less than six seconds behind the Ferrari champion, who celebrated his second consecutive win.
"Today was the day," said the delighted German, who in two races managed to leave the memories of his worst start to a Formula One season behind. "It's a perfect day in both directions, for the Championship and the new car. We can be very, very happy."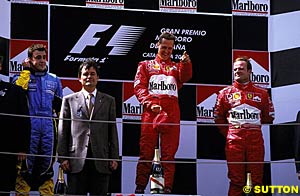 It was also a perfect day for Alonso, who became the first Spanish driver to score in his home race. "It was a very special lap to be in front 96,000 people with the flags coming from all the parts of Spain and they were very happy, very exciting about my position in the race. It is a special moment for me, I will never forget this day. I will try to repeat this every time I come here to Barcelona."
Due to the characteristics of the track Alonso and Renault are likely to struggle to match their Spanish performance in Austria. After that, however, F1 will arrive in Monaco, and there will surely be many people betting on Alonso to fight for his first victory again. But the A1-Ring is next and after five races Schumacher is again in a position to regain the Championship lead where a year earlier he and his team were jeered for their antics.

Pos  Driver        Team-Engine       Tyres   Time        
 1.  M.Schumacher  Ferrari           (B)     1h33:46.933
 2.  Alonso        Renault           (M)     +     5.717
 3.  Barrichello   Ferrari           (B)     +    18.001
 4.  Montoya       Williams BMW      (M)     +  1:02.022
 5.  R.Schumacher  Williams BMW      (M)     +  1 lap   
 6.  da Matta      Toyota            (M)     +  1 lap   
 7.  Webber        Jaguar Cosworth   (M)     +  1 lap   
 8.  Firman        Jordan Ford       (B)     +  2 laps  
 9.  Button        BAR Honda         (B)     +  2 laps  
10.  Heidfeld      Sauber Petronas   (B)     +  2 laps  
11.  Wilson        Minardi Cosworth  (B)     +  2 laps  
12.  Verstappen    Minardi Cosworth  (B)     +  3 laps  
 
Fastest Lap: Barrichello, 1:20.143, lap 52

Not Classified/Retirements:

Driver        Team                     On Lap
Fisichella    Jordan Ford        (B)    44   
Panis         Toyota             (M)    42   
Frentzen      Sauber Petronas    (B)    39   
Coulthard     McLaren Mercedes   (M)    17   
Villeneuve    BAR Honda          (B)    13   
Trulli        Renault            (M)     1   
Pizzonia      Jaguar Cosworth    (M)     1   
Raikkonen     McLaren Mercedes   (M)     1   


World Championship Standing, Round 5:                

Drivers:                   Constructors:             
 1. Raikkonen     32       1. McLaren-Mercedes  51
 2. M.Schumacher  28       2. Ferrari           48
 3. Alonso        25       3. Renault           34
 4. Barrichello   20       4. Williams-BMW      32
 5. Coulthard     19       5. Jordan-Ford       11
 6. R.Schumacher  17       6. Sauber             8
 7. Montoya       15       7. BAR-Honda          6
 8. Fisichella    10       8. Toyota             3
 9. Trulli         9       9. Jaguar-Cosworth    2
10. Frentzen       7
11. Villeneuve     3
 =  Button         3
 =  da Matta       3
14. Webber         2
15. Heidfeld       1
 =  Firman         1



Pos  Driver        Team                  Lap  Time              
 1.  Barrichello   Ferrari          (B)  52   1:20.143        
 2.  M.Schumacher  Ferrari          (B)  51   1:20.307 + 0.164
 3.  Alonso        Renault          (M)  42   1:20.476 + 0.333
 4.  R.Schumacher  Williams-BMW     (M)   8   1:20.798 + 0.655
 5.  Panis         Toyota           (M)  14   1:20.803 + 0.660
 6.  da Matta      Toyota           (M)  22   1:20.935 + 0.792
 7.  Button        BAR-Honda        (B)   7   1:21.300 + 1.157
 8.  Montoya       Williams-BMW     (M)  21   1:21.448 + 1.305
 9.  Frentzen      Sauber-Petronas  (B)  32   1:21.791 + 1.648
10.  Webber        Jaguar-Cosworth  (M)  20   1:21.967 + 1.824
11.  Villeneuve    BAR-Honda        (B)   9   1:22.175 + 2.032
12.  Heidfeld      Sauber-Petronas  (B)  34   1:22.568 + 2.425
13.  Coulthard     McLaren-Mercedes (M)  10   1:22.577 + 2.434
14.  Firman        Jordan-Ford      (B)  29   1:22.719 + 2.576
15.  Fisichella    Jordan-Ford      (B)  17   1:22.900 + 2.757
16.  Verstappen    Minardi-Cosworth (B)  16   1:22.942 + 2.799
17.  Wilson        Minardi-Cosworth (B)   7   1:23.222 + 3.079


Pos  Driver        Team                  Time      Lap
 1.  Heidfeld      Sauber-Petronas  (B)  19.919   53
 2.  Alonso        Renault          (M)  28.245   37
 3.  Button        BAR-Honda        (B)  28.762   14
 4.  Barrichello   Ferrari          (B)  28.926   36
 5.  M.Schumacher  Ferrari          (B)  28.980   35
 6.  Alonso        Renault          (M)  28.982   50
 7.  Barrichello   Ferrari          (B)  28.998   50
 8.  M.Schumacher  Ferrari          (B)  29.051   49
 9.  da Matta      Toyota           (M)  29.231   17
10.  Heidfeld      Sauber-Petronas  (B)  29.286   44
11.  Heidfeld      Sauber-Petronas  (B)  29.315   32
12.  da Matta      Toyota           (M)  29.513   29
13.  Alonso        Renault          (M)  29.523   17
14.  Barrichello   Ferrari          (B)  29.688   20
15.  M.Schumacher  Ferrari          (B)  29.897   19
16.  da Matta      Toyota           (M)  29.981   48
17.  Heidfeld      Sauber-Petronas  (B)  30.677    4
18.  Montoya       Williams-BMW     (M)  30.795   42
19.  Frentzen      Sauber-Petronas  (B)  30.821   30
20.  R.Schumacher  Williams-BMW     (M)  31.021   41
21.  Verstappen    Minardi-Cosworth (B)  31.056   14
22.  Verstappen    Minardi-Cosworth (B)  31.240   28
23.  Button        BAR-Honda        (B)  31.437   44
24.  R.Schumacher  Williams-BMW     (M)  31.452   18
25.  Panis         Toyota           (M)  31.879   41
26.  Webber        Jaguar-Cosworth  (M)  31.880   44
27.  Montoya       Williams-BMW     (M)  31.909   19
28.  Firman        Jordan-Ford      (B)  32.171   25
29.  Firman        Jordan-Ford      (B)  32.192    1
30.  Frentzen      Sauber-Petronas  (B)  32.386    1
31.  Panis         Toyota           (M)  32.495   16
32.  Webber        Jaguar-Cosworth  (M)  33.604   18
33.  Wilson        Minardi-Cosworth (B)  33.799   16
34.  Coulthard     McLaren-Mercedes (M)  33.970    1
35.  Wilson        Minardi-Cosworth (B)  33.994   38
36.  Firman        Jordan-Ford      (B)  37.230   43
37.  Fisichella    Jordan-Ford      (B)  46.797   22
38.  Button        BAR-Honda        (B)  54.419   18
39.  Verstappen    Minardi-Cosworth (B)  81.735   44


The Spanish Grand Prix, Lap by Lap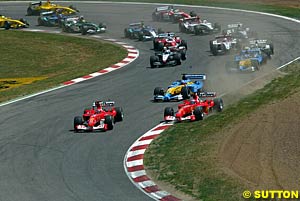 Lap 1: At the start Fernando Alonso makes the best start but the two Ferraris stay ahead as they go into the first corner. At the back of the grid there is drama as Antonio Pizzonia fails to get off the line in his Jaguar and Kimi Raikkonen, who could not see the Jaguar until the last moment when Justin Wilson jinked out of the way, runs into the back of Pizzonia. Both cars are eliminated on the spot. Michael Schumacher is on the inside line and edges Rubens Barrichello out on to the dust. While this is happening Jarno Trulli runs into David Coulthard and both cars end up off the road. This triggers a series of incidents involving Ralph Firman, Heinz-Harald Frentzen, Mark Webber and Olivier Panis. A Safety Car is despatched. At the end of the first lap the order is Michael Schumacher, Barrichello, Alonso, Ralf Schumacher, Jenson Button, Juan Pablo Montoya, Jacques Villeneuve, Cristiano da Matta, Justin Wilson, Nick Heidfeld, Giancarlo Fisichella, Jos Verstappen, Panis and Webber. Firman, Frentzen and Coulthard all stop for repairs.
Lap 4: As the tidying up continues Heidfeld pits and falls from 10th to the pack of the field.
Lap 6: The race restarts with Montoya challenging Button for fifth at the first corner. Further back Panis overtakes Verstappen to move up 11th. At the tail of the field Coulthard passes Frentzen and Firman to move to 14th position.
Lap 7: Michael Schumacher increases his lead to 1.1 seconds. Barrichello is 0.8 secs ahead of Alonso.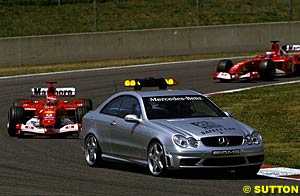 Lap 9: Schumacher's lead is up to 2.1 secs while Barrichello is under increasing pressure from Alonso. In the midfield 12th place Verstappen drops behind Webber and Coulthard.
Lap 12: Schumacher's gap is up to 3.2 secs. Seventh placed Villeneuve retires with a mechanical problem.
Lap 13: Panis passes Fisichella and Wilson to move up to eighth place.
Lap 14: The pit stops begin with sixth-placed Button coming in. The BAR driver rejoins in 12th position. Further back Verstappen stops and falls from 13th to 16th.
Lap 16: Seventh-placed Panis pits and is followed in by eighth placed Wilson. They rejoin 14th and 15th.
Lap 17: Alonso is the first of the leaders to pit and falls behind the two Williams-BMWs. Da Matta, who is up to sixth, also stops and falls back behind Fisichella.
Lap 18: Ralf Schumacher pits and so falls from third place to fifth. Further back Coulthard is punted off by Button. The McLaren driver retires and Button has to pit and drops to the back of the field. Eighth-placed Webber stops and drops back to 14th.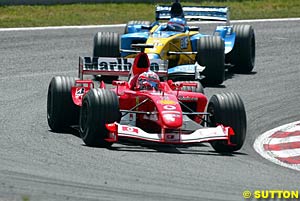 Lap 19: Michael Schumacher pits allowing Barrichello to lead. Third-placed Montoya also stops and drops back behind Alonso and Ralf Schumacher.
Lap 20: Barrichello pits after a lap in the lead. This puts Michael back into the lead with Alonso second. Rubens is third with Ralf Schumacher and Montoya in fourth and fifth. Fisichella, who has still to stop, is sixth. Da Matta is seventh ahead of Firman, Frentzen, Panis, Heidfeld, Webber, Wilson, Verstappen and Button.
Lap 21: Michael sets the fastest lap of the race and pushes his lead over Alonso out to two seconds.
Lap 22: Fisichella pits. The stop is a long one and he drops from sixth to 14th. Further back Panis passes Frentzen for ninth.
Lap 24: Panis passes Firman to move to seventh position.
Lap 25: Firman stops and falls back from eighth to 14th.
Lap 26: Schumacher's lead is up to 5.3 secs, despite the fact that he is going through the backmarkers. As he is going through the field Firman overtakes his Jordan team mate Fisichella to grab 13th.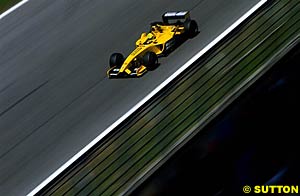 Lap 28: As Alonso goes through the backmarkers Wilson loses out and drops behind Verstappen and Firman, although Jos stops at the end of the lap.
Lap 29: Da Matta comes in for his second stop and drops behind Panis. On the same lap Webber passes Heidfeld for ninth place.
Lap 30: Frentzen stops and falls from eighth place. He drops behind Webber and Heidfeld.
Lap 32: Heidfeld stops and falls from ninth to 12th.
Lap 35: Michael Schumacher stops indicating that the Ferrari is on a three-stop strategy. This puts Alonso into the lead. Michael rejoins behind Ralf Schumacher.
Lap 36: Barrichello stops and falls behind the Williams-BMWs which look to be on a two-stop strategy.
Lap 37: Alonso pits. At the same time Michael forces his way past Ralf and so retakes the lead. Alonso finds himself with Ralf ahead but he is clear of Montoya. Barrichello is behind the Colombian.
Lap 38: Frentzen comes into the pits again after a slow lap and retires. Also pitting is Wilson.
Lap 40: Barrichello passes Montoya to move back to fourth place but it is clear that Ralf will soon have to stop.
Lap 41: Michael Schumacher has built his lead to 8.5secs as Alonso tries to find a way to pass Ralf for second place. The Spaniard gets ahead and then Ralf runs wide onto the dirt. He pits at the end of the lap. Sixth-placed Panis, who is on a two-stop strategy, comes in for fuel. He rejoins but retires almost immediately.
Lap 42: Montoya pits and drops behind da Matta (who is on a three-stop strategy) and Ralf.
Lap 43: Fisichella goes out with an apparent engine failure. At the same time Firman pits from eighth place He drops to 10th.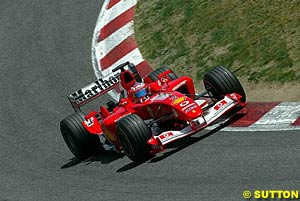 Lap 44: Webber, Button, Heidfeld and Verstappen all pit at the same time. Webber (on a two-stop strategy) rejoins in seventh without losing a place. Button drops to 10th behind Heidfeld.
Lap 46: Montoya passes Ralf Schumacher for fifth place.
Lap 48: Da Matta pits for the final time. He falls from fourth place to to sixth but quickly begins to close on Ralf Schumacher.
Lap 49: Michael Schumacher pits and so Alonso goes ahead again.
Lap 50: Alonso and Barrichello both pit but they rejoin in the same order behind Michael. Alonso is six seconds behind the leader and 14 ahead of Barrichello.
Lap 51: Michael Schumacher sets the fastest lap of the race to increase his lead.
Lap 52: Barrichello sets the fastest lap.
Lap 53: Nick Heidfeld is given a drive-through penalty for failing to observe blue flags. This drops him from ninth to 10th.
Lap 65: Michael Schumacher wins with Alonso second and Barrichello third. Montoya is fourth, the last man unlapped. Ralf Schumacher just manages to stay ahead of Da Matta to take fifth while Webber is a lonely seventh. The final point goes to Firman, who has spent the final laps fighting hard to keep ahead of Button. Heidfeld, Wilson and Verstappen complete the finishers.