---
Ann Bradshaw: Point of View
---
By Ann Bradshaw, England
Atlas F1 Special Columnist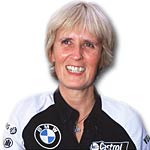 In this week's column, Ann Bradshaw discusses Ferrari's ability to win despite making big mistakes, what the future holds for Ford's motorsport programme, Pizzonia's abilities behind the wheel and what the teams can expect when they arrive in China...

When I was at school we used to have three legged races, sack races, egg and spoon races and even races with a blindfold on. They were fun, and came up with some great results as the more agile members of the class were hampered and often came home behind people such as myself who were not athletic in any way shape or form.
At the weekend the Ferrari team gave themselves the equivalent of such impediments just to see if they could still win races. Starting the Italian Grand Prix on a rapidly drying track with intermediates on Rubens Barrichello's car was the equivalent of being in a sack, while Michael Schumacher spinning to the back of the field on lap one was a bit like playing Blind Man's Bluff – chasing after a bunch of mates while not able to see what was going on.
Those of us who wanted to see Juan Pablo Montoya claim his and the BMW WilliamsF1 team's first Formula One victory of the year, or Jenson Button the first for him and the BAR team, were in ecstasy. Surely the Ferraris could not survive such a start and still keep the tifosi happy. As Rubens rushed into the pits at the end of lap five we knew their chances were very slim. Even Ross Brawn said after the race: "After five laps we had a disaster on our hands." Ron Dennis also explained how their strategy of bringing David Coulthard in at the end of the formation lap, giving him dry weather tyres and turning his race into a one stopper was going to do the trick. We would have a new winner in Italy; we were certain of this.
Sadly for those of us wanting to see new winners we were in for a disappointment, but every cloud has a silver lining. We had a great race and at the end we did have a new winner, even if the car was the same. Rubens won, and I would hazard a guess that everyone in the pit lane would be genuinely happy for him. He drove his socks off. While I am still slightly cynical and would suggest that at the end Michael was told to hold station behind him, we all know Rubens has had to do this on numerous occasions, so it should not take anything away from his win.
Mind you, I am sure one man who was not smiling after the race was Flavio Briatore. He had to watch his two drivers have dreadful races and see the BAR team stroll by Renault F1 to second in the Constructors' Championship. I do not believe wanting these two teams to fight tooth and nail for this runner-up spot is clutching at straws with a championship that is over and done with. I believe this is a genuine barometer for us to tell who in the future will be taking the battle to Ferrari. At the moment BAR have snatched the lead away by three points, but I for one will be fascinated to see how the English based, French team deal with it in China.
I have to believe they will throw everything at this as I know how important the Constructors' title is to companies such as Renault and Honda. I also find very strange the stories circulating about the Machiavellian behind the scenes happenings at Renault to make sure Jarno Trulli has a bad time. Talk about shooting yourself in the foot at one of the most critical periods of your resurgence as a force in F1. Sorry Jarno however much you may have been wronged by being dumped for Giancarlo Fisichella I still don't think any team is that stupid.
I suppose you shouldn't believe everything you read in the newspapers, but when it is repeated over and over again it is difficult to totally ignore it and not think there could be a slight hint of truth in it. That is why it seems likely that next year the Jaguar brand will disappear from Formula 1 and will be replaced by the blue oval of Ford, the parent company.
The headlines I have been reading include 'Ford to kill Jag & WRC for F1 Superteam' and 'Jaguar Out'. These were headline news items, not just hidden away on the inside pages of the British motorsport bibles Autosport and Motorsport News, but on their front covers.
I do not doubt the Ford Motor Company hierarchy know what they are doing, but in my humble opinion they must be mad. It is not the decision to re-brand the F1 team, as I never saw the reason for the Jaguar brand taking over, but rather why they should decide to ditch a successful world rallying programme for an unsuccessful F1 squad. I have to admit that I am a little biased as one of my good mates, Malcolm Wilson, runs the rally team and, having known him since he was a young driver over twenty years ago, I know about his passion for the sport and also knowledge of what he is doing. I don't know the Jaguar people at all well, but my few brushes with them have not left me impressed.
But personal preferences aside, I just had to look at recent performances and where they stand in their respective sports. Look back to the first WRC Japanese Rally at the beginning of September. Markko Martin in his Ford Focus was third despite still suffering from an eye injury sustained in Argentina. Also on top of that Ford is lying second in the Manufacturers' Championship and Martin third in the Drivers'.
Now look at the Italian Grand Prix results. Mark Webber, a hugely talented driver, was 9th and Christian Klein 13th. The press release suggested they both drove 'clean and competitive races'. I watched the race and can't say I thought they were competitive as they were 56 seconds and 1 lap down on the leader respectively. Then look at the championship tables. They are seventh in the Constructors' and Mark and Christian 13th and 16th respectively in the Drivers'.
I suppose a natural step in my thought pattern from this is the future of Antonio Pizzonia, who I believe was treated badly by Jaguar. He is still learning his craft and also getting over having the stuffing knocked out of him at Jaguar. However he is getting there, and he showed at the weekend that, after three races with the BMW WilliamsF1 Team, he can mix it with the more experienced boys and give the likes of David Coulthard a run for his money.
He found himself down the order through no fault of his owner due to a first lap coming together with Oliver Panis and then set about moving up the field. True he didn't do quite as well as Michael Schumacher, but he did well and set the fastest lap of the race in the process. I saw Sir Frank Williams last week at a round of the Formula BMW UK Championship, and when I chatted to my old boss about the young Brazilian his eyes lit up and he said he was very fast. I know Frank badly wants to get Jenson Button back in his car, but at least we now know he has a suitable replacement for the Brit if the Contracts Recognition Board and any other judicial party called in to decide on this thorny problem go in favour of David Richards and BAR.
Formula One next year will have one of its biggest shake ups for a long time in terms of who is sitting in which car. In fact with the exception of Ferrari I don't think we will see the same line up in any team and if it is it would be Minardi and Jordan, who will even admit themselves to not being World Championship title contenders. While it will be fun to see how the likes of Juan Pablo Montoya and Kimi Raikkonen match up against each other, it will play into the hands of the Ferrari team.
Anyway before we get to next year we have the excitement of the first Chinese Grand Prix. I am very jealous of those going to this event as I am sure it will be great. I still remember my first trip to China in 1986. I was there for the 555 Hong Kong Beijing Rally. We were a bit like the pioneers in the Wild West, as we were viewed in some places like aliens to the Chinese people. Many had never seen a westerner before, and a woman with blonde hair was an oddity. They would just come right up to me and stare before trying to touch my hair. They were polite but mesmerised by what they were seeing.
Remember this was before the Tiananmen Square situation, and in the days when there were about 20,000 bicycles to every one motorised vehicle, and this was usually a lorry and not a car. There were a few cars around, but they were mainly taxis. The sight of full blown Audi rally cars driven by people such as Ari Vatanen and Hannu Mikkola was an amazing sight for them. Sadly they also knew no fear, and keeping them to the side of the road was not that easy.
The first place I went to was Guangzhou, just over the border from Hong Kong and known in the old days as Canton. The taxi from the airport was a VW combi and it broke down about 20 yards after we got into it. The only thing Mike Baker, from BAT the sponsors of the event, and myself could do was push the ancient vehicle until the driver was able to bump start it.
Our next port of call was Wuhan. We got there on air tickets bought in Hong Kong but were told that it was impossible to buy tickets for internal flights outside the country. There was one plane out to Beijing on the day we wanted to leave, but with no travel agent to go to we ended up standing in a dingy space beneath the stairs of our hotel buying the tickets from the equivalent of a ticket tout. Even when we arrived at the airport we still had no confidence our plane tickets were valid. Anyway they were, and luckily someone with local knowledge had suggested we matched the number on our ticket with that written on the tail of the plane, rather than anything on a departure board. We did this and joined in a free for all across the tarmac to get a precious seat.
Luckily things in Beijing were a little more civilized. We stayed in the Great Wall Sheraton, where the beds were clean and the food edible, which was not the case in Wuhan. I was able to visit the Forbidden City, Tiananmen Square and the Great Wall of China, where I stood at sun rise. In those days they had no crime and tipping was forbidden. I hope things are similar for the Grand Prix circus when it hits Shanghai next week, but sadly I think it may not be quite the same.

About the author:
Ann Bradshaw - Annie - began her motor racing career as a teenager, helping out her brother in local rally races in England, where she grew up. In the 1970s she organised motor racing events in England, and was later the press officer for the RAC MSA - the motorsport governing body in Britain. In mid 1980s, she became press officer to team Lotus, where she worked with Ayrton Senna. Shortly after, she moved to the Williams team and was working there for several years, when once again she found herself working with Senna. She worked with Damon Hill after the Brazilian's death, and moved with the British Champion to Arrows. She also worked with the Panoz team in the United States, before becoming a freelance press officer, now working with BMW among others. Annie joined Atlas F1 as a regular columnist in April 2002.

---
© 1995-2005 Kaizar.Com, Inc. . This service is provided under the Atlas F1
terms and conditions
.
Please
Contact Us
for permission to republish this or any other material from Atlas F1.