by Dieter Rencken, South Africa
Atlas F1 Magazine Writer
This week's rumours and speculations
Fresh from the Formula One paddock

FERRARI AND THE FUTURE
Six consecutive constructors', a seventh drivers' title for Michael Schumacher, Monza pole position and win for Rubens Barrichello, 700th Grand Prix celebrations, tifosi... All in, the pretty vast asphalt expanses surrounding Ferrari's hospitality units should have oozed joy and ceremony; instead, if heightened tension was your craving, the team were the place to get a fix.
It was not, after all, too many seasons ago that Ferrari had won their first championship in 18 years after converting horizontal planes to vertical surfaces, thus overturning double disqualifications and gaining the wherewithal to claim the 1999 constructors'. Nor, for that matter, was it much longer since Schumacher needed to ram Jacques Villeneuve in a desperate quest for a third title. So, here at home, every reason for laughter and frivolity existed.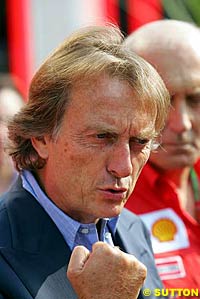 Instead, though, Schumacher's face seemed tighter than a funeral drum, whilst Ferrari President Luca di Montezemolo rushed all over, appeared to be on a constant war path. Even his smiling gratitude after being presented with a bright yellow, cavallino rampante-bestickered Mini Cooper S by BMW's top men in recognition of the Scuderia's recent Formula One achievements, turned, that evening at a dinner celebrating the team's Grand Prix start record, into effusiveness when he promised to present the German company with a "bright red (Fiat) Panda if it achieves in a 100 years what Ferrari achieved.."
Of course, Schumacher's demeanour was not helped by the fact that Technical Director Ross Brawn had earlier referred to Kimi Raikkonen as the 'next Schumacher', nor that Sporting Director and General Manager Jean Todt had recently praised both Fernando Alonso and the Finn. Compounding the matter was an undercurrent suggesting Belgian Grand Prix winner Raikkonen had, via a clause in his McLaren contract, found a way to move to Ferrari for 2006 – believed to be the final racing season for the German septuple champion, who has always enjoyed, nay, insisted upon, 'easy' teammates...
The 'loophole' in Raikkonen's contract was said to centre on a 'key man' clause – i.e. that a certain individual, thought to be Ron Dennis, is required to head the operation for the Finn to remain contracted to McLaren. And, with the team having recently returned to victory lane via Kimi after being the laughing stock of the pitlane, rumours suggested that 57-year old Dennis, who a year ago suggested that retirement could beckon early as he still had a long 'to-do' list to complete outside of motor racing, was planning a life away from Grands Prix come the end of the 2005 season.
So, yes, Schumacher's edginess, which first surfaced in Spa after he, who, for Monza, depleted all traces of his Fatherland's colours on his helmet and replaced them with a version of Italy's tricolore, could finish no higher than second en route to his championship, could well be explained thus and concern over his grid place, but, really, is a rapid potential teammate really cause for such concern when you hold almost every F1 record in sight?
Could the real reasons lie deeper? Possibly surrounding di Montezemolo's outburst against Bernie Ecclestone's management of Formula One?
On Saturday, a conference for the English-speaking media, addressed by Ferrari's President, was called by the team's media manager. But, strangely, said gentleman forgot to advise the media, so a mere handful, who happened to be lurking around Ferrari at the time, turned up. Di Montezemolo attacked Ecclestone's sale of 75% of the sport's commercial rights to, first, the Haffa brothers – better known for their mismanagement of the Muppets – then, when they hit financial problems, allowing the deal to go to Kirch Media, which plummeted into spectacular liquidation immediately thereafter.
The group had borrowed heavily to acquire its share of the rights, so, now, percentage majority of Formula One's billions belongs to a triumvirate of banks, whilst management control – which is being challenged by the banks as this is written – lies in the hands of the 75-year old via the SLEC trust he registered in favour of his family some time back.
Worse, according to di Montezemolo, teams are awarded a mere 47% of television revenues, whilst SLEC takes all hosting fees and peripheral income – leaving ten teams to share an effective 23% of F1's total revenues, whilst three banks and Ecclestone share the balance on a 57/20 basis. "No other sport is controlled by banks, and no other sport allows its promoters to take more than 20%," said di Montezemolo. And, then, bang on cue, in walked Ecclestone...
Strangely for a team who pride themselves as being the best prepared in the paddock, nobody within Ferrari had, ostensibly, thought to record Mr di Montezemolo's words, for when this column requested a transcript of his conference, the team's media officer aggressively refused to supply same. When pushed he resorted to: "There is no transcript. Nobody recorded it. Okay? Nobody recorded it. Okay." Remarkable, to say the least. Then, on Sunday, came rumours that Ecclestone had requested a meeting with di Montezemolo to catch up on the parts he had missed by through his late, if unscheduled, arrival - possibly explaining the absence of any transcript.
But, why did di Montezemolo, who has seldom publicly attacked Ecclestone, resort to such a forum to do so, particularly after he had agreed to the conditions of the Concorde Agreement way back upon signing same in 1997? And, why do so in the first place?
Paddock rumours suggest that Ferrari, despite winning championships with contemptuous ease, despite having a blue chip portfolio of sponsors, despite receiving substantially more than just a tenth of TV revenues (due to their historical and sporting significance), are feeling the pinch big time, and need increased revenues from the sport to maintain their levels of competition and the not inconsiderable facilities that come with the territory.
In a past column, the Grapevine alluded to Ferrari's future, but, according to a well-placed paddock source, that analysis understated the depth of Ferrari's difficulties when funding a present-day Formula One programme on 5000 units per annum.
In the process, said source suggested that Shell – facing enormous financial pressures after grossly overstating its oil reserves – is looking at jumping ship to a company less demanding of financial contributions whilst offering equal technological challenges (Honda?) – would not be renewing its partnership with Ferrari come the end of 2005.
But, any vote for a 'dumbing down' of F1 will lose Ferrari their technological advantages, so, instead, the Scuderia are pushing for more of the sport's revenues. And, for once, all teams, whether direct competitors or mid-fielders or back-markers, will vote with Ferrari. All of which plays neatly into the strategies of the GPWC, which was established by the five European car manufacturers, and is lobbying for alliances with Honda ("We're open minded about joining," admitted the company's Otmar Szafnauer) and Toyota, for exactly that purpose.

TALKING GPWC
Whilst on matters GPWC, some time back, in May to be exact, this column suggested that the organisation, registered in The Netherlands and funded equally by, in alphabetical order, BMW, DaimlerChrysler/Mercedes, Fiat/Ferrari, Ford/Jaguar and Renault, was far from dead, and would mutate into a collective negotiating forum for the manufacturers in their dispute with SLEC.
In order to do so, though, the GPWC needs full facts and figures, particularly where the sport's revenue streams are concerned. And, this, in a business known for its opaqueness is no easy matter.
No wonder, then, to hear of, literally, hundreds of auditors going about their business during Monza's Grand Prix weekend, counting everything from filled and vacant seats in stands, the numbers of refreshments delivered and sold at whatever prices, to the sizes of merchandising stands and their turnovers. Larger, more obvious items such as billboards and car parking charges were obviously quantified, whilst Paddock Club punters were given the once-over on every one of the three days, too.
All logical, this, but the question burns: just why did Monza allow the audit; was it not somehow in breach of its contract with SLEC? Well, simply, Piero Lardi Ferrari, surviving son of Enzo, is a director of the Grand Prix's holding company. Any further doubts that Ferrari is committed to the GPWC, or that the organisation is alive and kicking?

ON VILLENEUVE'S RETURN
Of course, F1's secretive ways make for some scurrilous rumours, but the suggestion that Jacques Villeneuve has signed for Sauber on the basis that he supplies sponsorship deals to the tune of $5m per annum in exchange for a seat, brings a neat twist to a little 2001 tale.
See, it was the same team which, in that year, had the foresight to sign one Kimi Raikkonen, who had then but one full season to his C.V, and that in British national Formula Renault racing. At the time Peter Sauber campaigned for the young Finn to be granted a Superlicence, which was eventually issued only after FIA President Max Mosley's intervention, and on condition that then-21 year old race on probation for four Grands Prix. And, at no stage did anybody suggest that Kimi had bought his way into F1.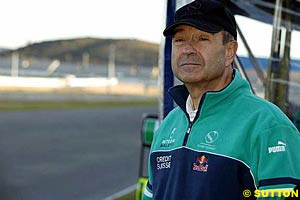 At the time, various drivers voiced varying opinions, with, for example, Michael Schumacher, welcoming the Finn with open arms. Others, including Villeneuve, were not so accommodating, with the French-Canadian suggesting that the admission of youngsters to the sport's top echelon after only rudimentary experience in junior formulae "cheapened Formula One.."
Well, since that outburst, Mr Raikkonen has won two Grands Prix whilst Mr Villeneuve has scored but two podiums, and sat out a season. Now, if the rumours are to be believed, he has found his way back into F1 with Raikkonen's former team only via sponsorship deals.
Whatever, his performance at Silverstone courtesy of Renault will be watched with interest, particularly as he will no doubt require acclimatisation after exactly 11 months out of a Formula One car.
Never having run on Michelins means JV will require acclimatisation to the French company's soft sidewall construction, and the removal of certain electronics means re-orientation to manual systems. The biggest challenge, though, will be learning Renault's "launch control that isn't launch control".
And, here, do not be surprised if both Ferrari and Toyota have similar systems next year, in addition to, obviously, Renault and, even more obviously, Sauber.
See, with Jarno Trulli almost certainly due to be confirmed at Toyota shortly, and with a continuation the Ferrari/Sauber engine alliance announced on Monday, JT and JV will be sure to be pumped by their respective 2005 employers on the demon start system the blue/yellow cars use to such devastating effect when the lights extinguish.
---
© 1995-2005 Kaizar.Com, Inc. . This service is provided under the Atlas F1
terms and conditions
.
Please
Contact Us
for permission to republish this or any other material from Atlas F1.