Smoke and fire became a regular sight at Mercedes at the start of the year, not only on the track - as their fragile engines in the back of the McLaren cars went bang - but also in the team's communications centre in the paddock, as the German manufacturer's motorsport director Norbert Haug fielded questions and defended accusations over their part in a dramatic early-season slump.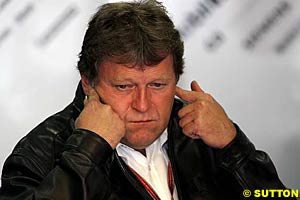 In the season-opening fly-away races Haug cut a haggard figure, the heavy bags under his eyes clearly displaying his concerns as, just months after helping Finn Kimi Raikkonen take eventual title winner Michael Schumacher to the wire in the 2003 World Championship, the team were qualifying outside the top ten and scrapping for the final points when they made it to the finish.
There is no doubt that the car was far from a masterpiece, but Mercedes had dramatically failed to cope with the change from engines which had to last the 200km of a race to ones which had to last an entire race weekend. They failed to make their units robust and they simply could not last the distance. It was a struggle for Haug to hide his true emotions.
"It was not pleasant, the first nine races, not at all," Haug said as he sat behind the protection of his desk, staring into a void that has thankfully now become a distant memory. "Not by far did we achieve what our plan was but I was surprised that some people said 'sometimes you look tense' or whatever. I mean, I cannot look like a winner if I am a loser. This is authentic.
"If other people can do a better job they should probably go to Hollywood. I won't go to Hollywood. We are authentic, we are not players, we position ourselves at the front of the team and we are not just using the expression 'team', we are a team.
"We started in 1995 and we should have won four World Championships in the last six years, which isn't a bad score. Two isn't a bad score compared to all the others. In the last six years, nobody other than Ferrari and us achieved it, so that is the reality and that is the measurement. Now we are heading in the right direction and that is what counts, not what happened yesterday."
Haug is a strong character at the head of a strong organisation. Mercedes want to win and, without looking to yesterday too often, he regularly restates the fact with a firmness that shows he enjoyed it and he wants to enjoy it again. Any mention of struggle, difficulties and failures are greeted with a strong smack down and a quick re-steer to more positive times.
"We missed the World Championship by three points last year and you can find five reasons during the year - one time Michael was pushed out of the gravel trap, this was three points - so we were competitive last year. The year 2000 was competitive. We were running until the last race with the chance to win the World Championship.
"In the last six years we won two, we should have won four, and so we would have been the dominant force in Formula One. We missed 2000 by an inch and we missed 2003 by an inch. People tend to forget that, but I don't. You have times with ups and downs but the strong ones will survive. You have seen that in the past, the Ferrari team struggling, and everyone will struggle here and there.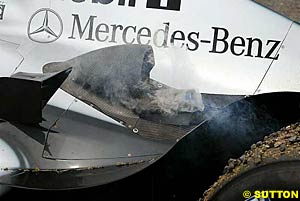 "The question is how to get out of it and I think we are just about to come out of it and that is important. Lots of teams have announced they will win Championships over the years and they don't. We are not crazy in announcing but I think we are quite good in doing it."
Haug was a major part of the united front at the start of the season, regularly appearing in McLaren's media briefing event at each Grand Prix, sitting alongside each other in their limited edition leather jackets. But the frown was there, as it was on the face of McLaren team principal Ron Dennis, and the situation could not help but cause friction behind the scenes.
"If you are used to winning and you have a winning team then, of course, there are some struggles," said Haug. "I mean, we were not where we wanted to be with our technical package and then there were some frictions. Obviously these guys are all racers but you need to calm them down and I think Martin [Whitmarsh], Ron and myself, the Formula One executive board, are in a strong position to do so.
"If somebody would not act in the interests of the team we certainly would not hesitate to find different solutions. We are a team, everybody is allowed to have their opinion, but the success of the team is in the middle of the efforts. If somebody is ego-driven, then he certainly will get problems, but we have not had that problem.
"We just have had a technical problem, we needed to do a better job and we did a better job and I think it speaks volumes for the strength of the team that we can build a car like the 19B in half a year. You will not find a lot of teams who could do a better job in as short a period of time and I think that says it all. It is heading in the right direction but we are still not there.
"If we were there, we would be winning all the races. We need to continue. I am only happy if we win all the races and all the Championships, only then am I happy. We need to improve but we need to be able to do that step by step and get better and better. This is a permanent improvement. We never stand still and you need to continue."
The major re-structuring at Mercedes partners Ilmor, which has seen two key members - Hans-Ulrich Maik and Werner Laurenz - bite the dust, could lead to further top-level changes and even Haug's position, or at least his direct involvement with the team in Formula One, has sometimes been called into question. But Haug insisted: "I won't speak about myself. Other people have to do that.
"I am a team player and I want to contribute to the success of the team. As I did in the past, so I will do in the future. But I am not important, to the outside. Why should I speak in the media about my future or Ron's future?"
Perhaps because that is important to the team as a whole and because their continued involvement is vital in the chase for the 2005 World Championship.