Car Briefs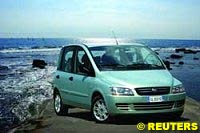 Fiat has introduced an 'innovative, integrated sales, service and maintenance system', called Fiat Link. This will be rolled out across every Fiat dealer across Europe in 2005. The idea is that one system will enable potential customers to configure their car and then check availability and delivery times for that exact model. In addition, it will provide finance quotes and even note down when a car is due for its next service. It sounds a very good idea in practice and Fiat dealers certainly need all the help they can get. The trouble is that Fiat has a long history of trying to solve problems with one central system devised in Turin - and some have caused as many problems as they have solved.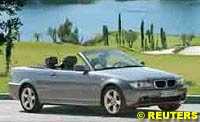 It was only a matter of time: after the successful 3 Series diesel coupe appeared last year, the diesel convertible could not be far behind. To be launched at the Paris Motor Show on 23 September, the 320 Cd produces 150 bhp and is one of the very few diesels that can meet the EU4 exhaust emissions standard without the need for a particulate filter. Top speed is 131mph and zero to 62mph is dispatched in 9.7 seconds while combined fuel consumption is 44.8mpg.
The new model will be offered in SE and Sport variants, with standard equipment including ABS, six airbags, Dynamic Stability Control, Park Distance Control, Cruise Control and CD player. Prices will be announced prior to its launch in early 2005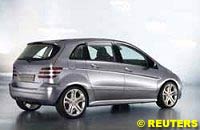 Mercedes will unveil what it calls the "Compact Sports Tourer Vision B" concept at the Paris show this month. In fact, it is the new B-Class, which is basically a stretched and restyled version of the new A-Class. The B-Class is intended to look a bit more like a 4x4/MPV crossover, so as to appeal to the US market. Four wheel drive was originally planned for the B-Class to make it a genuine crossover vehicle, but that proved too expensive. The key technical development for the model is a new four-cylinder diesel engine with an output of 140 bhp and a fuel consumption of over 47 mpg with full EU-4 emissions compatibility.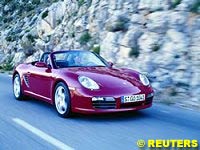 It looks like a mild facelift, but Porsche insist that the 2005 Boxster is 80% new, even though the dimensions are almost identical to the old car. Visually, the main changes are new headlights, wider wheelarches and bigger air intakes. However, the interior really does look new with a much higher quality dashboard. Mechanically, changes are made to the engines: the 2.7-litre six-cylinder engine now develops 240 bhp, 12 bhp more than previously, while the 3.2 litre is up to 280 bhp from 260 bhp. The Boxster takes 6.2 seconds to accelerate to 62 mph, while the S model achieves this in 5.5 seconds. Top speed is 159 mph for the Boxster and 167 mph for the Boxster S.
The Boxster is claimed to be the first roadster in the world to offer passengers protection against lateral impact using head airbags. In combination with a thorax airbag, concealed on the seat, the head airbag deploys from the door.
Prices for the new car will be almost identical to the outgoing model.

Land Rover Future Secured
Ford and labour unions have struck a deal to save Land Rover, hit hard by inefficiency, poor exchange rates and quality problems.
Up against a deadline imposed by the number-two U.S. auto maker to boost competitiveness at Land Rover's tradition-drenched Solihull plant in the West Midlands, employees made concessions on working conditions to save some 8,000 jobs.
"The trade unions have recognised the need for ongoing efficiency and productivity improvements which require the adoption of working practices already in existence in other Ford-owned plants," said Dave Osborne, the Transport and General Workers Union's national secretary for the car industry.
He said in a statement on Wednesday that unions now expected the company to keep investing in the business that Ford bought in 2000, but has struggled to make a consistent money earner.
"On the basis of today's agreement, we would expect that Solihull, which has been the home of Land Rover for over 50 years, to remain so for the next 50 years," Osborne said. Mark Fields, head of Ford's Premier Automotive Group of luxury brands that includes Land Rover, said the detailed deal focused on operating improvements, work practices and the "culture, behaviours and beliefs within the plant."
"The longest journey starts with a single step. We have taken a very positive step, but we still have a lot of pavement in front of us," he told Reuters. "The real hard work of implementation starts now."
In May, Ford told Land Rover to put forward a detailed plan to improve quality and achieve world-class competitiveness in five years. It did not threaten to shut the plant, but had made clear it would slowly starve it of fresh investment.
"As long as we can implement that plan and as long as we can make the progress on quality, cost and productivity that has been included in that plan, then this plant will have a bright future," Fields said. "But at the end of the day, it is going to be customers who decide whether the plant stays open."
Land Rover languished at 28th place in the J.D. Power and Associates 2004 initial quality study, well below the industry average and badly trailing its sister company Jaguar, the luxury car group, which was number 3 in the poll.
Fields said Land Rover had a long way to go to catch up to Jaguar, but even Jaguar has struggled. It said last month it would cut output by some 15,000 vehicles over the rest of 2004 due to a weak dollar and slack demand that swelled inventories, but no jobs were lost. Fields repeated Ford's position that Jaguar was a concern.
"It is a business that is not as healthy as we'd like it to be and we are in the process of taking action that we need to take to make it healthy. As we said, were not ruling anything in or anything out," he said.
Ford's luxury car business is key to its goal of booking $7 billion (3.9 billion pounds) in annual pre-tax profits by 2006. The Premier Automotive Group - which also includes the Aston Martin and Volvo brands -- and Ford's Lincoln brand are supposed to account for a third of that profit.
But PAG sank to a pretax loss of $362 million in the second quarter from a profit of $166 million a year earlier, hit by the strong euro, model changeovers and higher operating costs.

UK Car Production Hurting
UK car production is unlikely to disappear to new European Union nations or further afield in the short term but Britain's euro outsider status is causing problems, a committee of MPs says.
"There can be little doubt that non-membership of the euro has created difficulties for the UK automotive sector," parliament's cross-party Trade and Industry Select Committee said in a report. For years, the pound's strength against the euro had caused pain, it said, but even since its decline in recent months currency fluctuations continued to hit margins.
"The issue of predictability is of greater concern at the moment," the report said.
Carmakers' preference for building close to their markets meant the threat of shifting production to new competitors like India or China was low for now, the parliamentarians said. Nor will new EU member states in eastern Europe immediately provide more competition than they already do.
"However, there will inevitably be more intensification of competition between EU members, old and new, for future investment in manufacturing and this will increase the competitive pressure on the UK," the MPs said. The committee said car prices had fallen in Britain since their last report on the industry but said discounts offered to fleet purchasers were still greater than for bulk buyers like large retailers.
"If bulk purchases by dealers were discounted in a similar way to fleet purchases of a similar size, consumers might benefit," it said. "We recommend that the Office of Fair Trading re-examine this area."