---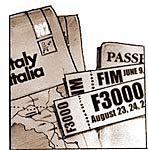 Elsewhere in Racing
Updates from the Rest of the Racing World
---
By Mark Alan Jones and David Wright, Australia
Atlas F1 Magazine Writers
Advice: The points tables for most series covered by Elsewhere In Racing are available here. Individual series are linked to their corresponding points table after each report.
Formula 3000
End of an Era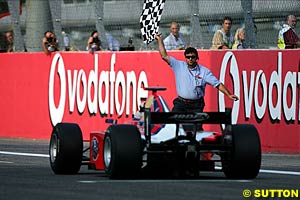 Formula 3000 started its life as a replacement for another category. Now its own life has suffered the same fate. The new Renault-powered GP2 series will take its place on the Formula One support programme in 2005. While the European Formula 3000 series will continue next year, the International Formula 3000 series ended with a grand finale at the grandest of all the circuits the series visited over its 20 year lifespan, the Autodromo di Monza.
The season ended as it began, with a dominant Vitantonio Liuzzi victory. Liuzzi took a virtually unopposed nine second victory over Formula 3000's grand old man, Tomas Enge, with Liuzzi's Arden International teammate Robert Doornbos in third.
Qualifying produced something of a surprise. Astromega's Raffaele Giammaria produced a time fast enough to sit on the front row of the grid, four tenths behind polesitter Liuzzi. Doornbos shared the second row with Jose Maria Lopez in the first of the Coloni Lolas with arm's length teammate Patrick Friesacher next ahead of Enge, who forever set the record number of Formula 3000 starts at 55. Series runner-up Enrico Toccacelo was back in ninth.
When the red lights died Liuzzi bolted while the field bunched. Lopez climbed into second ahead of Giammaria while Enge and Doornbos got physical over fourth with Tony Schmidt ready to pounce. Toccacelo's miserable second half of the season ended at the second chicane after a collision with new Durango driver Michele Rugolo. The incident would also cause Matteo Grassotto to retire a lap later.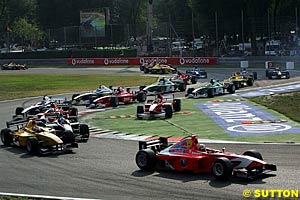 Across the line for the first time Liuzzi led Lopez, Giammaria, Enge, Schmidt, Doornbos and Fernando Monfardini, with a slow starting Esteben Guerrieri in close company. Lopez would not hold second for long, crashing heavily at Ascari on lap 3 after a front wing failure. With Liuzzi steaming away at the front of the field, the points positions started to form a typical Monza procession. The battle for the final point was briefly enlivened when Ernesto Viso flew across the Rettifilo, picking up two positions and a lap later a drive-through penalty.
Doornbos, buried in fifth position, was pitted by his team early on lap eight, triggering a rush of stops down the field. For the moment the leaders resisted following Doornbos's example. Monfardini, having his best race of the season, stopped first on lap 13. Liuzzi, Giammaria and Schmidt followed a lap later. Enge now led from Guerrieri, but the lead was only for a lap as the pair stopped on lap 15, handing the lead back to Liuzzi.
Enge rejoined in second position, ahead of Doornbos whose early stop allowed him to jump up the order. A tardy Giammaria stop let Schmidt ahead into what became fourth while Guerrieri's stop was dreadful as the crew struggled with the left rear wheel, dropping him from second to eighth. That eighth became a fortunate sixth when Monfardini threw his best result away with a spin at the Lesmos, in concert with the closely following Patrick Friesacher, which ended the Austrian's chance to take third in the championship.
Into the final stages, and Schmidt was fading. Caught and passed by Giammaria, the German would lose another position to Guerrieri when he skipped across a corner at Ascari. Liuzzi however was gone. With the race secure, the Italian slowed to appreciate his home race victory after a superb season. Enge was six seconds clear of Doornbos at the finish with Giammaria and Guerrieri salvaging points hauls after slow pitstops.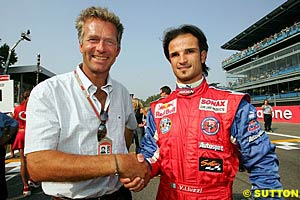 Mattias Lauda claimed sixth, passing Schmidt on the last lap as the German put his Ma-Con Lola deep into the sand trap at the Parabolica, the final corner of the race. Jeff van Hooydonk was seventh while the last ever FIA Formula 3000 point was scored by Viso in the Durango Lola. Can Artam, Olivier Tielemans and Chanoch Nissany completed the finishers. Third position was enough to secure Doornbos third in the championship comfortably in the end, while Enge's second place moved him ahead of the sand trapped Friesacher. Arden International successfully defended the team prize.
After 206 races, the final statistics had Liuzzi equal with Juan Pablo Montoya and Nick Heidfeld as the drivers with the most victories, seven. The most successful team was Super Nova Racing, with 27 race wins, and four titles, figures they did not add to this year.
2004 belonged to Vitantonio Liuzzi. The young Italian took seven wins and two seconds from the ten races this season to finish thirty points clear of Enrico Toccacelo. It seems certain that Liuzzi will not join the exodus to GP2 next season with several Formula One teams looking at his future career, with no less a name than Ferrari the standout team on the list.
Result of International Formula 3000 Championship, Round 10 of 10, Monza, Italy:

Pos  Driver                 Team
 1.  Vitantonio Liuzzi      Arden International Lola-Zytek
 2.  Tomas Enge             Ma-Con Engineering Lola-Zytek
 3.  Robert Doornbos        Arden International Lola-Zytek
 4.  Raffaele Giammaria     Team Astromega Lola-Zytek
 5.  Esteban Guerrieri      BCN Competicion Lola-Zytek
 6.  Mathias Lauda          CMS Performance Racing Lola-Zytek
 7.  Jeffrey van Hooydonk   Super Nova Racing Lola-Zytek
 8.  Ernesto Viso           Durango Formula Lola-Zytek
 9.  Can Artam              Super Nova Racing Lola-Zytek
10.  Tony Schmidt           Ma-Con Engineering Lola-Zytek

Final Standings: Vitantonio Liuzzi 86, Enrico Toccacelo 56, Robert Doornbos 44, Tomas Enge 38, Patrick Friesacher 33, Jose Maria Lopez and Esteban Guerrieri 28, Raffaele Giammaria 27, Yannick Schroeder 13, Tony Schmidt 11, Jeff van Hooydonk 8, Ernesto Viso 7, Mathias Lauda 5, Alan Van der Merwe 2, Rodrigo Ribeiro, Jan Heylen, Nico Verdonck and Matteo Grassotto 1
IRL
Number Two For Fernandez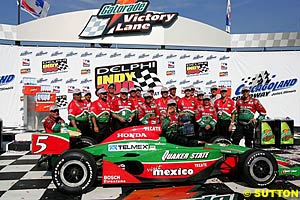 Another late race yellow flag period bunchwd the field together for a procession sprint to the chequer. Adrian Fernandez found himself sitting behind the safety car while the safety crews cleared away the wreckage left behind by a collision between Darren Manning and Buddy Rice that left the reigning Indianapolis 500 champion rolling over the top of the Briton's Chip Ganassi G-Force. In the resulting sprint to the flag Fernandez held off the attentions of three members of the Andretti Green Racing squad to take his second victory of the season.
Second place was claimed by Bryan Herta, continuing his career renaissance after he stepped into Dario Franchitti's car last year while the Scot was recovering from a motorcycle accident. Third place for Tony Kanaan has all but wrapped up the series from Brazilian Tony Kanaan. The Andretti Green driver now sits 75 points ahead of his teammate Dan Wheldon, who finished the race in fourth position. A fourth placed finish, or better, at California Speedway for Kanaan and the title will be secure, with Kanaan having finished in the top five every race this year bar the season opener at Homestead.
The only other driver in contention, mathematically is Buddy Rice, but if the two AGR racers simply start both races then Rice is out. Rice's Rahal Letterman teammate Vitor Meira was fifth ahead of hometown racer Sam Hornish Jr in the Penske entry. Defending champion Scott Dixon was next, his championship defence in tatters long ago.
The race was marred by several incidents. Just past half distance componentary failure on A.J. Foyt IV's car sent him into the wall, taking Mark Taylor with him, while earlier a brush between Meira and Jaques Lazier sent the Patrick Racing driver into the wall, taking Tomas Scheckter with him. Townsend Bell was the first to crash, smacking the barrier on the back straight.
Result of Indy Racing League, Round 14 of 16, Delphi Indy 300, Chicagoland Speedway, Illinois, United States:

Pos  Driver              Team
 1.  Adrian Fernandez    Fernandez Racing GForce-Honda
 2.  Bryan Herta         Andretti Green Racing Dallara IR2 Honda
 3.  Tony Kanaan         Andretti Green Racing Dallara IR2 Honda
 4.  Dan Wheldon         Andretti Green Racing Dallara IR2 Honda
 5.  Vitor Meira         Rahal-Letterman Racing GForce-Honda
 6.  Sam Hornish Jr      Team Penske Dallara IR2 Toyota
 7.  Scott Dixon         Chip Ganassi Racing GForce-Toyota
 8.  Felipe Giaffone     Dreyer & Reinbold Racing Dallara IR2 Chevrolet
 9.  Scott Sharp         Kelley Racing Dallara IR2 Toyota
10.  Helio Castroneves   Team Penske Dallara IR2 Toyota

Standings: Tony Kanaan 538, Dan Wheldon 463, Buddy Rice 443, Helio Castroneves 379, Dario Franchitti 366, Adrian Fernandez 365, Sam Hornish Jr 342, Bryan Herta 335, Vitor Meira 332, Darren Manning 311 etc.
NASCAR
Mayfield Makes It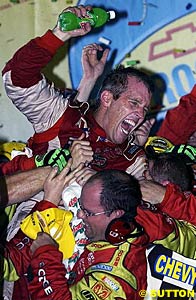 A couple of smart strategy calls and a car that was easy on its tyres was exactly what Jeremy Mayfield needed and got to take his first victory in four years at Richmond. It also was just what he needed to make the Chase for the Nextel Cup, in the process bumping his teammate Kasey Kahne out of the Chase. A mid-race incident which saw Jimmie Johnson finish 36th almost saw more than the minimum ten contenders for the title, as the 400 point rule would have come into effect, but a late race rally by Jeff Gordon knocked that on the head. In the end, the ten drivers that will battle for the Nextel Cup are: Jeff Gordon, Jimmie Johnson, Dale Earnhardt Jr, Tony Stewart, Matt Kenseth, Elliott Sadler, Kurt Busch, Mark Martin, Jeremy Mayfield and Ryan Newman.
Ryan Newman and Mark Martin sat on the front row, Newman taking the lead at the start before being passed by Jimmie Johnson on lap two. Lap nine saw the first caution when Todd Bodine spun into the turn four wall. Back to gree on lap 12 but it was back to caution a lap later when Kyle Petty spun. Back to racing on lap 18, Johnson leading the way as teammate Jeff Gordon climbed the order, up to third by lap 21, second by lap 25 before taking the lead on lap 34. Lap 53 saw the next caution when Carl Edwards spun exiting turn two. This saw almost the whole field pit except Mike Wallace, who took over the lead. Of those that did pit, Jeremy Mayfield took fuel only to move up to second while Ryan Newman took two tyres to emerge third ahead of Gordon and Rusty Wallace.
Racing resumed on lap 59, and despite not being a regular front runner, Mike Wallace maintained the lead for lap after lap despite constant pressure from Mayfield, eventually being passed by Mayfield on lap 99 as Kurt Busch charged his way up to third, taking second from Wallace a few laps later and the lead from Mayfield on lap 115. Busch's teammate was also on the way up, up to third before debris brought out a caution on lap 143. In came the field for stops again, Mayfield leading Busch, Newman, Kenseth and Rusty Wallace as the race restarted on lap 147.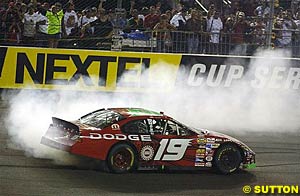 The race returned to caution on lap 158 for more debris, restarting on lap l64 before being back under caution on lap 171 when Scott Wimmer, Ricky Rudd, Brendan Gaughan and Greg Biffle were involved in an incident off turn two. The race went back to green on lap 175 but was back under caution on lap 180 when contact between the lapped cars of Jimmy Spencer and Casey Mears set off a multi-car incident, with Mike Wallace, Sterling Marlin, Ricky Rudd, Dale Jarrett, Jimmie Johnson, Dale Earnhardt Jr and Brian Vickers also involved, Vickers and Johnson suffering severe damage.
Racing resumed on lap 192 but was back to caution three laps later when Ward Burton hit the turn three wall. Back to green again on lap 202 but it was caution time again five laps later when Kasey Kahne was tapped into a spin by Earnhardt Jr. The race restarted on lap 211 with Mayfield still in the lead, Kenseth moving up to second as the leaders approached green flag stops, Mayfield starting them off on lap 265. Matt Kenseth was in soon after but he had to come in again to remove tools left on the car, costing him two laps in the process.
Some drivers further down the field had pitted in the last couple of cautions before the race returned to green, and so were still yet to pit when the caution came out on lap 293 when Jarrett spun Spencer. This dramatically changed the order as several of those who pitted under green returned to the lead lap as the other drivers pitted (and some who already had pitted came in again), but eight of those who didn't pit and were on the lead lap restarted just in front of the leader at the tail end of the lead lap, restarting almost a whole lap down.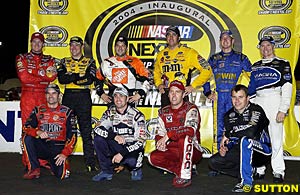 The order was now Busch, Mike Bliss in a stunning second place, Earnhardt Jr who had recovered from the damage in the earlier incident, Mayfield and Martin. The race restarted on lap 300, Earnhardt quickly moving up to second, before taking the lead from Busch on lap 307. Lap 328 saw Busch take the lead back from Earnhardt Jr, before Busch went too deep into turn one three laps later, returning Junior to the lead with Mayfield now up to second place. Lap 340 saw Mayfield move past Earnhardt Jr for the lead, Busch moving past Junior for second soon after, and taking the lead once more on lap 349.
Those cars who had pitted at the most recent caution had more than enough fuel to make it to the end. Those that didn't were somewhere between well short and maybe just enough. Kenseth was the first car to pit, and after all his good work to climb back up through the order, he ran out of fuel on the way in and so it took ages for the car to restart, sending him tumbling back down the order again. Up at the front Mayfield continued to stalk Busch, but Mayfield had an ace up his sleeve. With eight laps remaining Busch pitted, and Mayfield sailed through into the lead and took the win, with Dale Earnhardt Jr second, Jeff Gordon charging up to third after a disastrous mid-section of the race, Mike Bliss taking a surprise fourth with Mark Martin in fifth.
Result of NASCAR Nextel Cup, Round 26 of 36, Richmond International Speedway, Virginia, United States:

Pos  Driver              Car
 1.  Jeremy Mayfield     Dodge Intrepid
 2.  Dale Earnhardt Jr   Chevrolet Monte Carlo
 3.  Jeff Gordon         Chevrolet Monte Carlo
 4.  Mike Bliss          Chevrolet Monte Carlo
 5.  Mark Martin         Ford Taurus
 6.  Carl Edwards        Ford Taurus
 7.  Mike Wallace        Dodge Intrepid
 8.  Greg Biffle         Ford Taurus
 9.  Jamie McMurray      Dodge Intrepid
10.  Rusty Wallace       Dodge Intrepid

Standings: Jeff Gordon 3602, Jimmie Johnson 3542, Dale Earnhardt Jr 3541, Tony Stewart 3410, Matt Kenseth 3337, Elliott Sadler 3316, Kurt Busch 3309, Mark Martin 3213, Jeremy Mayfield 3193, Ryan Newman 3186 etc.
Standings in the "Chase for the Nextel Cup": Jeff Gordon 5050, Jimmie Johnson 5045, Dale Earnhardt Jr 5040, Tony Stewart 5035, Matt Kenseth 5030, Elliott Sadler 5025, Kurt Busch 5020, Mark Martin 5015, Jeremy Mayfield 5010, Ryan Newman 5005 etc.
V8 Supercar
SBR's Sandown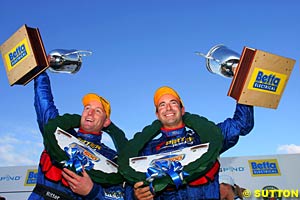 There were times during the race when Stone Brothers Racing looked great and others where they looked not quite as rosy. But at the end of the day the fastest car won, as Marcos Ambrose recovered from a mid-race spin by his co-driver Greg Ritter to claim the win ahead of teammates Russell Ingall and Cameron McLean. A couple of mid-race incidents wiped out or hurt a couple of the other contenders, while an error by Steven Richards earlier in the race put him out of the running. Ambrose's win seems him back at the top of the points, 23 ahead of Jason Bright, who is 67 points ahead of Steven Richards, 24 more back to Rick Kelly with 26 points further back to Russell Ingall rounding out the top five.
A hearing which started on Thursday and ended on Saturday saw Team Dynamik fined for its testing at a remote airstrip last month. The stewards imposed a penalty of $50,000 USD (approximately $72,000 AUD) with regards to testing regulation breaches, and a further penalty of $32,000 AUD in relation to other related breaches. Two appeals have been launched over the decision, one by Team Dynamik as they believe the penalty is too harsh, as the team has said the vehicle was in the possession of a third party completing a scientific evaluation for purposes other than racing. The other is by TEGA, the teams' entrants group, who no doubt feel that a purely monetary fine is not the right deterrent to prevent people from doing illegal testing. The appeals are expected to be heard on Thursday.
The event saw a 500 km race, with a compulsory stop for tyres and front brake pads and a compulsory stop for fuel, with teams also allowed to take fuel outside the prescribed compulsory pit stop window. Qualifying saw a couple of surprises, with Paul Morris in the car he was sharing with Alan Gurr fastest in the wet qualifying session, but he was edged down to third in the shootout by the Greg Murphy/Rick Kelly Commodore and the Marcos Ambrose/Greg Ritter Falcon. This wet weather earlier in the weekend made its mark in the race, thanks to the wet grass and mud around the circuit.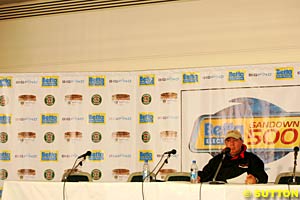 Race start saw Ambrose/Ritter storm into the lead as Murphy/R Kelly bogged down a little. Meanwhile the car of Mark Skaife/Todd Kelly got off to a flyer until a slipping clutch saw them the places they had gained and much more before they even got to turn one. As they completed lap one the order was Ambrose/Ritter, Murphy/R Kelly, Craig Lowndes/Glenn Seton, Morris/Gurr and Jason Bright/Paul Weel. Unfortunately David Besnard/Charlie O'Brien went off into the grass on the exit of turn one and got bogged, bringing out the safety car on lap 2.
Racing restarted on lap 4, but the safety car was back out again on lap nine when the Garth Walden/Grant Elliott became beached in the Dandenong Rd corner gravel after a suspension problem. Back to racing again on lap 12 but the safety car was out again two laps later after Besnard/O'Brien went off at turn one and got bogged again! Back to green again on lap 15, Ambrose/Ritter losing two places at the restart as Ambrose missed a gear, but he took second back at the end of the back straight later that lap and retook the lead again in a similar move on lap 18, but the safety car was back out a lap later when the car of Phil Scifleet/Lee Holdsworth caught fire.
Back to racing on lap 25, finally getting some consecutive laps of racing, Ambrose/Ritter edging away from Murphy/R Kelly, Lowndes/Seton, Bright/Weel and the father-son pairing of Jim and Steven Richards, though they were soon replaced by Jason Bargwanna/Mark Winterbottom in the top five. An off by Steven Richards at turn two on lap 28 forced him to pit soon after for two laps in a row to repair and then replace the front airdam, costing him several laps in the process. Meanwhile the Lowndes/Seton began to drift back, losing third to Bright/Weel on lap 35 and fourth to Bargwanna/Winterbottom a lap later.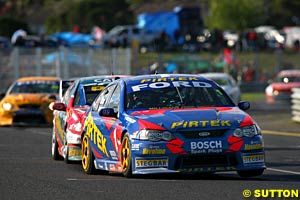 The first pit stops weren't far away, beginning just before lap 50 and ending around lap 64 when Skaife/Todd Kelly pitted, Kelly having just spun off at turn one but managed to extract himself from the grass. After the stops were completed Ambrose/Ritter maintained his substantial lead over Murphy/R Kelly, Garth Tander/Cameron McConville, Russell Ingall/Cameron McLean and Lowndes/Seton before Bright/Weel reclaimed fifth on lap 71 when he made an ambitious dive into the second last corner and punted the Lowndes/Seton car into the grass. This brought the safety car out as Seton was unable to get off the wet grass on slick tyres, losing several laps in the process.
Racing restarted on lap 77, with Bright/Weel moving up to fourth two laps later when he passed Ingall/McLean. But the safety car was back out on lap 87 after the Jamie Whincup/Alex Davison got stranded at turn two having suffered severe suspension damage just a few corners earlier in contact with another car. Racing resumed once more on lap 90, the Ambrose/Ritter car again edging away in front. Meanwhile Skaife/T Kelly were fighting back from thirteenth place after their pit stop thirty laps earlier, taking fifth on lap 91 and fourth on lap 98.
It must have seemed like a bad dream, a nightmare for Marcos Ambrose. Last year, his then co-driver Russell Ingall spun the leading car backwards into the gravel at turn one, costing them a lap and any chance of victory. This year, Greg Ritter spun the leading car backwards into the mud at turn one. Thankfully, with a lot of right foot, Ritter escaped the quagmire but dropped to tenth in the process, handing the lead to Murphy/R Kelly just ahead of Bright/Weel and Skaife/T Kelly.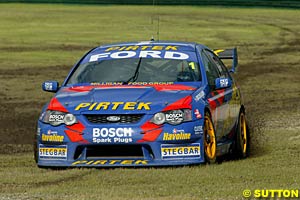 Lap 103 saw mayhem on the track, as debris into the right hander towards the end of the lap forced Murphy/R Kelly to take an unusual line, slightly catching out Bright/Weel who locked up and then slid straight ahead on the exit. The next corner was a left hander and Bright/Weel careered straight ahead, missing the Murphy/R Kelly car by millimetres as it crossed the track at right angles before ending up on the grass on the other side, which it then eventually got out of (just). Behind them further cars slid and spun, with the Alex Yoong/John McIntyre ending up on the same grass Bright/Weel were on but unlike them they got stuck, bringing out the safety car.
This safety car was perfectly timed for most of the field, with almost everyone using this opportunity to make their last stop of the day. Tander/McConville and John Bowe/Brad Jones didn't though, and took over the top two spots, ahead of Bargwanna/Winterbottom, Simon Wills/Paul Stokell and Skaife/T Kelly. The race restarted on lap 107 but it was back under safety car conditions just three laps later after a spun car at Dandenong Rd corner led to several crumpled bonnets in avoidance. Soon after the Wills/Stokell car tipped the Bright/Weel car into a high speed spin, while a little further up the road the Dale Brede/Will Davison tapped the Lowndes/Seton car into a slide, which ended with the Lowndes/Seton car spearing across the front of the Skaife/T Kelly car, resulting in severe damage to Skaife/T Kelly and a bogged Lowndes/Seton.
All this was actually good news for Tander/McConville and Bowe/B Jones, who were able to take their final stop with little penalty. Now Ingall/McLean led from Murphy/R Kelly, Ambrose/Ritter, Steven Johnson/Warren Luff and Tander/McConville. The race resumed on lap 112, Ambrose/Ritter taking Murphy/R Kelly just after the restart despite the best efforts of Murphy/R Kelly but was again under safety car three laps later after another incident at Dandenong Rd corner. The father-son Richards car was tapped into a spin, while another car was already in the gravel. In the mayhem Ambrose/Ritter snuck past Ingall/McLean to take the lead.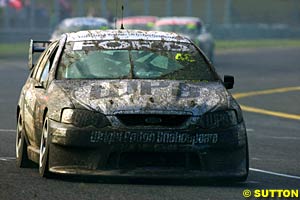 Racing again resumed on lap 117 but was back behind the safety car on lap 129 when the Yoong/McIntyre car got stuck in the mud at turn one. Racing resumed on lap 131, with third place soon changing hands when Murphy/R Kelly had a poor run onto the back straight, allowing Johnson/Luff to get on one side and Tander/McConville the other side, three wide as they approached the braking zone for the esses. Tander/McConville won out and went from fifth to third, Johnson/Luff stayed in fourth while Murphy/R Kelly dropped from third to fifth. Meanwhile, as they had done whenever they had been at the front, the Ambrose/Ritter car was steadily opening a margin on the field.
But another safety car period was on its way, coming out on lap 148 after the Peter Brock/Jason Plato got stuck in the grass at the last corner, Johnson/Luff sneaking past the Tander/McConville car when a lapped car made contact with it while being lapped. The race restarted on lap 150 but was back under safety car conditions a lap later when the Yoong/McIntyre got stuck in the mud at turn one, which made it the fifth time the WPS team had been the cause of a safety car period. Ironically (or maybe not) the safety car is sponsored by the same company...
Back to green again on lap 153, Ambrose/Ritter again edging away from Ingall/McLean, Johnson/Luff, Tander/McConville and Murphy/R Kelly. The lap 161 finish was closing in, but so was the time limit. A race which was possibly going to be shortened due to inclement weather which never arrived eventually finished a lap early thanks to the twelve safety car periods, Ambrose/Ritter taking the win with the top five unchanged since the restart.
Result of V8 Supercar Championship Series, Round 9 of 13, Sandown 500, Victoria, Australia:

Pos  Driver                               Car
 1.  Marcos Ambrose/Greg Ritter           Ford Falcon BA
 2.  Russell Ingall/Cameron McLean        Ford Falcon BA
 3.  Steven Johnson/Warren Luff           Ford Falcon BA
 4.  Garth Tander/Cameron McConville      Holden Commodore VY
 5.  Greg Murphy/Rick Kelly               Holden Commodore VY
 6.  Jason Bargwanna/Mark Winterbottom    Ford Falcon BA
 7.  John Bowe/Brad Jones                 Ford Falcon BA
 8.  Paul Dumbrell/Tony Longhurst         Holden Commodore VY
 9.  Jason Richards/Fabian Coulthard      Holden Commodore VY
10.  Jason Bright/Paul Weel               Holden Commodore VY

Standings: Marcos Ambrose 1487, Jason Bright 1464, Steven Richards 1397, Rick Kelly 1373, Russell Ingall 1347, Greg Murphy 1284, Todd Kelly 1163, Garth Tander 1155, John Bowe 1004, Jason Bargwanna 962 etc.
OWRS
King of Laguna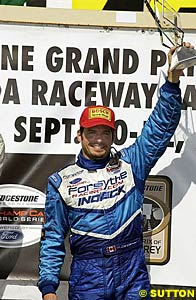 For Patrick Carpentier a year can seem a long time. The Canadian PCR driver had not won a race since the 2003 Laguna Seca round. Carpentier had his sights set on a successful return to Monterey. When trouble struck some of the series' leading lights early, Carpentier seized the opportunity and proceeded to dominate the race.
Carpentier was on the pace in his own right from when the series pitched their tents in the surrounds of the famous Californian circuit. Carpentier qualified just over two tenths behind series leader Sebastien Bourdais. Although third fastest, Carpentier got the front row spot for topping the timesheets in the earlier and slower first qualifying session. The unlucky demotee to third was Carpentier's teammate, defending series champion Paul Tracy. A.J. Allmendinger continued to impress with his pace to be fourth fastest in the RuSPORT Lola, with the second RuSPORT entry of Michel Jourdain Jr next alongside the Rocketsports Lola of Alex Tagliani. Bourdais' senior title rival Bruno Junqueira was down in eighth position.
The field circulated around to the green, but already Justin Wilson was in trouble, the Brit stalling on the grid and falling to the rear of field. Wilson would not complete a competitive lap as he and Rodolfo Lavin clashed at the Corkscrew, while a brush with a wing endplate punctured one of Bourdais' tyres, giving his rival a heaven sent opportunity to pounce. Tracy took up the lead from Carpentier, Allmendinger and a fast starting Ryan Hunter-Reay.
Early yellows caused by a Mario Dominguez off and a Gaston Mazzacane spin bunched the field up with Junqueira up to fifth and Bourdais rapidly moving into the base of the top ten. With the leaders pitting at around lap 30, Tagliani led for a few laps as he tried to stretch the fuel window. Tracy gave away his winning chances shortly afterward, spinning on lap 38, stopping for a new nosecone once recovered.
With Tracy gone, and Allmendinger's run blunted by mechancial problems, Carpentier had a big lead over Junqueira and Oriol Servia when the yellows flew on lap 55 for a spun Roberto Gonzalez. The too frequent yellows had pushed the finish late and the race was cut in distance to 79 laps. When the race went green on lap 58, Carpentier leapt away while his pursuers had to cut around his lapped teammate Lavin. Once past Lavin though Carpentier continued to move away and the field had no answer.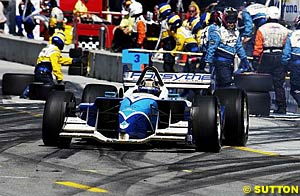 By race's end the gap from Carpentier to Junqueira was out to over five seconds. Servia had his best result for some time after the Dale Coyne team did everything right with strategy and pitstops in aracer where few could claim the same. Meanwhile Jourdain took fourth and led Hunter-Reay home ahead of Tagliani and the recovering Bourdais, who had taken Mario Haberfeld for seventh, only to lose it on the last lap with an off at turn three.
The win edges Carpentier to within a point of his team leader in the points race, but Tracy, Carpentier and Tagliani are still giving a sixty point advantage to Bourdais. While the championship race is theoretically still open, only Junqueira, down some 24 points, is any real threat to Bourdais. With the recent cancellation of a prospective race in Puerto Rico, there are four races left on the calendar. Almost 150 points still to be won.
Result of Champ Car World Series, Round 11 of 15, Bridgestone Grand Prix of Monterey, Laguna Seca, California:

Pos  Driver               Car
 1.  Patrick Carpentier   Forsythe Championship Racing Lola-Ford
 2.  Bruno Junqueira      Newman Haas Racing Lola-Ford
 3.  Oriol Servia         Dale Coyne Racing Lola-Ford
 4.  Michel Jourdain Jr   RuSport Lola-Ford
 5.  Ryan Hunter-Reay     Herdez Competicion Lola-Ford
 6.  Alex Tagliani        Rocketsports Racing Lola-Ford
 7.  Mario Haberfeld      Walker Racing Reynard-Ford
 8.  Sebastien Bourdais   Newman Haas Racing Lola-Ford
 9.  Guy Smith            Rocketsports Lola-Ford
10.  Paul Tracy           Forsythe Championship Racing Lola-Ford

Standings: Sebastien Bourdais 275, Bruno Junqueira 251, Paul Tracy 215, Patrick Carpentier 214, Alex Tagliani 203, Mario Dominguez 186, Ryan Hunter-Reay 168, A.J. Allmendinger 165, Oriol Servia 164, Jimmy Vasser 150 etc
FIA GT
Sailin' Saleen
Saleen drivers Uwe Alzen and Michael Bartels took their third victory of the season at Imola, racing away to a 43 second victory after taking the lead early in the race.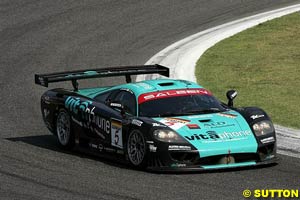 Ominously, the brand new Maserati MC12s, making their controversial debut after a prolonged 12 month development, finished second and third, despite running with a sixty kilogram weight penalty and reduced aerodynamics. However with the Maseratis competing under special dispensation, second place points were awarded to the Scuderia Italia Ferrari 550 Maranello of series leaders Luca Cappellari and Fabrizio Gollin.
Gollin took pole position, despite 100 kilograms of success ballast and led the race early until Alzen got through and proceeded to run away with the lead. The two Maseratis came forward as the race went on after qualifying poorly. Running on a different fuel stop strategy to most of the field, the thirstier Maseratis had to make a late race splash'n'dash to make the finish. The Saleen however completed its last pitstop still five seconds ahead of Mika Salo.
Salo and Andrea Bertolini could not match the Saleen's pace in the chase to the flag as the margin blew out. Almost 40 seconds further back was the second Maserati of Johnny Herbert and Fabrizio de Simone. Fourth place for Cappellari and Gollin was enough for Scuderia Italia to retain the teams' trophy. The team's third car, run as a satellite operation as CARE Racing finished fifth with the Scuderia Italia team on each side.
The GPC Giesse team filled the next three positions with their two 550 Maranellos and their N-GT class 360 Modena. The Modena of Christian Pescatori and Iradj Alexander though was disqualified after inspection of the 360's airbox. This handed the N-GT class victory to the Freisinger Motorsports Porsche of Lucas Luhr and Sascha Maassen. Series leaders Stephane Ortelli and Emmanuel Collard were second in class, reducing the damage done to their points lead. Third, and a team trifecta result, was taken by Alexei Vasiliev and Jorg Bergmeister.
With three rounds to go Cappellari and Gollin hold a 16.5 point lead over their teammates who are now their only title rivals with the GPC Ferrari pairing of Phillip Peter and Fabio Babini 36 points behind. Just 9.5 points cover the N-GT lead, with Ortelli and Collard leading their Freisinger stablemates Maassen and Luhr. This weekend the series' European finale will be held at Oschersleben in Germany ahead of the last two events in the Middle East.
Result of FIA GT Championship, Round 8 of 11, Imola, Italy:

Pos  Driver                                       Car
 1.  Michael Bartels/Uwe Alzen                    Saleen S7-R
 2.  Andrea Bertolini/Mika Salo                   Maserati MC12
 3.  Johnny Herbert/Fabrizio de Simone            Maserati MC12
 4.  Luca Cappellari/Fabrizio Gollin              Ferrari 550 Maranello
 5.  Stefano Livio/Enzo Calderari/Lilian Bryner   Ferrari 550 Maranello
 6.  Matteo Bobbi/Gabriele Gardel                 Ferrari 550 Maranello
 7.  Philipp Peter/Fabio Babini                   Ferrari 575M Maranello
 8.  Emanuele Naspetti/Gianni Morbidelli          Ferrari 575M Maranello
 9.  Sascha Maassen/Lucas Luhr                    Porsche 996 GT3-RS
                                                  (1st N-GT)
10.  Karl Wendlinger/Jaime Melo Jr                Ferrari 575M Maranello

Standings: Luca Cappellari and Fabrizio Gollin 70, Matteo Bobbi and Gabriele Gardel 53.5, Philipp Peter and Fabio Babini 44, Karl Wendlinger 40.5, Enzo Calderari, Lilian Bryner, Uwe Alzen and Michael Bartels 38 etc.
LMES
Audi Again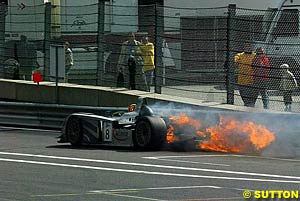 Victory in the Spa 1000 has handed the inaugural Le Mans Endurance Series to the Audi Sport UK pairing of Jamie Davies and Johnny Herbert. The duo raced their Audi R8 to a one lap victory over the 144 laps of the giant Belgian circuit of Spa-Francorchamps, in a dramatic race which had seen their teammates and series leaders Pierre Kaffer and Allan McNish retire after pitting with the rear end of the silver and purple Audi fully ablaze.
An incident-marred race also saw Rollcentre Racing's fast but accident prone Dallara-Judd into the barriers with Martin Short at the wheel. Second place and a lap down were the Le Mans 24 Hour champions Team Goh with Rinaldo Capello and Seiji Ara failing to overhaul the second Audi Sport UK combination in the points standings by just a single point. Pole sitter Nicolas Minassian and co-driver Jamie Campbell-Walter finished in third place in the Reynard-designed DBA-Judd.
Fourth outright was enough for Courage Competition drivers Alexander Frei and Sam Hancock to claim the LMP2 title. Similarly a class win in seventh outright for the Larbre Competition trio of Christophe Bouchut, Pedro Lamy and Steve Zacchia was enough for the team to win the LM GTS crown.
Freisinger Motorsport won the LM GT race with Stephane Ortelli and Emmanuel Collard driving their Porsche home in ninth, but Ortelli fel just one point short of being class champion to JMB Racing Ferrari driver Roman Rusinov.
Result of Le Mans Endurance Series, Round 4 of 4, Spa-Francorchamps, Italy:

Pos  Drivers                                     Car
 1.  Jamie Davies/Johnny Herbert                 Audi R8
 2.  Rinaldo Capello/Seiji Ara                   Audi R8
 3.  Nicolas Minassian/Jamie Campbell-Walter     DBA-Reynard 03S Zytek
 4.  Alexander Frei/Sam Hancock/                 Courage C65 AER
     Jonathan Cochet                             (1st P2)
 5.  John Stack/Sam Hignett/Gianni Collini       Reynard 04S Zytek
 6.  Thomas Erdos/Mike Newton/Miguel Ramos       Lola B160 MG
 7.  Christophe Bouchut/Pedro Lamy/              Ferrari 550 Maranello
     Steve Zacchia                               (1st GTS)
 8.  Paul Belmondo/Claude-Yves Gosselin/         Courage C65 AER
     Wim Eyckmans                                (2nd P2)
 9.  Stephane Ortelli/Emmanuel Collard           Porsche 996 GT3-RSR
                                                 (1st GT)
10.  Tomas Enge/Robert Pergl/Patrice Goueslard   Ferrari 550 Maranello
                                                 (2nd GTS)

Final Standings P1: Johnny Herbert and Jamie Davies 34, Allan McNish and Pierre Kaffer 28, Rinaldo Capello and Seiji Ara 27, Nicolas Minassian and Jamie Campbell-Walter 12, Thomas Erdos, Mike Newton and Miguel Ramos 10 etc.
P2: Alexander Frei and Sam Hancock 30, Pierre Bruneau and Marc Rostan 26, Jean-Marc Gounon 20 etc.
GTS: Pedro Lamy, Christophe Bouchut and Steve Zacchia 35, Danny Sullivan, John Bosch and Thomas Biagi 20.5 etc.
GT: Roman Rusinov 25, Stephane Ortelli 24, Xavier Pompidou 22, Stephane Daoudi, Adam Jones and Sascha Maassen 21 etc.
Upcoming Events Calendar
September 17 - World Rally Championship, Round 12 of 16, Wales Rally GB, Great Britain
September 19 - World Motorcycle Championship, Round 12 of 16, Motegi, Japan
September 19 - NASCAR Nextel Cup, Round 27 of 36, New Hampshire International Speedway, New Hampshire, United States
September 19 - Deutsche Tourenwagen Masters, Round 9 of 10, Brno, Czech Republic
September 19 - FIA GT Championship, Round 9 of 11, Oschersleben, Germany
September 19 - European Touring Car Championship, Round 9 of 11, Oschersleben, Germany
September 19 - European Formula 3000 Championship, Round 8 of 10, Zolder, Belgium
September 19 - All-Japan Formula Nippon Championship, Round 7 of 9, Sepang, Malaysia
September 25 - Champ Car World Series, Round 12 of 15, Las Vegas Motor Speedway, Nevada, United States
September 25 - American Le Mans Series, Round 8 of 9, Petit Le Mans, Road Atlanta, Georgia, United States
September 26 - NASCAR Nextel Cup, Round 28 of 36, Dover Downs International Speedway, Delaware, United States
September 26 - World Superbike Championship, Round 10 of 11, Imola, Italy
September 26 - European Formula 3 Championship, Round 8 of 9, Le Mans Bugatti, France
September 26 - British Touring Car Championship, Round 10 of 10, Donington Park, Great Britain
October 1 - World Rally Championship, Round 13 of 16, Rallye d'Italia, Italy
October 2 - World Motorcycle Championship, Round 13 of 16, Qatar
October 3 - Indy Racing League, Round 15 of 16, California Speedway, United States
October 3 - NASCAR Nextel Cup, Round 29 of 36, Talladega Superspeedway, Alabama, United States
October 3 - Deutsche Tourenwagen Masters, Round 10 of 10, Hockenheim, Germany
October 3 - European Formula 3 Championship, Round 9 of 9, Hockenheim, Germany
October 3 - British Formula 3 Championship, Rounds 23 & 24 of 24, Brands Hatch, Great Britain
October 3 - World Series by Nissan, Round 7 of 9, Catalunya, Spain
October 3 - World Superbike Championship, Round 11 of 11, Magny-Cours, France
---
© 1995-2005 Kaizar.Com, Inc. . This service is provided under the Atlas F1
terms and conditions
.
Please
Contact Us
for permission to republish this or any other material from Atlas F1.