Two long-suppressed smiles finally returned to the faces of the leather jacketed Martin Whitmarsh and his pit wall accomplice Ron Dennis when Kimi Raikkonen crossed the line first at the end of the Belgian Grand Prix. The Finnish driver had finally ended 20 months of hurt at McLaren-Mercedes with victory at Spa-Francorchamps, but both men felt it difficult to find the expected elation.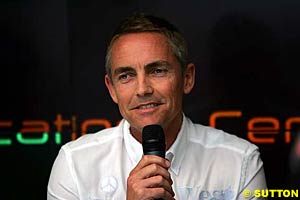 It is easy to forget what it is like to win, especially after an early season slump that involved scoring just five points from the first seven races. It is even easier to buckle under pressure. But McLaren resisted such a feeble reaction to their struggles and left fans, rivals and media alike in a state of shock and surprise after their Belgian success.
It was no surprise that the team returned to the fore. The surprise for many - although not for McLaren - was rather that they did it so soon, thanks to a massive re-design of their car and a positive attitude that was relentless, a constant forward focus that was trained on overcoming those pesky scarlet Ferraris out in front.
Whitmarsh, the British team's managing director, found satisfaction in the success, of course. Raikkonen had done what no other driver had done so far this season - he had beaten World Champion Michael Schumacher and McLaren's arch rivals Ferrari on the track, fair and square. But his reaction was typical of a determined racing team boss, searching for more. Now McLaren is about to change.
"I decided that we, and I, have got to enjoy wins more," says Whitmarsh, who proclaimed just that when he gathered the entire workforce together for a champagne breakfast on the Monday after the Spa success. "The intensity of pursuing the win is so great that almost when it happens you either have relief or you expected it.
"You think 'we're going to win today' and you go out and what happened? 'Well, okay, we won.' You know? Sometimes you even have the worst feelings that, well, we very nearly didn't win, did we? Even when you win you know what happened behind it, and you know that we nearly threw that away, and it happened several times. Of course, I enjoy winning, but I haven't enjoyed it enough."
Before the Belgian Grand Prix, McLaren had last won in Malaysia, in 2003, when Raikkonen claimed his maiden Grand Prix victory and left CEO Dennis in tears. He went on to challenge for the 2003 World Drivers' Championship but missed out by three points, after regularly finishing second and third but failing to win any more races, as Schumacher wracked up a record-breaking sixth World Championship success.
This year's Belgian race, held at the end of August, marked a return to winning ways for Raikkonen, but also saw Schumacher claim his seventh world title after a dominant season that had, until then, seen him win every time he finished and miss out in just one of the 13 races - when he crashed in the tunnel at the Monaco Grand Prix, as he fought his way through the field towards, perhaps, another victory.
"Belgium was at the time of the Olympics, and I was watching three girls who won gold in the sailing event and how much they enjoyed their win," recalls Whitmarsh. "It's hard to do that in Formula One. I can only remember - and this is sad actually - I can only remember one occasion in my 15 years with McLaren when there was an absolute lasting, more than 24-hour, adrenaline rush.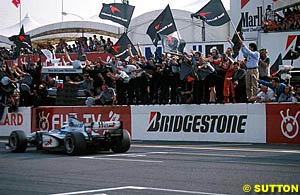 "That was when we won the Championship in 1998. And that was because we had come back and finally we had done it and for Mika Hakkinen, after all his accidents and all the trauma of building up to it. So I decided that we, as an organisation, have to be better at enjoying wins, because there are only so many you can have in your career."
The next one seemed some distance away when McLaren left Melbourne after a disastrous season-opening Australian Grand Prix this year. But in truth the troubles had started some time before, when the team developed their radical MP4-18 car for the 2003 season in an attempt to counter the embarrassment of Ferrari's utter dominance of 2002.
After seeing the Italians claim 15 of the 17 wins - gratingly equaling McLaren's record for the number of wins in a season - Whitmarsh and Dennis decided the only way to win would be to switch tyre suppliers from Bridgestone, who were by now cosily in bed with Ferrari, to Michelin, who were fighting on all fronts to topple their rivals.
McLaren started that season with the MP4-17D machine, a development of their 2002 car, with the plan to introduce a radical MP4-18 machine when they were confident with its pace and performance. They won the opening two races in March, with Coulthard in Australia and Raikkonen in Malaysia, and by the seventh race of the season in Monaco the Finn had claimed six podiums.
By that time, however, there were already problems with the MP4-18. Whitmarsh, who took control of the project, had initially predicted the car would make its competitive debut at the first European race in San Marino on April 20, but on that day Dennis revealed it would be arriving no sooner than Canada, in early June, and no later than Silverstone, in early July.
The car was eventually unveiled on May 20 with Whitmarsh heralding it as a "significant step forward", but test driver Alexander Wurz was five seconds off the pace in its shakedown a day later. The project hit further trouble when Raikkonen crashed the car in a closed-door test on June 6, then Wurz wrecked it again in a crash during its first public outing on June 17.
By then the initial debut date in Canada had already passed and the car, which had been designed to the limits and minimised in every area in a bid to improve its packaging from front to back, was still struggling to pass one of its crash tests. Its introduction was delayed again, with Dennis hinting at its ultimate future when he declared the MP4-17D a car capable of winning the world title.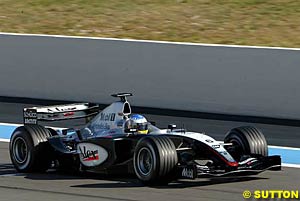 On the Championship trail, indeed, the older machine was doing the business, clocking up points reliably to ensure Raikkonen's lead over Schumacher was maintained, albeit usually by a slightly smaller margin after each race. But on the test tracks, McLaren's season was falling apart, and by the Hungarian Grand Prix in August the team had ditched the MP4-18 project completely.
Five examples of the MP4-18 had been developed by the time it was shelved, with initial designs including exhausts blowing through the diffuser, a design trend that had been dropped in 1999, soon making way for other options. It had its uses, with the suspension and diffuser developments making it on to the MP4-17D, but ultimately its distraction had cost McLaren the Championship.
The team had no option but to base this season's MP4-19 machine on the MP4-18, having taken the leap of faith on a new generation of cars, and the pre-season testing pace was good. But the opening races said it all and, even before the season began in Australia, McLaren and Mercedes's 150th race together, Raikkonen and Coulthard called the warning signs and predicted a tough road ahead.
Whitmarsh had seen it, too.
WG: The dip seemed to pretty much begin with the MP4-18, didn't it?
Whitmarsh: "Well, I think we lost our way there. I think the 18 became a distraction. One observation I had was that two or three races into this year we were idiots, and criticised as such, but we were two or three races away from having just lost the World Championship by two points."
WG: That must have been pretty hard to take...
Whitmarsh: "You are hero to zero pretty quickly in this business. But I think as an organisation you have got to be absolutely focused on a positive attitude. If you are not doing so well and you start talking about winning then you are easily ridiculed, but that's what we are here to do and I think to have gone a season without winning a race was something that, if I had believed it was going to happen, would have caused me a lot of pain. We were determined to turn the form around."
WG: It was one of the most dramatic slumps there has been for some time, though
Whitmarsh: "Yeah. I think we made a number of mistakes. The ambitious nature of the MP4-18, and it was a new 18, 19, 20, it was a generation change from the previous and we got it wrong. We over-emphasised some areas and we missed others. To design the best package you really have to work on aerodynamics, on the kinematics of the suspension, compliance, the integration of the powertrain and the whole constructural stiffness, and the whole range of different aspects and try to balance them. We set off in the wrong direction, there's no doubt that..."
WG: How did you manage to do that, to go so wrong?
Whitmarsh: "Well, by judgment mistakes that were wrong in terms of the emphasis that we put in the composition of that package. As is often the case, there is a sort of sod's law element that when you are going wrong on the chassis you also go wrong elsewhere, and we lost our way in the philosophy of the engine as well. So, it is often the case that, just as when you are winning there's not one thing right, then when you're losing there is also not one thing wrong. It all came together and it was, sort of, 'how the hell did we manage to get all these things wrong?'"
WG: The refreshing thing was to hear you admitting there were problems rather than hiding yourselves from the media at the start of the year
Whitmarsh: "Well, I hope that we are a proud - sometimes perceived as arrogant – organisation, but I think that with ourselves we are pretty honest and open that if we screwed up we say so. That's the only way you are going to improve, but the whole team hurts because the whole ethos of the organisation is we are here to race and to win."
WG: But there was always the feeling that, at some stage, you were going to get back, so I suppose that makes the pain easier to accept?
Whitmarsh: "Yes. I think one of the things that people have heard me say for some time is when things haven't gone well there is a temptation in motor racing to say 'okay, this is bad but we'll try harder or we'll get lucky next time'. Well, my view on that is, if you want a materially different outcome you need a materially different approach. It won't come right unless you change that approach. We have got the fundamental resources, people, culture and skills to win World Championships, so then you look at the process and the process is how people work together, how we made certain decisions, what our particular design philosophy was, and be prepared to challenge and change some of those things."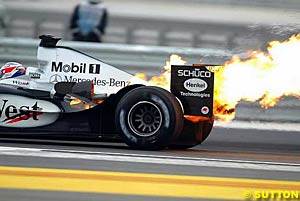 It was easy to see the biggest problem at the start of the season, and Raikkonen made his point spectacularly during the Bahrain Grand Prix when he kept his foot in to leave a trail of fire as his Mercedes engine gave in for the third time in as many races. Coulthard followed a few laps later and before the next race, in San Marino, some of those changes had begun to take shape.
Whitmarsh's philosophy for big shake-ups had failed on the MP4-18, when radical design solutions failed to pay off, but he remained un-phased and had soon got his teeth into the overall structure of McLaren and its interaction with Mercedes's engine design and development bases in Stuttgart, Germany and, with partner company Ilmor, in Brixworth, England.
His solution was to take over. Mercedes boss Norbert Haug defended his company and admitted the step they had made may have been "a little bit too big" but, with immediate effect, Whitmarsh dispatched previous Ilmor boss Hans-Ullrich Maik to take control of the engine side along with his McLaren responsibilities, with the ultimate ambition of bringing everything under one rule.
The changes were not without heated debate within the hub of McLaren in Woking, with Dennis, Whitmarsh, McLaren technical director Adrian Newey and Ilmor technical director Mario Illien all agreeing and disagreeing at differing levels with the restructuring proposals being suggested. Each had their own view, but all knew that something needed to be done.
On the face of it there was a united front, played out in front of the cameras at each Grand Prix, with all talking of taking positive steps towards victory. Behind the scenes, there was no less a commitment to remain positive, but the determination to fight back was always going to require the impetus of argument to ultimately find the correct solution.
"There are (debates and arguments), of course," admits Whitmarsh. "But in difficult times it is easy to generate recrimination within the organisation and between various factions of the organisation, and we work very hard on the fact that we are one team. But do we have tensions between Ron and I, Adrian and I, and others, Mario and I? Yes, we do.
"It is inevitable, because all of us are competitive people, but I think we are all objective enough and rational enough to recognise that we have to work together. It has been a painful process. We have lost about 50 people in the last four months from Stuttgart and from Brixworth, and that is at a quite senior level, and that has been painful for those people and for the organisation.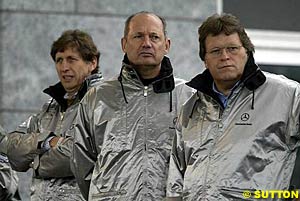 "Now, we have to accept that there are three different cultural backgrounds of the Brixworth organisation, the Stuttgart organisation and the Woking organisation, and you have got to understand that to overcome it and effectively bring it together to become one structure, one organisation. We have made progress but we still have a lot of progress to make.
"We lost a little bit of direction, in a way, on the programme and we have made really substantial performance and reliability improvements in very short order. We've got momentum, and making a similar step again would take considerably more effort, but certainly we can see the opportunity to continue to improve what is a very competitive engine."
That restructuring, however, is not yet at an end. Whitmarsh insists that "the fundamental team structure we have is what we are going to stay with," but he admits there are more detailed changes to come, including specifically a new managing director of Mercedes-Ilmor, which he is hoping to appoint within the next few weeks.
The philosophy was once to buy in key talents - Newey was recruited in his prime from Williams many years ago and, just in November last year, talented aerodynamicist Nicholas Tombazis was brought in from Ferrari. Now, however, Whitmarsh believes the team is abounding with talents within, and he is happy to re-shuffle internally rather than making waves with signings across the grid.
"We have a very strong group of chief engineers, and we will make sure we have planning so we can bring people through," says Whitmarsh. "Part of my job is to try and ensure we develop people who are going to lead the technical organisation and/or look out for fresh talent on the outside, and I am not actively pursuing people from within Formula One at the moment."
Newey's contract is clearly a king pin in the operation, but he and his team stumbled over the MP4-18 and, although they now have one win under their belt, they are still under pressure to turn things around. His talents have never been in question, though, and the respect he has in the sport was shown this August, when rumours surfaced that Williams were keen to take him back.
Whitmarsh, however, was never worried about the stories, which spread ferociously around the Hungaroring paddock, that Newey's former team had sounded him out about his availability. He is contracted to McLaren until the middle of next year and until then he is going nowhere.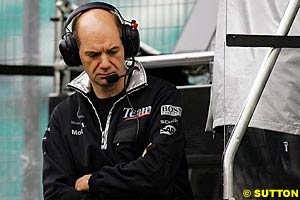 "I think the latest rumour stemmed from strife within the Williams camp rather than within this camp," he says. "I think there is quite a lot of instability in the Williams organisation at the moment and what happens is people speculate what is going to happen. I don't think Adrian has the need to go to another Formula One team, and he has said he doesn't want to go since that speculation."
Newey, it seems, is more interested in getting McLaren back on top. The same applies for all of the staff inside the McLaren Technology Centre, originally codenamed Paragon, in Woking, who are each instilled with the corporation's standard positive attitude and are constantly reminded of the company's lofty aspirations by the newly created headquarters within which they reside.
An imposing metal and glass structure that surrounds a purpose-built lake, the Paragon project rose from nothing to become one of, if not the most, impressive team headquarters in Formula One. Yet many observers jumped to criticise Dennis for expanding the company and pushing it away from its heartbeat within the racing world.
The painstaking process of creating the new headquarters, as well as the creation of a new road car in collaboration with engine partners Mercedes, may have moved Dennis towards his self-admitted dream of the 'McLaren Group', but both projects were blamed for taking his eye off the ball as the racing team began to enter its slump.
At the same time, Whitmarsh was being paraded as the new man at the helm, brought into the public eye at the Barcelona launch of their MP4-17 car in 2002 where, as a relative unknown, he remained embarrassedly silent as all questions were directed towards Dennis. And after a year on the road in Dennis' shadows, he was effectively left to his own devices on the MP4-18.
From then on things did not go right, but Whitmarsh is very much an analytical man who advocates looking back to move forward, and, as he sat on a space-age silver stool in a quiet side of the team's communications centre on the Saturday of the Italian Grand Prix, 13 days after Raikkonen returned to the top, he was openly ready to admit his mistakes.
WG: So, who do you blame?
Whitmarsh: "Who do I blame? Well, I think the reality is, with regards to the chassis, I have to blame myself because ultimately the buck stops with me. Inevitably, when there is suffering or we have made mistakes then people want to ask questions of who is to blame, who is responsible. I could sit and give you an analysis of MP4-18 and all the technical people who contributed to that, but they were contributing within an organisation that I oversaw, so if their contribution was inappropriate then I have to put my hands up and say that's my own responsibility."
WG: People say 'the 18 was Martin's baby but it went wrong and Ron stepped in to help out'. Is that true?
Whitmarsh: "The thing is, Ron, as the chairman of the board, has a broad range of responsibility. The team has succeeded and failed whilst I have been there and during that time I have been able to listen to the council of Ron, if I requested it, and sometimes he would give me his council without request!"
WG: In truth, though, the 18 was not really the first car you were responsible for, was it?
Whitmarsh: "Well, in terms of the operation and responsibility of the business, then from 1989, when I arrived, I had a fair amount of responsibility and that grew with time. By 1997 I was managing director and, by dint of that fact, then thereon in all of the screw-ups should rightly be put on my shoulders because Ron does not have an executive and operational responsibility within our racing team."
WG: And so it is your success when you win them?
Whitmarsh: "Well, I think one of the responsibilities of leadership here is that if you are winning it's the team and if you're losing it's you. That's how it works, and if you don't like that then don't take the job, I think! I hope that I have contributed something, but it is for the people inside the team to judge that, not the people outside the team."
WG: In fact, you have had a pretty rollercoaster ride since you joined McLaren...
Whitmarsh: "Formula One is a rollercoaster, and you are hero to zero pretty damned quickly. We had four years of Honda, a year of Ford, a year of Peugeot and now nine years of this, and I think you have to try to believe in yourself but try to be prepared to examine what you're doing and accept you got it wrong. You have got to make decisions, and nobody has made more mistakes than me. I am not going to encourage people to make mistakes, but I want them to make decisions and to be prepared to say, you know, 'I got it wrong, now why did I get it wrong' and 'how do I ensure that I don't get that bit wrong again?' If you can't recognise that and you are not big enough to stand in front of the company and say 'I've screwed up', you know...
WG: And now you have even more responsibility
Whitmarsh: "Yes. Now, for the last three or four months, from the day I took overall responsibility for the engine programme, then I was to blame for that as well! So, ultimately, I am not one of the technical gurus in the organisation but I am the leader and motivator, and if I haven't managed that situation so that we are winning races then that has got to be my fault. We have some very good engineers in Stuttgart, Brixworth and Woking, and if we structure the process and give them the right leadership then we will win world championships. The more I emphasise that the more I must criticise myself for where we were at the beginning of the year - there's no secrets."
WG: So the next step is to eventually take over from Ron. Do you see that as a possibility in the not so distant future?
Whitmarsh: "Of course I do - I wouldn't be here otherwise! I don't know whether Ron does. I think Ron has been in the business a long time, he is a figurehead to the business, he is an out-and-out racer, and the area of the operation he is most involved with is out on that pit wall. Ron and I know each other very well. There are various discussions, I tell him every time 'look, listen Ron you are going to be going out on a Zimmer frame!' I can't see him stepping back."
WG: So why have you been so persistent?
Whitmarsh: "I have had opportunities elsewhere to go and do other things up and down this pitlane, but I don't see the motivational reasons for going to another team, so I am not really interested in doing that. But I think when Ron finally decides it's time to go it is for the shareholders to decide who is the best person to fill that position, and if it was my decision it would be me."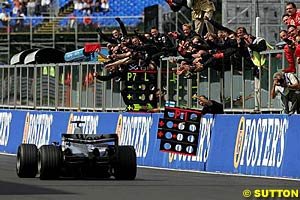 Right now, however, the focus is on improvement on the racetrack. One win is not enough, and when you are on a wave it is very easy to fall off. That may be why McLaren have always had that analytical approach to a race win, something that Ferrari have adopted and developed extremely successfully. A sort of 'win now, celebrate after the next one' attitude.
The relief of the Belgian victory allowed McLaren to crow about their success, Dennis taking particular enjoyment in mocking the unfortunate journalist who wrote the team off following their disastrous start to the season and promised to complete a naked lap of Silverstone on foot if they were to actually win a Grand Prix this season.
But the team were soon brought back to earth on a damp Monza track at the following race in Italy. Coulthard made a mistake in choosing wet tyres on the grid and finished only sixth after being forced to start from the pitlane when he realised his error, while Raikkonen suffered a collision on the opening lap that eventually made his engine fail. That was not the plan at all.
The big picture, however, shows that the MP4-19B is clearly an improvement on its predecessor. In the first nine races the pace of the original car only allowed McLaren to qualify once in the top four. Since the new car's introduction, Raikkonen and Coulthard have clocked up five starts from the front two rows, including one pole position for Raikkonen at Silverstone.
In terms of racing, the engine has failed just once on the MP4-19B, because of a radiator leak caused by a collision; the new car has a retirement rate of 25 percent compared to 44 percent of the old machine, and the new car has scored 35 points in six races compared to the 17 points the old car scored in the first nine races.
The difference is clear, and as much as the slump was one of the most dramatic in the history of Formula One, the comeback has been equally as strong. It has been down to a positive attitude and a typically considered approach to change. And, although we have heard it all before, Whitmarsh truly believes this time the momentum they have will allow them to rise right to the top.
"I think the engine programme has taken a significant step this year in terms of reliability and performance," says Whitmarsh. "Before Italy we had seven races without an engine failure. That is the first step, and compared to the start of the year that is a stark contrast. But we are still not where we need to be in terms of engine reliability.
"The team of guys in Ilmor now is really good and, they are working very hard to change our performance and reliability. I think we have a good momentum in the engine programme. We didn't just drop the revs, we really just put together a taskforce of people to systematically fight our way through the engine issues, and I think the guys have done a good job.
"For someone who assumed responsibility at that time you can get very egotistical about it, but I consider I had a fair amount of luck to be able to bring some good people into the programme, and there was a fair amount of low hanging fruit that we were able to take early. But we have been lucky in terms of reliability recently.
"There is no question we have extended the life and made a more reliable engine, but we are not where we ought to be. We were very systematic in going through the deficiencies of the 19A, and from the time we started to run the 19B we suggested that we would have a win or two before the end of the season. I think it is difficult during any season, especially one as intensive as this, to be able to turn the form around. But it was quick, and Kimi was second at the British Grand Prix.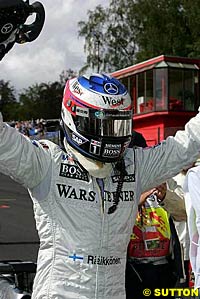 "Everyone was quite cock-a-hoop because that was a real 'bang, we're back again', it was a really positive showing, and Ron and I were alongside each other on the pit wall and immediately after the race people came up behind pit wall and were back-slapping and everything and Ron and I, we know each other quite well, and we sort of turned and looked at each other.
"We could both see each others eyes thinking, actually we're pissed off with second! Of course, you have to say if someone was in the midst of the pain that we had a few races ago could have told me I would be second there I would have been quite satisfied, but when it happens you are thinking 'we could have won that bloody race'.
"We felt Spa was a good circuit and we won there, and circuits like Suzuka we are looking forward to as well, and China and Brazil. And it all moves on to next year, because the design philosophy for the 19B is the start of the process towards the MP4-20, so basically had some of the things we did on the 19B not improved its performance then we would have had a lot to do."
McLaren are tending to run less laps than the team feel is ideal in practice sessions at Grands Prix because of the problems they have ran into. And despite Raikkonen's victory in Belgium, there is, of course, still a lot to do. Ferrari, let us not forget, have won 13 of the 15 races so far this year, they have won more points than anyone ever before, they have won their sixth successive World Championship, and Schumacher has taken his fifth drivers' title in a row. It has been an awesome year for the scarlet cars, while the silver and black ones have won once.
Everyone admits Ferrari are streets ahead, but with regulations set to change again there could be a shake-up on the horizon. From 2005 each engine must last two races, there will be aerodynamic changes and the teams will have just one tyre to use throughout qualifying and the race. Yet, as Dennis has said, all the new rules point towards handing more advantage to Ferrari.
The Italian team's Bridgestone tyres are much more hard wearing than the Michelin rubber that McLaren use and, while Ferrari's engine has not broken down during a race since Barrichello's gave in during the Malaysian Grand Prix in 2002, 46 races ago, the difficulties that Mercedes suffered in coping with the change to single race engines this year suggest they could struggle again.
"Next year is going to present a real challenge with the two race weekend engine," says Whitmarsh. "We have worked hard on that - we disagree with it, you can hold a view about what's the best interests of Formula One, but at the end of the day we have got to be pragmatic about it in deciding what we think the regulations are going to be.
"The greatest mileage in a weekend is the race itself, so to go to a one-race engine like we did this year is a smaller increment than going from a one-race to a two-race engine. Next year is a bigger challenge. You can back off on engine rpm, but our job is to optimise the technical solution. It has been a big challenge for us, and it's costing a lot of money to achieve it.
"And one of the lottery effects of next year is you have to sit down and really make a broad base of assumptions because we don't have finalised regulations. We have all started to design things so over the last month you have had decisions about do we scrap this and start again in some areas or do we try and adapt with a compromise.
"We have review meetings on a regular basis and say 'well, what do we assume the outcome of the regulations is this week?' Maybe that means some people will luck out and some people won't, and some people think that's good for Formula One. But to those of us who are trying to manage a programme and the cost of those programmes then it is a little bit disheartening."
But Ferrari have been concentrating on this year and McLaren have been focusing on using the 2004 season to build towards an all-out attack in 2005. They will have a driver line-up of fire and ice, after signing hot-headed Colombian Juan Pablo Montoya to race alongside the cool and calm Raikkonen, and Whitmarsh believes Schumacher is ready to crack.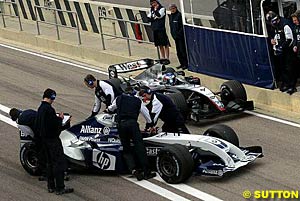 "Who does that guy fear the most? Who does he not want to see in his mirrors? It has got to be Kimi or Juan," says Whitmarsh, with a mischievous smile coupled with a tone of excitement. "We have geared ourselves up to go and take the war to Michael, and I think we have the best drivers to do just that, we have the best pairing overall."
Williams may contest that, with Briton Jenson Button and Australian Mark Webber in their proposed line-up, but Whitmarsh added: "With all due respect to those two, they are two great drivers, well, good drivers, they have potential, but I don't think they've got the final edge that Juan and Kimi have got, and if we didn't believe that we wouldn't have hired them."
The exciting thing about McLaren's future line-up is that it has similarities to the legendary pairing of Frenchman Alain Prost, whose analytical approach coined him the nickname 'Le Professeur', and aggressive racing Brazilian Ayrton Senna, a pairing which, though dominant, was allowed to compete for the championship on equal measure. That will happen whatever, but Whitmarsh sees them differently.
"I think Senna and Prost had a contemplating intensity, you know, in different ways," says Whitmarsh. "If you are trying to say Juan is a Senna, in terms of driver skill, yes, I think, generally, certainly by the time he has matured in Formula One. Ayrton was quite a contemplating driver. Juan needs...probably that's an area we are going to work on, an area of potential improvement.
"And Kimi is quite different from Prost. One great difference, Prost had no fingernails and is a worrier, and the reality is Kimi is probably asleep by now with his alarm clock set to get up and go qualifying. That is very different, and it's quite bizarre the first time you experience it! Here he has a room, and at the fly-aways he is out the back of the garage laying on the floor."
Raikkonen's approach is clearly working, and he is the driver who most people tip as pretender to the crown. Ironically, in his first real attempt, he cracked under pressure while leading the French Grand Prix in 2002. But the laidback Finn has 37 races of highs and lows in his memory bank since then and, to Whitmarsh, it is more likely Schumacher will crack under pressure.
"Michael, you have to say, is a great, great driver, but immediately after the race in Spa he looked shattered when he climbed out the car - which he normally doesn't, he jumps - and there is a sign there. I see that. I think an end is very much in sight for Michael now, and so there should be but, of course, we don't want him to announce his retirement and go now.
"In reality, the World Championship you want to win, and the ones you enjoy, are the ones when you beat the best. I remember Michael stalling on the line in Japan in 1998 and how much I had to constrain myself from punching the air because he cracked. Michael is a great, great driver, but he does crack if you put him under pressure.
"Generally nobody has been good enough to put him under pressure but when he is, and we saw it in Monaco, he is a different Schumacher. That is what we have to do again. We would love to be in that situation next year, we are working hard to achieve that, and I think that is realistic."
And when they do, you can be sure Whitmarsh will enjoy a massive celebration.