---
Bjorn Wirdheim: Going Places
---
By Bjorn Wirdheim, Sweden
Atlas F1 Special Columnist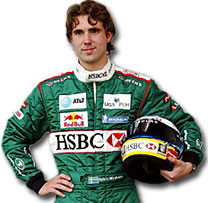 Bjorn Wirdheim is a fresh addition to the Formula One paddock. Intelligent, humble and hard working, the F3000 Champion made his debut in Melbourne as Jaguar's third driver - a stop on his way to a fulltime F1 racing career. In an exclusive column for Atlas F1, Bjorn will share his experience over the 2004 season and tell us in his own words about the technical and personal challenges he faces throughout the year.

This Week: Bjorn discusses his history at Monza, the benefits and problems of testing at a circuit shortly before racing there, and the ways of topping the times in practice

I always love coming back to Monza - it is a fantastic circuit, and I've had a lot of success at the track. So it is always great to get back there, even though it is always a bit of a problem driving into the track, because all of the fans who cause quite a big traffic headache for everyone - we all had to get up a bit earlier than usual just to make sure we were inside on time!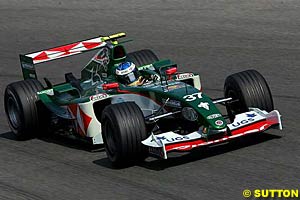 I had my first ever Formula One test at Monza last year, with the Jordan team, which was really good; it was a good place to do my test, because I knew the circuit really well and enjoy driving there. I also did my first ever Formula 3 test there, before I signed with Ghinzani's Formula 3 team. At that time they still had the old layout of the first two chicanes, so that must have been at the end of 1999.
My record in Monza is pretty good - I qualified on pole, won the race and had the fastest lap for two years in a row while I was in Formula 3000. And, of course, last year was a bit different; I couldn't really celebrate because the Swedish Foreign Minister, Anna Lindh, had just been killed. I wore a black armband that day in her honour, and I dedicated the win to her memory.
My first ever Formula 3000 win was really important to me; it was absolutely fantastic because it meant I secured my contract with Arden for the following year, as I had a performance contract with them which meant I had to take fifth or better in the Championship and more than 25 points, and I managed to do that by winning the race. My manager Christian Horner and I were always talking about the next season, and how important it was to finish the first season on a high - I'd already had two podiums, and a win was everything I was looking for. Without that win I might not be where I am today.
Personally it was also nice that it came in Monza, which is a pretty special circuit from a Swedish perspective because it's where Ronnie Peterson had his greatest success, and it's also unfortunately where we lost him. There were a lot of Swedes in the paddock this weekend, and I know that we think about Ronnie a little bit whenever we come to Monza, even after all of this time.
Jaguar took two cars to the test at Monza last week, with Mark and Christian both putting in about 200 laps or so, which meant that they had the car pretty much sorted out before the race weekend. So when I got there, the first thing I tried to do was get up to speed straight away with a reasonably long run, and by the time I was on my second set of tyres I was already doing pretty competitive times.
I ran a car that was pretty optimised, and I did manage to get some good lap times. In the second session we just completed our programme; we had a slightly different programme with the engine here, so I wasn't actually changing it and using them during the sessions, but instead I was only using Mark's engine from Spa. The times were pretty good, actually; I was ahead of both of my teammates in the first session and just behind Mark in the second one.
One thing they mentioned was that the grip on the circuit changed from the previous week, and they were really struggling under braking when they came here on Friday. They didn't have a brake problem, but they believe the grip level of the circuit was different, so the car wasn't braking as well as before. I guess it's always like that, although we didn't really expect it because normally when we come to a circuit where we haven't been for a long time, it takes time to build up the rubber, and that shouldn't have been the case last week.
We already had a lot of information about the tyres, so in the second session I was just trying two different levels of downforce; we normally run nearly no wing in Monza, but we were trying to run a little bit more and a little bit less to see what you can pick up on top speed and what you lose going around the corners. I think it actually changed the balance of the car, which we didn't expect, but apart from that the top speed was exactly what we expected.
Although it was only a marginal difference in setting, it made quite a big difference on the braking; the difference between running almost no downforce and a little bit more is huge, and even a small change made quite a big difference. I actually missed the first corner because I wasn't prepared for it! We did a ten lap outing, with more fuel onboard than the first session so it would be more relevant for racing, and we got some good data out of it; the engineers used this information when they decided on the optimum downforce for Mark and Christian for the race.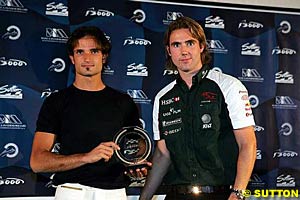 On Friday night my girlfriend Ellen and I went to the Gonzalo Rodriguez Awards, which have become the sort of unofficial Formula 3000 awards, and it was great to see all my old friends there having fun and getting a chance to relax a bit instead of just thinking about the racing. I only met Gonzalo once and I thought he was a really nice guy, so it's nice that we have a bit of a reminder of him.
I actually won two of the awards when I was in F3000 - the 'Rookie of the Year' award in my first year, and then the 'Driver of the Year' award last year, when I won the title. This year, I was asked to present both of them (Esteban Guerrieri was the best rookie, and Vitantonio Liuzzi won driver of the year). It was really great to get the chance to catch up with everyone and see what they've been up to, and what they are planning for next year.
It was also a bit sad that Monza was the last ever Formula 3000 race - I really loved racing in the series, and I think it's a great way for drivers to move up the ladder and learn to compete with a good, heavy, powerful car in front of a big crowd. I think there is a lot of talent in F3000, for drivers, teams and mechanics, so I hope that the new GP2 series next year is as good as F3000 was.
The Formula One race was fantastic, of course, and I was doing my usual commentary for the Swedish television and could hardly believe what was happening in front of us! The Ferraris really showed what they could do when they have to, and the competition all through the field was amazing. Mark drove a great race for us, but unfortunately just couldn't manage to bring home any points. But I know he had a lot of fun in that race!
Afterwards, I stayed over in Milan for a night with my friends from Atlas F1, before heading home to Sweden for a few days. I am doing some PR for Jaguar in Sweden and also plan to catch up with Kenny Brack when he competes in his first race since his big accident in IRL last year. I wish him all the best and hope he does well.
After that it will be back to the factory to talk to the engineers before heading over to China for the first ever Formula One race there - I heard great reports about the Shanghai circuit, and I'm hoping that, because it's new to everyone, we might have a chance to bring home some more valuable points for the Championship.
På återhörande,


Bjorn Wirdheim's column is written exclusively for Atlas F1 by Bjorn himself, with the assistance of David Cameron. Click here for Bjorn's official website.
---
© 1995-2005 Kaizar.Com, Inc. . This service is provided under the Atlas F1
terms and conditions
.
Please
Contact Us
for permission to republish this or any other material from Atlas F1.