---
Ann Bradshaw: Point of View
---
By Ann Bradshaw, England
Atlas F1 Special Columnist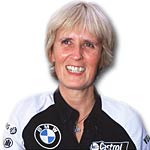 Last Sunday's Monaco Grand Prix provided Ann Bradshaw with one of her favourite moments of the 2004 so far, with a car other than a Ferrrai and a driver other than Michael Schumacher taking victory for the first time this year. But for her, Monte Carlo is, above all, a place full of fun memories

When I was a little girl my favourite colour was red. I wanted everything this colour from my bedroom walls to my best dress and my favourite meal was even tomato ketchup sandwiches. These days it is one of my least favourite colours and so when the red Ferrari of Michael Schumacher failed to claim pole for the Monaco Grand Prix and then the stricken car came hobbling from the tunnel in the race to retire I was very happy. However, I do feel very mean, as it is nothing against the colour, the team or the driver. I am just a motorsport fan and I want my chosen sport to be enjoyed by everyone and create a spectacle.
The race in Monaco was certainly a spectacle and I was delighted to see Jarno Trulli at last winning a race. I like his manner and feel he has been overshadowed by his teammate, Fernando Alonso, who has taken the sport by storm and managed to do in his 30th Grand Prix what has taken the Italian up to his 117th Grand Prix: win a race. In some ways I think Jarno was unfortunate, but he seems to have fought back and is now the man to beat. Alonso put the blame for his accident squarely on the shoulders of Ralf Schumacher, but at the end of the day he made a mistake at a circuit where such things are not allowed as the barriers are too close.
The situation at Renault reminds me of what has happened to David Coulthard at McLaren. First of all Mika Hakkinen overshadowed him and then it was Kimi Raikkonen. I know DC from his days at Williams and always believed in his driving ability. However, now he has been put in the shade by the quick Finns and looks destined for a role as a hotel proprietor - he is one of the owners of the luxurious Columbus Hotel in Monaco. No doubt DC and his manager, Martin Brundle, are talking to other teams but I am not sure where there is a slot for him. He has been mentioned as a Williams driver again, although so has another Grove 'old boy' Jacques Villeneuve. Frank has the dilemma of who should replace his drivers if they both go, but I am not sure either of this pair has proved since leaving him that they were greatly missed.
Anyway, back to Monaco. I watched the race again in company of my youngsters in Formula BMW UK and this time they were all glued to the screens. I suppose we should be ashamed to say we, and everyone else in our hospitality unit, cheered when we saw Michael's car come to a halt. He had had his run of wins and it was now time to let someone else take the top step of the podium. I am not stupid enough to think this situation will continue, but it was a welcome relief. However, I must also mention here that the race was in fact a bit of a procession and despite the different winner, we didn't see proper racing. We saw one overtaking manoeuvre from Juan Pablo Montoya, several spectacular crashes, and a race won by good strategy. We didn't see wheel to wheel racing like we did at Silverstone last year.
Monaco also inspires teams to do some different promotions, and for the second year running, Jaguar Racing have been involved with Steinmetz, creators of the world's finest diamonds, according to their PR statement. The team even changed the colour of the leaping cat on the racing cars to pink for this occasion. Sadly for them, Christian Klien crashed into the barriers soon after the start, but this was a more expensive crash than usual. For this race the team had embedded a diamond worth £140,000 into the front of his car. Obviously his car had to sit for a couple of hours to wait for the race to finish before being delivered back to the team. It was at this point that the team realised perhaps the most expensive component on the car - the diamond - was missing!
I have some very fond memories of Monaco and hope that the present team members have as much fun as I used to have, although I doubt it. I did say in one of my former Monaco columns that if I never went back there for the race I would not be upset and I meant it as a working person. However, one of my best memories is based round an evening a couple of decades ago at the Tip Top bar. This is located on the side of the track on the run down from Casino Square to the Loews hairpin.
This bar, that I would estimate is about 20 feet by 40 in size, has been the scene of some amazing evenings I witnessed in the seventies and eighties and I expect even before then. One of the most memorable was when two mechanics from the Lotus Team decided to spend an evening in the municipality dressed as women. These two jokers were Clive Hicks and Kenny Szymanski. In fact, they were the tyre boys for the team. While Clive was Norfolk-born and bred, Kenny was a New Yorker who was a weekend warrior for the team. His day job was then, and still is today, a steward for American Airlines. He used to charm whoever did the rota for the flights to make sure he would be in the right place for each Grand Prix. This was not just for a few years but went on for well over ten as I still have the tee-shirt that Goodyear produced to celebrate the tenth anniversary of the Clive and Kenny Show.
Anyway, back to that warm night in May. We all congregated as usual outside the Tip Topp. It had to be outside as the crowd that went to the bar was well into a hundred and so the pavement and road became part of the bar. Drivers would mingle with mechanics to drink beer and enjoy a unique opportunity to socialise over a Grand Prix weekend. As Monaco always has a 'rest' day on a Friday with no track action, the Thursday night was usually the scene of some high spirits. This was no exception. The party atmosphere was good and suddenly this pair arrived in evening dresses, wigs and full make up. We all bought them drinks and everyone had a feel of their false boobs.
The place not to drive a car in Monaco is past this bar on a Thursday, but there is always the odd stupid person. Those who did ended up with Kenny and Clive leaping in beside them for a bit of fun. This went on for hours and it was way into the early hours of the morning before it was brought to a sudden halt for the two of them. A guy on a motorbike came by and suddenly found himself with two unwanted pillion passengers. He didn't see the funny side and took them straight to the police station. We were never sure what the charge was but the local Gendarmerie decide to detain them for the night and so the party for them was over. I think we all stayed on and in fact the thing to do was not move until the road sweeper came by cleaning the track in time for the F3 boys to start practice, which was usually at about 6am.
Mentioning the F3 racers also brings back memories of the days when the F1 team members were genuinely interested in what was going on in this race. It was the highlight of our Saturday as we all used to troop up to Casino Square late on a Saturday night to watch their antics. It was a one off race with no championship status and the drivers came from all round Europe. Sadly this doesn't happen now and for the most part the teams just concentrate on their own race.
My last visit to Monaco was in 2002. I was then back with Williams for a short stretch to do maternity cover for their press officer. Sadly the Tip Top was not on the party schedule. Most people seemed to have moved to the much more spacious Stars and Bars on the harbour side. In fact, this was just a couple of paces outside the swipe gate to the paddock, so perfect for a post practice drink. The owner had done a great job and the walls were covered with motor racing pictures; there was even one of me in work mode.
However, there was something missing. Like most places in the sport it was well organised and there was no element of danger. You could go in find a chair and sit on it. There was no perching on the armco if you wanted to rest your legs or making sure you were out of the area by the time the cars were whizzing by. It was purpose built for the crowds, whereas the Tip Top was a typical French style bar that must probably had been opened with the view to the odd Monegasque resident popping in there for a coffee and cognac at 6am or a lunch time beer.
I have yet to hear stories form this year's event as most of my mates are still making their way home. No doubt there will have been champagne parties but I still say nothing could beat a warm Heineken in the road outside the Tip Top with the likes of Ayrton Senna, Keke Rosberg and other such famous residents propping up the armco for a chat.

About the author:
Ann Bradshaw - Annie - began her motor racing career as a teenager, helping out her brother in local rally races in England, where she grew up. In the 1970s she organised motor racing events in England, and was later the press officer for the RAC MSA - the motorsport governing body in Britain. In mid 1980s, she became press officer to team Lotus, where she worked with Ayrton Senna. Shortly after, she moved to the Williams team and was working there for several years, when once again she found herself working with Senna. She worked with Damon Hill after the Brazilian's death, and moved with the British Champion to Arrows. She also worked with the Panoz team in the United States, before becoming a freelance press officer, now working with BMW among others. Annie joined Atlas F1 as a regular columnist in April 2002.

---
© 1995-2005 Kaizar.Com, Inc. . This service is provided under the Atlas F1
terms and conditions
.
Please
Contact Us
for permission to republish this or any other material from Atlas F1.