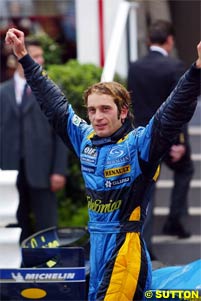 The Monaco Grand Prix produced the exhibition of processional racing that everyone expected – but it also held the twists that make it stand out on the calendar. Ahead of the weekend, there are few who could have predicted that Jarno Trulli would come away with his maiden win, that Michael Schumacher would exit the race from an incident behind the Safety Car, that Giancarlo Fisichella would be lucky to walk away from a tumble, or that Toyota would get two cars in to the points – despite one failing to get off the grid!
For Renault, it is vindication of their approach to the season, confirming their second position in the Championship, and importantly, ending the Ferrari and Bridgestone running streak. After waiting 117 races for this moment, Trulli said: "Everything was going through my mind. I have been waiting so long, I've been through a lot of bad moments and at the moment I just cannot realise that I won the race and I've won in Monaco, probably the best race in the world," before demonstrating the magnanimous spirit that makes him popular in the paddock: "I wish for myself and for Formula One that we have different winners in the future."
There is little doubt that he earned the win – even Schumacher said there was nothing he could have done, even if his race had run its course: "at best, I would have been second today. That was pretty much what we expected."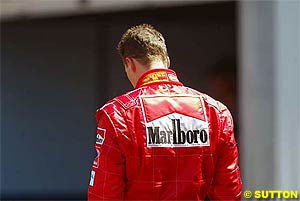 For Jenson Button, the race proved to be a long chase after the Renaults. He was running a similar strategy, but over a lap only had the same pace as Trulli, so there was never a real opportunity to pass. Whilst a relatively early first stop did offer the opportunity to move past Fernando Alonso, there was little chance of closing the gap to the leader. Furthermore, after Takuma Sato's engine had given up dramatically at the start of the race, there was concern that his would follow suit. Keeping Trulli honest led to Button and BAR-Honda's fourth podium of the year: they continue to look forward to a win, and on the evidence of this race, they have the potential to do it this year.
Ferrari's weekend, for a change, was not something to write home about. Even in Michael Schumacher's hands, the package was not good enough to make up for a relatively poor qualifying performance: Bridgestone's latest tyres did not really have the first lap performance to challenge Michelin, though they did look competitive over a full race distance.
In the event, it is not the competitiveness of the Ferrari package that is going to be the talking point of this weekend: the Williams drivers were not only involved in the only overtaking manoeuvres of the weekend, but they were also involved in the exits of Schumacher and Alonso.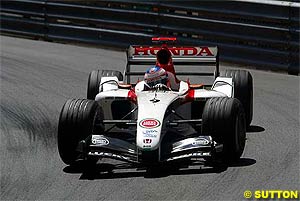 First, Ralf Schumacher allowed Alonso to pass in the tunnel as he was being lapped, only for the young Renault driver to get on to the dirty part of the track, and lose control of his car. They differed in their views on the incident: "Ralf moved to the right and slowed down, I tried to overtake him but when we were side by side he went on the throttle again and pushed me into the barrier," was the Renault driver's opinion, whilst Schumacher says "He just ran into some dirt... I can understand his frustration but he went too far outside, ran into the dirt and then hit the wall."
Alonso's Renault exiting the tunnel in pieces caused the Safety Car to come out. At the end of the period, as Schumacher went into the tunnel, he stamped on his brakes to warm up the tyres and brakes, unfortunately catching the lapped Juan Pablo Montoya off guard. The Columbian took avoiding action, but the cars touched, pitching Schumacher into the wall and ending his race. Whether it was a mistake by the German to warm his brakes just after going into a dark tunnel, or by Montoya for failing to anticipate it is moot: the stewards dismissed the event.
The race itself raised some interesting issues. It is rare for the marshals at Monaco to face criticism, but questions could be raised after this event. Twice, marshals were to be seen standing well out on to the circuit as they waved yellow flags: they were looking to protect others who were cleaning up the track after incidents.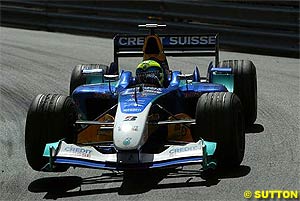 Whilst commendable, in both cases, there was a danger of serious injury as they were putting themselves into the paths of the cars that were attempting to get on with the racing. Furthermore, after Sato's engine expired in clouds of smoke, leading to the incident where the Fisichella's Sauber rode over the back of the David Coulthard's McLaren, ending upside-down against the Armco, one of the marshals reacted by waving the red flag, which should been a consequence and indication of the race being stopped.
On track, there were the normal complaints about the inconsistent application of blue flags, drivers who didn't get out of the way, or drivers who did unexpected things when they did move over. However, for the most part, the race was conducted in good grace, and provided a good spectacle for racing fans.
Qualifying
As always in Monaco, the qualifying session is absolutely vital to scoring well. The first session was made interesting by the degradation of the track since practice, which made it tricky for Michael Schumacher, as the first out. It ensured an unusual order for the main qualifying session.
The Grid
1. Jarno Trulli
First Qualifying: 1:14.993; Second Qualifying: 1:13.985 Trulli was on fire, and put in a stunning lap to take pole by nearly half a second over Ralf Schumacher – who would be docked ten places because of an engine change on Thursday. It characterised the mood for Renault's weekend, and provided the Italian with an excellent platform for the race, ultimately leading to his win.
2. Jenson Button
First Qualifying: 1:14.799; Second Qualifying: 1:14.396 Jenson Button looked in impressive form as his Honda-powered BAR powered up the hill at the start of the lap, and his commitment to the lap was commendable, even if it didn't quite match the time set by Ralf Schumacher, let alone Trulli. The BAR was handling very smoothly, and looked to be in impressive form over the bumps, if not quite so nimble as the Renaults.
3. Fernando Alonso
First Qualifying: 1:14.816; Second Qualifying: 1:14.408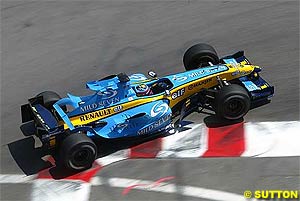 Alonso looked in much the same form as Trulli, and though he dropped four tenths of a second over the course of the lap, it was not obvious where it went. Both drivers were very smooth, and their cars were clearly working well, particularly riding kerbs. As it turned out, given the Renault race starts, this position would prove as useful as second on the grid: it was an excellent platform for racing, and should have been converted into a podium finish.
4. Michael Schumacher
First Qualifying: 1:15.329; Second Qualifying: 1:14.516 Michael Schumacher suffered as a consequence of his poor first qualifying, which saw him on the track in the first half of the second session. In order to maximise the advantage of his Bridgestone tyres through the race distance, he was carrying plenty of fuel – sufficient for a full third of the race the next day. Between the fuel load and early run, he and the team were pleased to end up fourth on the grid. The run was smooth, inch-perfectly and committed, but the tyres simply took too long to come in to match the Michelins.
5. Kimi Raikkonen
First Qualifying: 1:14.659; Second Qualifying: 1:14.592 Raikkonen was on track next to last, and drove a committed lap. The car was clearly evil handling over kerbs, yet he managed to control the car, and put together an impressive lap to split the Ferraris. It was unfortunate that his respectable qualifying position could not be converted, due to an early retirement on race day as the engine's pneumatic system was failing. It means this session was the highlight of the McLaren weekend.
6. Rubens Barrichello
First Qualifying: 1:20.372; Second Qualifying: 1:14.716 The Brazilian put on a reasonable qualifying performance, finishing two tenths of a second behind his team leader. The lap looked committed, and offered two tenths improvement on the previous session, but it was not quite as smooth as Schumacher's attempt. As it turned out, Barrichello admitted that was due to some issues with the handling of the car; however, it was quite enough to stay well in the points, and eventually yielded a podium.
7. Takuma Sato
First Qualifying: 1:14.931; Second Qualifying: 1:14.827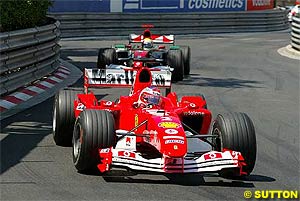 Sato's qualifying session looked as good as Button's, except for putting a wheel on the curb coming out of the tunnel, leading to a big lock up and slide in to the corner after – it clearly cost a few tenths. The Japanese has looked in good form at times this year, and was certainly no slouch in Monaco. That said, it is rare that he actually gets on a par with his teammate, so finishing four places back was not a huge surprise. Sadly, he had no opportunity to convert a reasonable grid position – and lightning start – in to points, as his engine gave up five laps in to the race.
8. David Coulthard
First Qualifying: 1:14.728; Second Qualifying: 1:14.951 Although the car was clearly much quicker here, compared to the competition, it was clearly a handful over the kerbs. McLaren were showing better form this weekend, and Coulthard looked to be in respectable form all weekend. However, despite a reasonable qualifying position, it was clearly not Coulthard's weekend: his race ended after five laps as he passed through the cloud of Sato's blown engine. Fisichella drove over the back of the car, convincingly removing the rear wing.
9. Juan Pablo Montoya
First Qualifying: 1:15.029; Second Qualifying: 1:15.039 Not much went right for Montoya this weekend, as he struggled to dial the car in to the circuit: the defending Monaco race winner never really looked competitive. The qualifying showing was a good example of things not quite working out, and despite performing the only two overtaking manoeuvres of note – Barrichello on the first restart, and Heidfeld after the first pitstop – he never really recovered from this qualifying position to challenge in the race. Indeed, an early first pitstop put him behind Heidfeld, costing seconds a lap.
10. Giancarlo Fisichella
First Qualifying: 1:14.814; Second Qualifying: 1:15.352 All things considered, Fisichella's qualifying lap was a solid result based on the fuel that Sauber were running. Despite a strong showing in the first session, it was clear that Bridgestone's tyres were best used over longer stints, where their strength – consistency over a race distance – could be leveraged to best effect. Unfortunately for Fisichella, his chance to show the benefits of the strategy never materialised, after he hit Coulthard's McLaren in the middle of the smoke from Sato's expired engine, turning the car over.
11. Mark Webber
First Qualifying: 1:16.161; Second Qualifying: 1:15.725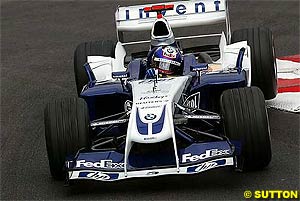 It was a poor weekend for Jaguar, from their first practice woes – none of the three cars ran to the end of the session – through to race itself, when they finally lost one of the promotional gems from the nose of Klein's car. However, this performance by Mark Webber was the best thing they took from the weekend. After two fires in practice, the team were taking no chances, and clearly didn't let the engine get up to the revs used by other drivers, yet the lap Webber put together was a decent effort.
12. Ralf Schumacher
First Qualifying: 1:14.483; Second Qualifying: 1:14.345 That it was going to be a tough weekend for the German became apparent first thing on Thursday – when Ralf's engine gave up, and had to be replaced. Never mind he was finally firing on all cylinders himself, qualifying in a time that should have put him on the front row of the grid, the penalty for an engine change is ten places, so 12th it was. That the outcome of Ralf's race would not really be affected by qualifying - progressive loss of gears through the race led to retirement – it was a shame to see such an excellent qualifying effort only merit 12th.
13. Olivier Panis
First Qualifying: 1:15.125; Second Qualifying: 1:15.859 Olivier Panis has won the Monaco Grand Prix after qualifying in the midfield, but without rain to aid his cause this year, the best Toyota could look for was to get in to the points. It was clear in qualifying that Panis was being careful to take the car around the bumps where possible – it is clearly not happy with them – but he was being relatively cautious through the corners. Mind you, come race day it transpired the car was heavy with fuel, so much of the apparent caution was related to carrying a heavy load. Of course, being able to get off the grid from 12th should have offered Panis the chance to score more than one point, but stalling twice on the grid had him getting away dead last.
14. Christian Klien
First Qualifying: 1:16.379; Second Qualifying: 1:15.919 Christian Klien put in a respectable performance considering the fuel load he is supposed to have been on, and completing the lap only two tenths slower than his experienced teammate demonstrated one of the best qualifying laps he has put together so far. The car was well balanced, with the front end working particularly well. The package was clearly quicker than the Jordans. Perhaps his fuel load would have afforded him a chance to get well in to the points from here, however, running into the back of Nick Heidfeld on the opening lap was really not the best way do it.
15. Cristiano da Matta
First Qualifying: 1:15.738; Second Qualifying: 1:16.169 On his hot lap, Cristiano da Matta's Toyota looked very powerful up the hill from the start-finish line; however, the troubled bump handling and a heavy fuel load proved expensive over the course of the lap. In the event, demonstrating the paramount importance of reliability, even qualifying 15th in Monaco proved good enough to score three points!
16. Felipe Massa
First Qualifying: 1:15.436; Second Qualifying: 1:16.248 Felipe Massa was not pleased with his lap – particularly as it left him nearly a second off the pace of his teammate. Although it was clear that the car was not handling especially well, and he was struggling with balance throughout the lap, the Sauber's pace up the hill demonstrated that they are making good use of the Ferrari engine. However, the poor balance cost Massa his confidence in the car, and was where most of the second to Fisichella was lost.
17. Nick Heidfeld
First Qualifying: 1:16.914; Second Qualifying: 1:16.488 Heidfeld's experience left Pantano cleanly in his wake, yet the underdeveloped Jordan was never looking up to the task of getting on par with the remainder of the paddock. Sadly for Jordan, it also leaves it clear that, whilst a better engine is always good news, it is not currently the weakest link: work is needed on the whole package to make the car competitive. For all that, demonstrating the benefit of perseverance and reliability, Heidfeld was able to turn this position into points.
18. Giorgio Pantano
First Qualifying: 1:17.674; Second Qualifying: 1:17.443 Despite putting together some half way reasonable laps in practice, Pantano never really got the best out of the car in qualifying. He complained that the balance had gone for qualifying, but how much as a result of overdriving the car, against the changing track conditions is hard to say.
19. Zsolt Baumgartner
First Qualifying: 1:20.468; Second Qualifying: 1:20.060 Minardi really didn't look like they were involved in the same event: the car was clearly showing a lack of development, and in the hands of two drivers with no Monaco experience, they were always going to struggle. The car looked particularly evil over kerbs, and was obviously a handful to haul around the circuit. However, it was Baumgartner's week to finally outqualify Bruni: even if he never does so again, he has done it on the most renowned drivers' circuit of all.
20. Gianmaria Bruni
First Qualifying: 1:20.740; Second Qualifying: 1:20.115 It might be a coincidence that Bruni was outqualified by his teammate for the first time on the first occasion his girlfriend was in attendance, but there was little to choose between these drivers this weekend. Considering how far off the pace they were, the only way to score points was by hoping attrition would eliminate the rest of the field, but that didn't prevent both drivers from trying their level best to avoid the ignominy of propping up the grid. Bruni lost too much running time earlier in the weekend and paid the price here.
The Race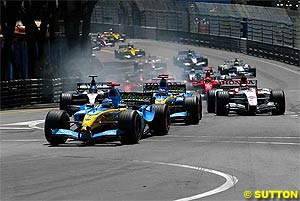 Once the celebrities cleared the grid, Trulli led the pack on a very slow parade lap: this was clearly not good news for the Bridgestone runners, who struggle to get heat in to their tyres when they are new. The first start was aborted, even before the cars had returned to their slots, when Panis' car stalled.
The second parade lap was equally slow, but with Panis in the pitlane, when his clutch failed at the start, stalling the engine again, the remainder of the grid pulled away cleanly, and Panis joined at the end.
The start saw Alonso slip past Button into second, whilst Takuma Sato had a blinding start, squeezing Michael Schumacher and Kimi Raikkonen en route to leaping up to fourth place behind Button from seventh on the grid. Behind, Klien didn't complete a lap as he ran into Nick Heidfeld, knocking off his front wing before going off on a curb, but the remainder of the grid pulled away cleanly.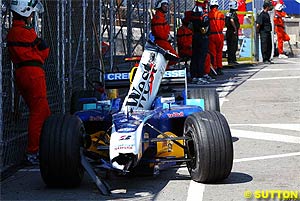 At the end of the first lap, Trulli led Alonso and Button, whilst Sato began to lose ground as the first symptoms of his engine giving way were manifesting themselves; he was holding up Raikkonen and the Ferraris. Behind, Coulthard was giving chase, and the remainder of the field followed in procession form.
Sato's adventure came to an abrupt end on lap five, just after the swimming pool, as his engine gave way in style. The ensuing mayhem saw Fisichella run into Coulthard in the smoke, turning his car upside down, and removing the Scot's rear wing. Both drivers' races were over. The Safety Car was deployed whilst the mess was being cleaned up, offering Heidfeld and Ralf Schumacher a reason to dive into the pits for fuel, dropping them near to the back of the field.
When the Safety Car pulled in, Montoya managed to pass Barrichello at the top of the hill, and things stayed as they were until the pitstops, except for Webber's Jaguar giving up and being dragged off the circuit.
Montoya was the first to stop, and rejoined behind Heidfeld. This looked like a tactical blunder from the Williams outfit, as the Columbian continued to lose substantial ground, lap after lap, behind the Jordan before finally squeezing past on lap 28, facing a minute deficit to the car in front: had his stop put him ahead, then he could possibly have fought for a podium.
At the front, Raikkonen's pace was sufficient to keep Michael Schumacher behind, but costs a few tenths a lap compared to the Renault's and Button's BAR. Button eventually pits from third on lap 18, rejoining in seventh ahead of da Matta – not to mention 20 seconds and three places in front of Montoya.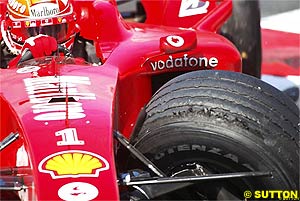 When Raikkonen pitted from third, Schumacher made the most of the clear air to start eating in to the Renault lead. When Barrichello stopped, he rejoined behind Massa, but the Sauber pitted shortly after. Schumacher brought the lead down under nine seconds before the Renaults pitted: when he finally made his stop, the Ferrari was ahead of Button's BAR, and only a handful of seconds behind the Renaults – though they were making the most of new rubber to ease the lead up again.
Raikkonen returned to the pits on lap 28, to retire: the team had spotted an issue in the telemetry, and didn't want to follow Honda's example.
On lap 38, Ralf Schumacher pits; he is rapidly running out of gears, which is effecting his pace. Shortly after, the Renault's came up to lap the Williams: Alonso made his move in the tunnel, and lost control on the marbles, wrecking the car on the wall. The Safety Car was immediately brought out, and a number of drivers took the opportunity to pit, including race leader Trulli, new second place man Button, Massa, da Matta and Montoya.
It proved a fateful stop for Montoya – first, because neither Ferrari stopped, so he discovered himself a lap down on the car ahead of him (Barrichello), yet lapping immediately behind Schumacher. On the last Safety Car lap, Schumacher was warming his tyres, and there was contact in the tunnel, pitching the German in to the wall – breaking off a front wheel, and ending his race.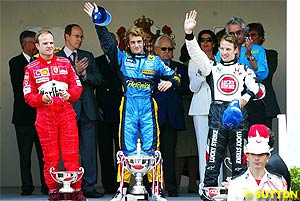 On the restart, Trulli immediately opened up a six second lead over Button, whilst Barrichello was running a full lap ahead of fourth placed Montoya. There was some brief room to question whether the front runners had enough fuel to make the finish line, but part from Ralf Schumacher retiring with only fourth gear remaining, the order remained to the end.

Race Results

Pos  Driver        Team-Engine                Time        
 1.  Trulli        Renault          (M)  1h45:46.601
 2.  Button        BAR-Honda        (M)  +     0.497
 3.  Barrichello   Ferrari          (B)  +  1:15.766
 4.  Montoya       Williams-BMW     (M)  +     1 lap
 5.  Massa         Sauber-Petronas  (B)  +     1 lap
 6.  da Matta      Toyota           (M)  +     1 lap
 7.  Heidfeld      Jordan-Ford      (B)  +    2 laps
 8.  Panis         Toyota           (M)  +    3 laps
 9.  Baumgartner   Minardi-Cosworth (B)  +    6 laps
10.  R.Schumacher  Williams-BMW     (M)  +    8 laps

Fastest Lap: M.Schumacher, 1:14.439

Not Classified/Retirements:

Driver        Team                  On Lap
M.Schumacher  Ferrari          (B)    46
Alonso        Renault          (M)    42
Raikkonen     McLaren-Mercedes (M)    28
Bruni         Minardi-Cosworth (B)    16
Pantano       Jordan-Ford      (B)    13
Webber        Jaguar-Cosworth  (M)    12
Coulthard     McLaren-Mercedes (M)    3
Fisichella    Sauber-Petronas  (B)    3
Sato          BAR-Honda        (M)    3
Klien         Jaguar-Cosworth  (M)    1

World Championship Standing, Round 6:                

Drivers:                    Constructors:             
 1.  M.Schumacher  50        1.  Ferrari           88
 2.  Barrichello   38        2.  Renault           52
 3.  Button        32        3.  BAR-Honda         40
 4.  Trulli        31        4.  Williams-BMW      35
 5.  Montoya       23        5.  Sauber-Petronas    7
 6.  Alonso        21        6.  McLaren-Mercedes   5
 7.  R.Schumacher  12        7.  Toyota             4
 8.  Sato           8        8.  Jordan-Ford        2
 9.  Massa          5        9.  Jaguar-Cosworth    1
10.  Coulthard      4       
11.  da Matta       3       
12.  Fisichella     2       
13.  Heidfeld       2       
14.  Webber         1       
15.  Raikkonen      1       
16.  Panis          1     


Pos  Driver        Team                  Lap  Time              
 1.  M.Schumacher  Ferrari          (B)  23   1:14.439        
 2.  Trulli        Renault          (M)  22   1:14.870 + 0.431
 3.  Button        BAR-Honda        (M)  40   1:15.220 + 0.781
 4.  Alonso        Renault          (M)  23   1:15.226 + 0.787
 5.  Montoya       Williams-BMW     (M)  41   1:15.395 + 0.956
 6.  Barrichello   Ferrari          (B)  16   1:15.763 + 1.324
 7.  Raikkonen     McLaren-Mercedes (M)  15   1:16.203 + 1.764
 8.  da Matta      Toyota           (M)  22   1:16.232 + 1.793
 9.  Panis         Toyota           (M)  57   1:16.494 + 2.055
10.  Massa         Sauber-Petronas  (B)  23   1:17.151 + 2.712
11.  Webber        Jaguar-Cosworth  (M)  11   1:17.466 + 3.027
12.  R.Schumacher  Williams-BMW     (M)  18   1:17.588 + 3.149
13.  Heidfeld      Jordan-Ford      (B)  35   1:18.262 + 3.823
14.  Pantano       Jordan-Ford      (B)  10   1:19.415 + 4.976
15.  Coulthard     McLaren-Mercedes (M)   2   1:20.560 + 6.121
16.  Fisichella    Sauber-Petronas  (B)   2   1:20.804 + 6.365
17.  Sato          BAR-Honda        (M)   2   1:21.368 + 6.929
18.  Bruni         Minardi-Cosworth (B)  10   1:21.592 + 7.153
19.  Baumgartner   Minardi-Cosworth (B)   2   1:21.886 + 7.447


Pos  Driver        Team                  Time      Lap
 1.  da Matta      Toyota           (M)  14.836   52
 2.  Barrichello   Ferrari          (B)  23.856   55
 3.  Trulli        Renault          (M)  24.131   43
 4.  Heidfeld      Jordan-Ford      (B)  24.478   41
 5.  Panis         Toyota           (M)  25.026   55
 6.  Alonso        Renault          (M)  25.287   25
 7.  Massa         Sauber-Petronas  (B)  25.615   21
 8.  Trulli        Renault          (M)  25.622   24
 9.  da Matta      Toyota           (M)  25.943   23
10.  Montoya       Williams-BMW     (M)  26.146   42
11.  Button        BAR-Honda        (M)  26.169   18
12.  Heidfeld      Jordan-Ford      (B)  26.328    4
13.  Massa         Sauber-Petronas  (B)  26.350   41
14.  Baumgartner   Minardi-Cosworth (B)  26.394   22
15.  Barrichello   Ferrari          (B)  26.511   20
16.  Heidfeld      Jordan-Ford      (B)  26.549   31
17.  M.Schumacher  Ferrari          (B)  26.936   26
18.  Button        BAR-Honda        (M)  26.992   42
19.  Baumgartner   Minardi-Cosworth (B)  27.023   39
20.  Raikkonen     McLaren-Mercedes (M)  27.122   19
21.  Panis         Toyota           (M)  27.335   24
22.  Montoya       Williams-BMW     (M)  27.591   13
23.  R.Schumacher  Williams-BMW     (M)  27.958   37
24.  R.Schumacher  Williams-BMW     (M)  36.610    3
25.  da Matta      Toyota           (M)  47.844   42


The Monaco Grand Prix, Lap by Lap
As the cars lined up for the start Olivier Panis has a problem and the start is aborted with the Toyota being sent to the back of the grid. The race is reduced to 77 laps. As the cars set off on the second parade lap Panis fails to get off the line and has top be pushed into the pit lane, from where he eventually joins the race.
Lap 1: At the start Jarno Trulli and Fernando Alonso get away well and Alonso gets ahead of Jenson Button as they go into the first corner. Takuma Sato makes the best start and brushing past Michael Schumacher and Kimi Raikkonen emerges in fourth place. Raikkonen is fifth with Michael Schumacher sixth ahead of Rubens Barrichello, David Coulthard, Juan Pablo Montoya and Mark Webber. At the back Christian Klien tangles with Zsolt Baumgartner. Klien tries to keep going but understeers into the wall at the Grand Hotel Hairpin. At the end of the lap Trulli is 0.8s ahead of Alonso.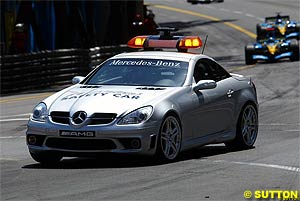 Lap 3: The first three cars have pulled away from the field which is bottled up behind Sato. The Japanese driver has an engine problem and puffs of smoke appear from the rear of his car. As he goes into Tabac Corner, the engine blows. Sato pulls off to the inside as the others try to find a way through in the smoke. Montoya and Webber get through but Coulthard slows and is hit from behind by Giancarlo Fisichella. The Sauber flies over the rear of the McLaren and ends up upside-down. The Safety Car is sent out immediately. Fisichella emerges unscathed. Coulthard goes to the pits but the damage to the rear of the car is too much and he too is out. Ralf Schumacher, who is running in 13th place also pits.
Lap 4: As the cars circulate behind the Safety Car, Jordan decides to bring in Nick Heidfeld in the hope of getting a strategic advantage. The German rejoins without loosing a place.
Lap 8: The race restarts at the beginning of lap eight and Montoya scrambles past Barrichello at Ste Devote to move up to sixth place.
Lap 10: At the front Trulli sets the fastest lap of the race while at the back of the field Ralf Schumacher is finally able to overtake Baumgartner for 15th place.
Lap 12: Trulli sets a third consecutive fastest lap but his lead over Alonso is still only 1.2s. Eighth-placed Webber pulls off with a mechanical problem and at the back Ralf Schumacher gets ahead of Gianmaria Bruni to move up to 13th place.
Lap 13: Montoya stops and falls back from sixth place to 10th. Giorgio Pantano, who is running 11th disappears with mechanical trouble.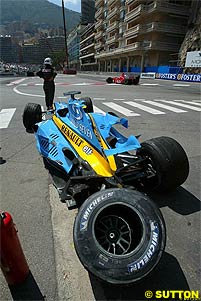 Lap 16: Trulli has pushed his lead out to 2.7secs while Alonso remains under pressure from Jenson Button. There is then a gap back to Raikkonen and Schumacher. Barrichello is sixth with Cristiano da Matta in seventh with Felipe Massa chasing him in the Sauber. In ninth place is Nick Heidfeld's Jordan but he is under pressure from Montoya. The only other runners are Olivier Panis, Ralf Schumacher and the two Minardis. Bruni pits and drops behind Baumgartner.
Lap 18: Button heads for the pits and falls back from third place to seventh.
Lap 19: Raikkonen now pits and he rejoins still behind Button. The disappearance of the McLaren means that Michael Schumacher can speed up.
Lap 20: Fourth-placed Barrichello goes into the pits for his first stop. Michael Schumacher sets the first of four consecutive fastest laps as he tries to make up lost ground.
Lap 21: Seventh-placed Massa comes into the pits and falls back to 10th.
Lap 23: Trulli increases his lead to 4.1secs while Alonso is still 4.4s ahead of Schumacher, despite the fact that Schumacher has done four fastest laps, bringing down the gap from 6.6s. Fourth-placed Da Matta pits and drops back to seventh.
Lap 24: Trulli stops and Alonso goes into the lead with Schumacher second. Trulli rejoins third. Further back Panis pits for the first time.
Lap 25: Alonso stops and so Michael Schumacher takes the lead. Alonso rejoins third ahead of Button.
Lap 26: Schumacher pits but when he comes out he is still behind Trulli and Alonso. His fast laps mean that he is now ahead of both Raikkonen and Button. Barrichello is sixth with Da Matta seventh and Heidfeld in eighth.
Lap 28: Raikkonen goes into the pits and retires with mechanical trouble.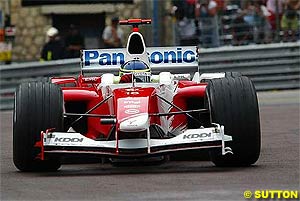 Lap 29: Montoya and Heidfeld have been fighting for seventh place, the two men going across the chicane on lap 28. In the Mirabeau corner Heidfeld makes a mistake and Montoya is able to get ahead at the Grand Hotel Hairpin.
Lap 31: Heidfeld pits and falls back from eighth to 10th.
Lap 32: Traffic has closed the gap between Trulli and Alonso but it is clear that Jarno is faster as he begins to build his lead again. Michael Schumacher is third with Button fourth, Barrichello fifth and da Matta sixth.
Lap 37: Trulli has increased his lead again to 2.4s but the order is unchanged. Ninth-placed Ralf Schumacher pits and drops behind Heidfeld.
Lap 42: Alonso tries to lap Ralf Schumacher in the tunnel but gets offline and crashes heavily. A Safety Car is sent out and Button, da Matta, Montoya, Massa and Heidfeld all go into the pits.
Lap 43: Trulli stops and Michael Schumacher goes into the lead but behind the Safety Car. Immediately behind him on the road is Montoya.
Lap 46: The field is getting ready to restart when Michael Schumacher slows in the tunnel. Montoya tries to avoid the Ferrari but the two cars seem to collide and Schumacher goes into the barriers. He drives to the pits and retires.
Lap 47: Trulli begins to pull away again with Button behind him and Barrichello third but unable to keep up the same pace. Everyone else is a lap behind with Montoya fourth, da Matta fifth and Massa sixth and Heidfeld seventh. A further lap behind is Ralf Schumacher and Panis. The only other runner is Baumgartner.
Lap 52: Da Matta is given a drive-through penalty for failing to observe blue flags and this drops him behind Massa.
Lap 55: Barrichello pits but he remains in a solid third place but is now nearly 40 seconds behind Button. Further back Panis also stops again but he stays ninth.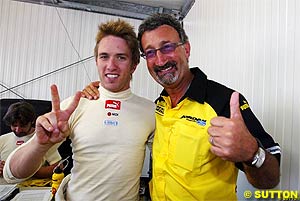 Lap 70: The order is unchanged but Ralf Schumacher goes out with a mechanical problem, retiring from eighth place.
Lap 74: Button has closed to within a second of Trulli but there is little chance he can overtake. Further back Massa is under great pressure from da Matta.
Lap 77: Trulli wins his first victory with Button just 0.497s behind him. Barrichello is third. Montoya is a lap down but finishes fourth while Massa and da Matta cross the line side-by-side, the Sauber a tenth of a second ahead of the Toyota. Heidfeld is seventh with Panis and Baumgartner the only other finishers.