by Dieter Rencken, South Africa
Atlas F1 Magazine Writer
This week's rumours and speculations
Fresh from the Formula One paddock

TUNNEL CONTROVERSY
Only by standing in, or walking through Monaco's tunnel does one get an idea of exactly how dark and dingy it is. Not for nothing do road cars drive through with their headlamps on; not for nothing is it the eeriest place on the Grand Prix trail.
Of course, street lamps do illuminate normal proceedings, but what is normal at the speed limit of 50km/h is hardly 'normal' at 280 or more. Plus, on the sort of bright sunny race days invariably experienced in May, Formula One drivers apply tinted strips to their visors - reducing visibility even more. The contrasts between 'bright' to 'dark' to 'bright' within little more than a flash could hardly be greater.
An idea of just how dark the tunnel can be in parts: high-quality digital cameras require their flash setting to be engaged to auto-focus correctly, thus explaining why no frontal shots - which would require blinding flashes - of cars within the tunnel are possible. Equally, television cameras seek out those areas within the tunnel which are illuminated by the few shafts of natural light which fight their ways past the support pillars situated on the seaward side. In fact, the level of darkness, of almost zero visibility, is best illustrated by the sequences of Fernando Alonso and Michael Schumacher crashing in the tunnel. Hardly a thing was visible without constant, slo-mo replays, with highlighting circles. Only thus did the basically inexplicable become clear.
Now, add in the other sensory assaults within that 100 metre or so stretch. The absolute hell of the place hits anyone who visits the tunnel. Noise - like nothing else on Earth; smell - like an overworked oil refinery; vibration - like ten sadistic dentists, gleefully brandishing pneumatic drills, are reworking my eye teeth; heat - like 50 barbeques being ignited simultaneously; pelting - forced to watch from the 'safe' area behind the barriers outside the racing line, the force of flying tyre granules sting like No 8 duck shot pellets.
The cause of Alonso's crash was clear: he was suckered into overtaking Ralf Schumacher, who knew exactly where Alonso was in relation to his own track position, on the rubber marbles which litter the outside of the 280 km/h bend; dare we speculate that, in future, particularly where Ralf and the tunnel are involved, the Spaniard will hold back?
For the major contributing cause to Michael Schumacher's accident, one has to look much further a field; all the way to the wind tunnel in Maranello, in fact. When Michael entered the tunnel on that lap, he knew well that Juan Pablo Montoya, albeit a lap down after replenishing early, was close behind him. Even without mandatory mirrors, he could feel and hear the Williams in close proximity, and thus know where to place his car even if JPM was no threat due to a) his race position, and b) the Safety Car.
Come the tunnel, though, it was a different matter. His Ferrari's echoes, vibrations, heat and reverberations within the close confines disguised those of the Williams, none of which would have been a problem had Michael been able to pick up even the blue/white car's silhouette in his mirrors.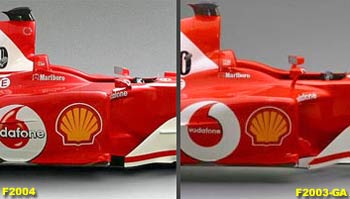 But, the mirrors in the F2004 are sited so far back and so low as to be basically useless - not this column's take on the matter, but that of a Ferrari man, who admitted as much in Imola whilst explaining that sitting there, almost in line with, but way below, Michael's eyes, they cause minimum disruption of air flowing to, over and around the critical cockpit area, which, in turn, funnels air upwards to the mid-mounted aerofoil, and backwards to the all-important winglets and rear wing planes. In fact, Ferrari's Monaco press release contains a picture showing the mirrors to be virtually flush with the air intake surfaces.
(So subtle is the sitting of the mirrors that, whilst on the formation grid in Spain, The Grapevine pointed out their positioning to a high-ranking member of another team - one which, at Imola, had been in with a strong chance of victory - he expressed surprise that the car had been passed as such by the FIA.)
So, before slowing viciously and braking violently to prepare for the pending restart, Michael would, logically, have sensed for a car close to him, realised his own car was disguising any give-aways, then (hopefully) glanced in his mirrors, found them clear in the darkness and pulled his manoeuvres. All of which dealt a devastating blow to his record-breaking aspirations of six-opening-wins-in-a-row.
And, crucially, Ferrari could not report in its post-race press release (four hours in the issuance) that the cause of the accident had been an unsighted Montoya, that Michael had simply not seen the Colombian in his mirrors - thereby alerting the FIA to rear-view devices which don't exactly deliver, and the opposition to Ferrari's aero tweak, all whilst making the sextuple World Champion look a touch negligent. Better, instead to state, "the situation is that the race leader was knocked out of the race after being hit by a backmarker". Which, of course, he was...

TYRE TECHNOLOGY
Following Max Mosley's press briefing on Friday in Monaco, it becomes clearer than ever that Formula One is heading for a single tyre-supplier situation. In fact, it is hard to fault the FIA President's stance on the matter, particularly with regard to safety (controllable lap times), cost (self-evident), and a level playing ground (ditto).
Whether, though, the existing tyre companies wish to beat only themselves is another matter, and, in Monaco, the talk was that some or other Korean (or even Malaysian) tyre manufacturer, out to make a massive splash in what will be a tiny pond, will somehow ensure it gains the tender to supply F1 come the single-provider date - which, as Mosley pointed out, could, conceivably, be as soon as 1 January 2006.
Hopefully, then, Formula One will eliminate the biggest eyesore in the sport: tyre sidewall profiles higher than those on the trucks that transport the rubber around the world. Yes, strange to relate, the aspects ratios (relationship between tyre width and sidewall height) of tyres on 2004 F1 cars are 55%; those on their transporters, 50%. Now, in the real world, even 1100cc econoboxes run 50-ratio rubber, whilst road-going Porsches and Ferraris go as low as 30%. So, just why does F1 continue with its antiquated 'doughnuts'?
It is all to do with history: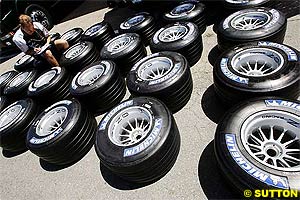 For 1993, within a year or two of Mosley seizing control of the governing body, regulations stipulating smaller, narrower rubber, to be fitted to 13 inch (330mm) rims, were introduced. With widths of 355mm and diameters of 660mm, the ratio worked out at 55% - totally acceptable a decade ago, but, with increasingly lower ratios being utilised on street machines, unacceptable over ten years later.
At the time of introduction, Goodyear was the sole supplier, and, as such, was not interested in investing in new technology and moulds as road tyres decreased in profile. After all, why should it continue investing in technology merely to beat itself? Plus, the prevailing sidewalls allowed large branding - important when you're a regularly televised, worldwide sport…
When Bridgestone entered Formula One for 1997, it requested a change of profiles more in keeping with the performance image of its road tyres. Goodyear, fearful that the advantages it had built up over many years would be negated at the stroke of a pen, fought against same. High profiles stayed. Then, when Goodyear pulled out at end-1998, a season into grooved tyres, Bridgestone was offered the opportunity of going the low profile route. It declined on the basis that it did not wish to invest in low profile technology merely to beat itself, plus, to be sure, its marketing people felt comfortable with large sidewalls…
The next lost opportunity occurred in 2000, with the arrival of Michelin. Again, low profiles were requested by the newcomer; again the incumbent insisted upon known technology to protect its position. Since then the first fatality in many a year in many a year - Paolo Ghislimberti (30) died at Monza in September, 2000 after being hit by a flying tyre - hit the sport, with the second death, that of Graham Beveridge in Melbourne under similar circumstances, occurring less than six months later.
In both cases, the enormous amount of stored energy in the elasticity of the tyres was a contributing factor. It stands to reason: the higher the sidewall, the higher the elasticity, and, thus, stored energy. Flying cars, too, have occurred more often of late - remember Ralf Schumacher and Rubens Barrichello in Australia two years ago; remember the same pair, plus Kimi Raikkonen at Hockenheim last year? Again, stored energy was a known contributor.
Lower sidewalls, due to decreased 'squelsh' and higher sidewall strength, allow improved suspension control, plus, importantly, larger rim diameters offer better aesthetics - something wheel suppliers have been crying out for for years.
(It did, of course, suit the FIA to have 330mm rims, for these automatically restricted the size of brake rotors, but, again, a maximum diameter could easily have been introduced over time, and, who knows, it may well have been smaller…)
So, when F1 eventually goes the single-supplier route it has a golden opportunity to join the 21st Century with regard to sidewall aspects. Of course, performance will increase for a given compound and construction, but Mosley is confident that performance can be controlled via regulations, so that should not be a concern. What may concern the 'winning' supplier, though, is the decreased branding area, but whoever is in F1 merely to take cheap laurels by beating itself should not, in any event, be shouting it from the rooftops, should it?
---
© 1995-2005 Kaizar.Com, Inc. . This service is provided under the Atlas F1
terms and conditions
.
Please
Contact Us
for permission to republish this or any other material from Atlas F1.