---
Bjorn Wirdheim: Going Places
---
By Bjorn Wirdheim, Sweden
Atlas F1 Special Columnist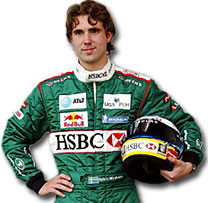 Bjorn Wirdheim is a fresh addition to the Formula One paddock. Intelligent, humble and hard working, the F3000 Champion made his debut in Melbourne as Jaguar's third driver - a stop on his way to a fulltime F1 racing career. In an exclusive column for Atlas F1, Bjorn will share his experience over the 2004 season and tell us in his own words about the technical and personal challenges he faces throughout the year.

This Week: Bjorn meets Brad and George, as well as the Monaco barrier

Monaco is always an amazing place, and despite my mistake at the finish last year it is definitely one of my favourite circuits to race. I have to admit that I felt a bit silly last year, waving to my team and then getting beaten to the finish line, but at least there is no chance that it will ever happen again – I guarantee I will never put my hand out of the car again until the line is well behind me!
The circuit is a real challenge to a driver - there are barriers on both sides all along the track and any mistake, no matter how small, will be punished. It is like trying to drive in a long tube that twists and turns and runs up and down; it's quite difficult, but when you get a lap exactly right there, it is extremely satisfying. I really like this circuit, and it was very different to drive a Formula One car around; of course it was much quicker - and because it's so narrow, everything feels so much quicker anyway - but after a few laps I felt quite comfortable.
Unfortunately from the very first lap in the first session on Thursday we were struggling with a sensor that caused trouble with the traction control. There was a lot of data noise, and it didn't work properly throughout the session. The engineers managed to make a quick fix after the first outing, but it never worked as it should, and there wasn't enough time to fix the problem during the session because I would have lost too many laps. But I was able to drive the car, and so they decided to keep me out just to get used to the circuit, and then we concentrated on the second session instead.
It actually caused me to stop at the end of the tunnel in the first session; I lost the engine into the entry of the tunnel and just coasted through, but I stopped in a very bad position just after the quick right hander. I tried to put it in neutral but the engine was already shut off and it was stuck in first gear. I stopped right next to the marshalls and was sitting there watching my mirror - I could see several cars driving behind me, and in fact one of the Jordans was a bit sideways as well. I thought to myself, I might just sit here for a bit!
I waited for the marshalls to come out and push the car, and the yellow flags were out by then as well so the next couple of drivers who came around got a bit slower, so I got out, put the steering wheel back on and then had to walk back to the pits. Luckily it was towards the end of the session anyway, so I didn't really lose too much track time.
We sorted out the problem with the sensor between the sessions and then we were supposed to start our programme; I went out on a new set of tyres, and we had made some changes to the wing settings earlier in the morning because I was struggling with front grip due to the low grip levels. This is something special to Monaco, because it is the only real road race during the year. It's a street circuit so there's no rubber at all when we get here, but the circuit improves quite a lot even in between the sessions on Thursday.
So we changed the wing settings to give me more grip in the front, and it felt alright at the start of the morning but by the end of the session the car was more or less neutral and started going towards oversteer. We talked about it in between the sessions, and we decided that we were going to stick with the wing levels we had, and maybe make a change in case it was too much on the nose after the first outing in the second session.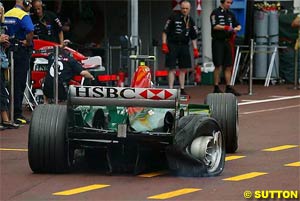 So I went out, and it was too much on the nose! Turning into Tabac I slightly lost the rear. It wasn't a big problem - just a correction for the apex that caused me to run a little bit wider than you should, but there's just no room anywhere in Monaco. When I get it right I use all the room on the exit, and I needed a little more this time and touched the barriers. It wasn't very hard, but it was enough to damage the suspension on the right hand side.
I managed to get the car back to the pits, and unfortunately it took too long to repair the car. I think the reason was that Mark's car had caught fire earlier and they were trying desperately to get him back out, and by the time I came in they were still working on that and so they weren't able to fix mine as quickly as it could have been done. And then unfortunately Christian found the barrier at Casino Square, so it really wasn't the greatest start we could hope for.
My programme for the weekend was totally focused on tyres for the race, and luckily it was pretty obvious what choice to make so it wasn't as bad as it could have been, with all three cars out before the second session was over! It could have been a lot worse, and I think we were fortunate all things considered. I think for Mark it wasn't really a problem because he knows the circuit really well and he gets up to speed really quickly. It's just hard when you lose track time because you always lose valuable information.
The other thing that is interesting is the amount of PR commitments we have at Monaco. Jaguar was helping to launch the new "Ocean's 12" movie, with some of the cast visiting, and there were several dinners. On Friday, for example, we went to three dinners and then finished off with a cocktail party!
On Friday we started off at seven in the evening, and we were picked up on motor scooters at the hotel. First we went to the Columbus Hotel for a cocktail party arranged by Jaguar Cars for their guests. We popped in and said hello to all of the guests and we then got back on the scooters and went to the Jaguar boat in the harbour for more of the same - fifteen minutes and a short question and answer session.
After this it was back on the scooters and off to Jackie Stewart's suite at the Hotel de Paris to meet a couple of the team sponsors, and then we went back to the hotel again where we were picked up by a car and taken to the "Ocean's 12" party that took place in Karl Lagerfeld's house. We got there around 9:30 am and only stayed for about half an hour, but we had enough time to have a short chat with Brad Pitt and George Clooney.
So it's been a completely mad weekend. My girlfriend and parents were in town, which was great as I am very used to having them around for races and unfortunately I haven't had much of an opportunity to spend a lot of time with my parents this year, and I've also had a couple of Swedish journalists visiting, who weren't allowed in the paddock so I had to go out to see them, and it was quite difficult to fit everything in.
I think Monaco is the most intense weekend of the year because there is so much going on. I don't mind going to these events because I've got nothing else to do anyway, but for the drivers I think it can be quite exhausting, and the team is doing what they can to help get them to bed early.
Last year I was able to go to bed as early as I wanted, I didn't have any commitments and I could just focus 100% on the racing. I don't think you can do that in the same way in Formula One, because of all the commitments you have. So you have to learn to use the time, and in the end it has to be a compromise.
Unfortunately the race wasn't a lot better than the practice sessions for us. Christian missed the start and then touched Nick Heidfeld into the hairpin - the front wing got stuck under his wheels and there was nothing he could do. Mark had some sort of electronic problem that could have been caused by the long wait for the restart, and his race didn't last much longer. And after the race I found out that the team had lost the diamond that was in the nose of Christian's car for a promotion; it looks like one lucky fan had a far better weekend than we did!
På återhörande,


Bjorn Wirdheim's column is written exclusively for Atlas F1 by Bjorn himself, with the assistance of David Cameron. Click here for Bjorn's official website.
---
© 1995-2005 Kaizar.Com, Inc. . This service is provided under the Atlas F1
terms and conditions
.
Please
Contact Us
for permission to republish this or any other material from Atlas F1.