The organisational restructuring announced this week by Williams proves Patrick Head has plenty on his mind as he and fellow team owner Frank Williams attempt to return the Grove squad to its former glories. His famous furrowed brow will disappear from the racetrack from now on as he ponders more long-term issues, and one vital category is high on his agenda - the search for Michael Schumacher II.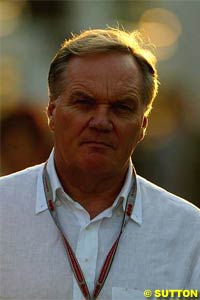 Head and Williams were forced to begin their quest to find a man who can take on the World Champion Ferrari driver in the middle of last season after temperamental Colombian Juan Pablo Montoya signalled his intent to end a four-year association with the team and shift allegiances to rivals McLaren-Mercedes after a disagreement at the French Grand Prix.
To make matters more difficult, discussions with Willi Weber, the manager of Montoya's German teammate Ralf Schumacher, broke down earlier this year with both sides understanding they are unlikely to secure an agreement. It is believed that Weber was looking for more money and Williams were keen for Schumacher to improve his performance.
The two disagreements have combined to resign Williams to the dismantling of their current driver line-up, which has been competitive despite its critics and lack of harmony, and seek a new combination to take them forward. Head can see glut of potential candidates, and he and Williams have considered them all. But all he really wants is a morph of the man in scarlet.
"I suppose we are looking for someone as close to Michael Schumacher as possible," Head says, before freely admitting that the World Champion's credentials of consistency, speed, attention to detail and overall team commitment are something that they neither currently have nor expect to find easily.
"We actually would have been happy had we stayed with the same two drivers but these things are private matters and Frank is very strong about not discussing private matters of employment in public. But, obviously, a driver's aspirations for their salaries and our willingness to meet those aspirations didn't work, so that situation is not available.
"Frank has now had discussions with a number of people and he will make the final choice, but he and I talk about it and we also discuss it openly with BMW, who will have their opinion as well. Between all sides we hope not to have a deadlock so that we are still looking for drivers at Melbourne next year. I don't think that will be the case."
Matching Schumacher is a tall order for any driver and reaching his level will be impossible until the bond with the team is complete, as Schumacher himself has proven in the past. But Williams' options are wide-ranging, from internal promotions to US imports or former World Champions and even a re-think from the one or both of the current line-up has been touted as a possibility.
Realistically, Head knows he cannot expect to find a fully honed match for Schumacher, but he has very specific requirements that any candidate should match up to. "A driver needs to be so much more than just a good driver to actually deal with every situation he is presented with," he explains. "To bring it together in a final qualifying lap is very difficult.
"Sometimes drivers are just too young and I think that some cases have proved that if you are looking for a driver and you want to be confident he can win races, then maybe you have got to look at drivers who have won races previously. There is nothing that beats somebody having done it before and, certainly, if he has driven on all the Formula One circuits then it is a benefit."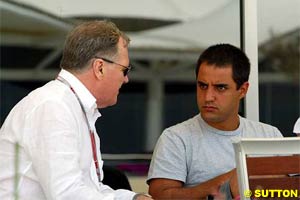 There are not many proven winners on the grid and the proverbial monkey can often be hard to shift from a driver's back. Other than their current drivers, Canadian Jacques Villeneuve, currently out of work after parting company with the BAR-Honda team before the end of last year, is the only man on Williams' list that can claim to have a truly victorious Formula One background.
Italian Giancarlo Fisichella, who is currently at the Sauber stop in a nomadic career on the fringes, can also claim a winning record, but his shock Brazilian Grand Prix victory last year, which came in a deluge of rain rather than through a true front-running performance, was hardly a credential to prove he can cope with fighting at the front weekend after weekend.
Fisichella's countryman Jarno Trulli can now boast similar credentials as Formula One's latest winner and, with his contract free at the end of the season, he could also be a candidate for a move. However, as with Fisichella, one win does not make a World Champion and, despite being impressed with the Renault driver's performances since the middle of last year, Head will likely be wanting to wait a little longer for proof that the renowned qualifying king can step fully out of teammate Fernando Alonso's shadows to become a consistent race-winning contender.
And so the list turns to drivers who have been there and thereabouts, but never quite at the front, and Australian Mark Webber is clearly the man that best fills that criteria. He has already been in lengthy talks with Head and Williams and, if reports are to be believed, the team are already making a plaque for his parking space at their Grove headquarters.
Jaguar driver Webber is hot favourite to seal one of the places for 2005 and it is understood that there is just a matter of time before the deal can be announced. When his current team fails to climb to sixth place in the Constructors' Championship at the British Grand Prix at Silverstone in July, their option on his services is expected to pass and the move should be revealed.
Williams will not deny they have talked, they will not deny he has been to the factory in what was understood to have been a long two-way discussion over the future. In fact, they openly admit that they are just waiting for his contract, and perhaps those of other drivers, to terminate because of their teams' poor performances this year before they swoop.
Head explains: "The situation with some of the drivers is that they have binding agreements - in which case we wouldn't do anything to interfere - or they have clauses in those agreements that allow them to be available and obviously some of those clauses relate to positions of the team by a certain time of the year.
"One has to let that time period pass to see whether those situations have been complied with. If they have, then the driver is not available; if they have not, then the driver will be available. I am sure that we will be intending when we start competing in 2005 to compete for the Championship and you will not be able to do that with inexperienced drivers, however talented they are."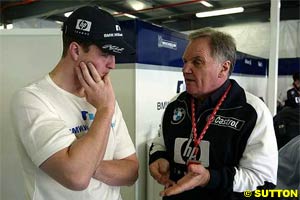 Williams tested New Zealander Scott Dixon, but he will now stay in IRL, as well as youngsters Nelson Piquet Junior and Nico Rosberg, the sons of two of their former World Champion drivers, earlier this year. But their inexperience is likely to put them out of the picture as well, at least for next year. "The difficulty is for a young driver of 18-years old to make the transition into Formula One," Head explains.
"It is not just the car and all the circuits, it is the pressure of the Formula One environment, the pressure of the sponsorship, the pressure of the press at a much higher level and I am not saying it is impossible but it is unlikely that a driver will be able to handle all of that until he is 22 or 23 or so, and the difficulty is to work out how to support a driver through the transition."
Williams, of course, did just that when they signed Briton Jenson Button in 2000, after what seemed to be a last-minute shoot-out between him - then a Formula Three driver who managed only third in the British championship - and their Brazilian test driver of the time Bruno Junqueira. Button won, and went on to impress with some solid performances.
Clearly, then, Head believed Button would take time to get used to fighting at the front and that is why they dropped him to take on Montoya, who filled the criteria of proven conqueror having won one of the greatest motorsport events, the Indy 500, and also secured the CART championship. The difference between then and now are team's aspirations.
"In 2000, we were in our first year with BMW and it was BMW's first year back in Formula One," says Head, explaining the reason for taking the risk of signing the inexperienced Button. "Williams were coming out of a period where we had been less competitive and we didn't think that we were going to go into 2000 in a Championship competitive position.
"Last year, we were a Championship competitor and as I said we certainly intended to start this year as Championship competitors. If you are in that position it is very difficult to choose a young driver in his first year in Formula One because he is going to be learning a lot about the whole process of Formula One and, undoubtedly, he is going to make some mistakes."
Grooming Piquet or Rosberg into Grand Prix drivers would not be impossible considering the team have three quarters of a year before either would make their debut. But if a driver without Formula One race experience can get on the radar, then the team is more likely to at least plump for a test driver who has already experienced some of the Grand Prix circuits.
British BAR-Honda third driver Anthony Davidson, with his impressive testing pace, has been touted as a strong possibility and, barring mishap, will have a full complement of race tracks in his role as their Friday test driver by the time the season ends. He is being pushed hard by team boss David Richards, but could be available if a deal comes along.
But Head admits it is difficult to assess drivers on the basis of their testing times and if the team takes a test driver they would probably be more likely to concentrate on honing their current fourth driver Antonio Pizzonia's raw speed into consistent, raceable pace. His performances last year at Jaguar make that look like a risky move, but, at 23, Head believes he may now have grown up.
The Brazilian showed erratic form as teammate to Webber at the Milton Keynes team at the start of 2003 and, after surviving an early season hit on his confidence when Jaguar secretly tried to line up Alexander Wurz, McLaren-Mercedes' third driver, as his replacement, he was finally deposed after the British Grand Prix in favour of Justin Wilson in a deal that looked set to leave his career in ruins.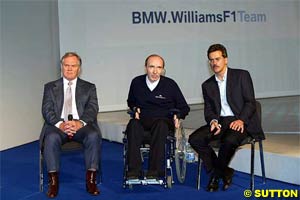 Williams clearly have time for the young Brazilian, whose impressive domination during his spell in the British Formula Three Championship puts him in the company of BAR-Honda pairing Davidson and Takuma Sato, who battled for the title as teammates. Winning that series, let alone dominating it, is impossible without racing instinct.
He has now had two spells as a test driver with Williams and, with race experience under his belt and a Williams contract in his pocket, he could be a strong candidate if there is a second seat available. Sure, he is not a proven race winner, but he has the pace and Head has a lot of experience at turning a driver's temperament into focussed aggression.
There is a part of Head that admits promoting a test driver, as the team did successfully with Damon Hill and David Coulthard in 1993 and 1994 respectively, is a successful way of grooming the required pace and consistency. A strong pair of test drivers could help continuity if the team went for a fresh new line-up, but a promotion could help filter that continuity into the race team itself.
"It is certainly the case that if you have the same test drivers you will generally maintain continuity and car development," says Head. "Clearly, the drivers that you have are experienced and get used to making judgement and you can put some weight on their opinions. If you have new drivers, you have got to learn again. But the transition from testing to racing is quite difficult."
Their new line-up is certain to be installed well before their 2005 car hits the track. But the question is just how soon can it be done? That, of course, depends on the contractual situation of the driver they want to sign but, Head admitted, if they can find the right man and get him in just for testing before the end of this season they would be more than happy.
"If the situation is available that we can run our 2005 drivers in 2004 then that is a benefit," says Head. "But that is not something that is on the table at the moment, it is not essential and it is certainly not our intention or our plan to do anything other than to run with both of our current drivers until the Brazilian Grand Prix at the end of the season.
"We have got two very competent and fast test drivers and they are both very capable of helping us develop the car. All sorts of things sometimes happen in Formula One, but we have a good working relationship with our race drivers, they are both very keen at competing in the races and we are looking to fulfil our part of our agreement with them."
Despite being together since 2001, Montoya and Schumacher openly declare they do not get on although the team denies any working difficulties. But the team's radical stump-nosed car has failed to perform so far this season and while the design team are working hard to fix the problems, the drivers seem to be struggling to maintain their commitment and concentration.
Head has first privately and then publicly revealed his belief that Ralf Schumacher has failed to come to terms with his testing crash at Monza last year, yet he has also admitted that his replacement Marc Gene, the team's Spanish test driver, failed to match his pace when he was promoted for the Italian Grand Prix as Schumacher recovered from concussion.
Schumacher was angered by Head's recent revelations, which were initially made off the record but eventually sourced to the embarrassed technical director. Montoya, too, has repeatedly pointed the finger at Head for the failures this year and candidly told him to get on with designing the car rather than criticising the drivers' performances.
That, with the recent restructuring, appears to be exactly what Head is planning to do. "We had a disappointing start but I am sure that we will make progress," he says. "I certainly intend to correct the situation we have had this year." And he knows that, once the off-track restructuring achieves its aims, the on track changes must follow suit.
The Candidates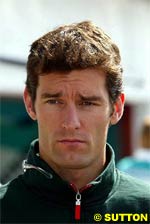 Mark Webber
Credentials:

Age:                  27
Nationality:          Australian
F1 racing experience: 38 starts
F1 Win experience:    No wins
F1 Points scored:     20
Circuit knowledge:    100%
Availability:         Slightly restricted

Profile: A committed, hard-working driver who simply loves the sport and is allied with Michael Schumacher in the Grand Prix Drivers Association. Joined Formula One with Minardi in 2002 and finished in the points in his first race. Moved to Jaguar last year but, despite strong performances, has not yet bettered the fifth place he scored on his debut.
Head says: "Clearly he is very capable and he has got a very cool head on his shoulders. He appears to have the make-up of a driver we would be interested in, but he has the potential of a prior call on his services in 2005 so we will have to wait and see if he is available."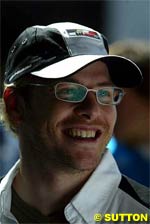 Jacques Villeneuve
Credentials:

Age:                  33
Nationality:          Canadian
F1 racing experience: 130 starts
F1 Win experience:    11 race wins, 1 WC
F1 Points scored:     219
Circuit knowledge:    88%
Availability:         No ties

Profile: A proven Champion and race winner with Williams, he has a history of hard charging and only left because he wanted the challenge of setting up the BAR-Honda team with manager Craig Pollock. He dropped out of Formula One last year but is still keen to return to racing. Proved he can beat Michael Schumacher when he is given the chance.
Head says: "We certainly had one discussion with him. All is possible in the future. He is a Champion - and not a Champion for no reason. He's the sort of guy that, when the chips are down, he will find that second, which is very difficult in a modern Formula one car."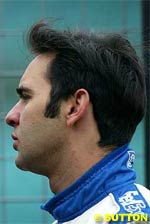 Antonio Pizzonia
Credentials:

Age:                  23
Nationality:          Brazilian
F1 racing experience: 11 starts
F1 Win experience:    No wins
F1 Points scored:     0
Circuit knowledge:    57%
Availability:         Already contracted

Profile: With a true natural talent for speed, he has demonstrated astonishing ability with consistency and race driver-matching pace in testing for Williams. He secured his Formula One chance with Jaguar last year but struggled and was replaced before the end of the season. He has come back to prove his pace again, but doubts remain over his ability to cope with competetive action.
Head says: "The potential was possibly there and despite the difficulties he had with Jaguar last year I suspect that he would do very well if he was in one of our Formula One cars. Maybe he was just a little bit too young because every time he tests he is at least as quick as our race drivers."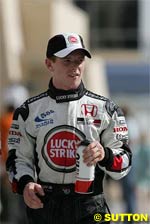 Anthony Davidson
Credentials:

Age:                  25
Nationality:          British
F1 racing experience: 2 starts
F1 Win experience:    No wins
F1 Points scored:     0
Circuit knowledge:    100%
Availability:         For Hire

Profile: A confident, unassuming team player, he has shown impressive pace in Friday testing for BAR-Honda this year and is very keen to get back to racing. Apart from a slightly disappointing outing with Minardi in 2002, he has not raced since his days in Formula Three and could take time to get back.
Head says: "Whether he should have a Formula One seat is a big question. He's a very fine driver but it is difficult to assess test drivers when you don't work with them. There are several other drivers who could probably acquit themselves very well if they were out there but he deserves strong consideration."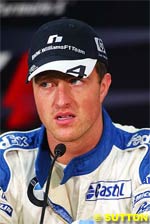 Ralf Schumacher
Credentials:

Age:                  28
Nationality:          German
F1 racing experience: 121 starts
F1 Win experience:    6 race wins
F1 Points scored:     247
Circuit knowledge:    100%
Availability:         No ties

Profile: A relatively consistent performer, he always seems to lack that final spark that turns a strong competitor into a regular contender. He has lived in the shadow of his brother since he made his debut in 1997 but has gone on to achieve victories. His performances are currently under question after his crash last year.
Head says: "Everyone in the team knows that if the car is really good on the first run then it will generally be a good weekend. If he comes in frowning it can be hard work. You cannot criticise a driver for wanting to win every race but you cannot go into a woos if things do not go well."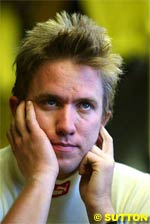 Nick Heidfeld
Credentials:

Age:                  27
Nationality:          German
F1 racing experience: 72 starts
F1 Win experience:    No wins
F1 Points scored:     27
Circuit knowledge:    100%
Availability:         Very available

Profile: A consistent performer who appeared promising on his debut, his pace seemed to filter away with his profile at Sauber. He is a free agent now, after ending his contract with Mercedes, and current team boss Eddie Jordan is keen to push him into a front-line drive.
Head says: "No comments."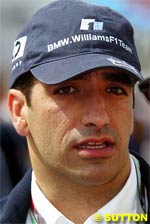 Marc Gene
Credentials:

Age:                  30
Nationality:          Spanish
F1 racing experience: 34 starts
F1 Win experience:    No wins
F1 Points scored:     5
Circuit knowledge:    88%
Availability:         Already contracted

Profile: A long-time fixture in the Grand Prix paddock, he raced for Minardi but failed to become the driver to convince his Spanish homeland to take the sport to its heart. His commitment to Williams over the years of relentless testing is noteworthy but his race pace and aggression is questionable.
Head says: "He produces lap times sometimes quicker than the two race drivers. We saw at Monza when he replaced Ralf last year that he did a very respectable job considering he only found out he was driving on Saturday morning but we felt he could have done a lot better than he did."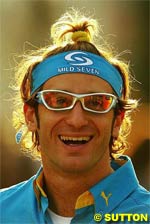 Jarno Trulli
Credentials:

Age:                  29
Nationality:          Italian
F1 racing experience: 117 starts
F1 Win experience:    1 race win
F1 Points scored:     102
Circuit knowledge:    100%
Availability:         No ties

Profile: One of the most popular men on the grid, he has always been respected for his speed on a single flying lap but questioned over his ability to consistently perform in races. Victory at Monaco last weekend proved to many that he can succeed at the front, but continued performances at that level could convince Renault to retain him for the future.
Head says: "If Jarno's reputation of being a great qualifier but not so good a racer was ever the case, it stopped being the case in the middle of last season. I am sure for him winning in Monaco is a great monkey off the back. It was a great result for him."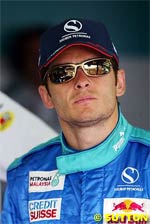 Giancarlo Fisichella
Credentials:

Age:                  31
Nationality:          Italian
F1 racing experience: 129 starts
F1 Win experience:    1 race win
F1 Points scored:     96
Circuit knowledge:    100%
Availability:         For Hire

Profile: The nearly man of Formula One, he is recognised as one of the fastest men on the grid and he must question why a top team has never picked him up. He has not performed against Felipe Massa at Sauber this year and a heavy crash in Monaco last weekend could have lasting effects.
Head says: "No comments."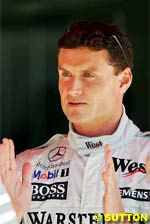 David Coulthard
Credentials:

Age:                  33
Nationality:          British
F1 racing experience: 163 starts
F1 Win experience:    13 race wins
F1 Points scored:     455
Circuit knowledge:    100%
Availability:         No ties

Profile: Showed composure beyond his years when he made his debut for Williams following the death of Ayrton Senna but has always struggled to find that final edge to take him beyond his 'second best' tag. He will be replaced by Montoya at McLaren at the end of the year and Williams are unlikely to be keen on taking him on as a swap.
Head says: "He started out with us but we decided not to continue with him. It is difficult to work him out. When he is good he is absolutely perfect but then the next race he can be ordinary. It would be very difficult to decide on him on the basis of his history of being out-performed by his teammates."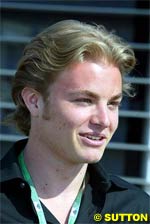 Nico Rosberg
Credentials:

Age:                  18
Nationality:          German/Finnish
F1 racing experience: 0 starts
F1 Win experience:    No wins
F1 Points scored:     0
Circuit knowledge:    18%
Availability:         No ties

Profile: The son of former Williams World Champion Keke Rosberg, he has been groomed in the style of his father and would be a popular and fast racer. He has shown his talents in the lower formulae and in his brief test with Williams. It would undoubtedly take time for him to build up speed and consistency in a Formula One car.
Head says: "I think Nico has lots of potential and could drive very well in Formula One in his first year. But it is only really possible to take on somebody young in their first year if you know that you are not going to be a Championship competitor."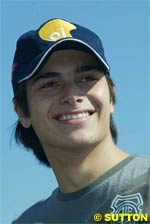 Nelson Piquet Junior
Credentials:

Age:                  18
Nationality:          Brazilian
F1 racing experience: 0 starts
F1 Win experience:    No wins
F1 Points scored:     0
Circuit knowledge:    12%
Availability:         No ties

Profile: A keen and committed driver who is being pushed hard by his Williams World Championship-winning father Nelson Piquet, he is currently trying to shine in British Formula Three. He showed his pace in the Brazilian series but has failed to display any true potential despite being in a team run by his father.
Head says: "I think he, like Nico, is likely to have a very strong Formula One career ahead of him. They are both very good, but they are both very young and, as with Nico, to take somebody young in their first year you need to know you are not going to be a Championship competitor."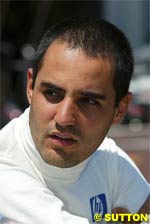 Juan Pablo Montoya
Credentials:

Age:                  28
Nationality:          Colombian
F1 racing experience: 56 starts
F1 Win experience:    3 race wins
F1 Points scored:     186
Circuit knowledge:    100%
Availability:         Contracted to McLaren

Profile: Perhaps the most aggressive racer on the grid today, he immediately made an impact on Formula One when he showed he had the bottle to take the fight to Michael Schumacher. He is one of the few drivers who has the Williams battling spirit and, despite his hot-headed temperament, he seemed to be the man to take the team to their next title before his defection to McLaren.
Head says: "He is a very good driver but as far as I understand everything is straightforward in his agreement with McLaren and I have no expectation that anything in that will change, regardless of where McLaren are performing in the Championship."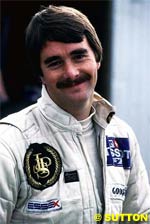 Nigel Mansell
Credentials:

Age:                  50
Nationality:          British
F1 racing experience: 187 starts
F1 Win experience:    31 race wins, 1 WC
F1 Points scored:     482
Circuit knowledge:    81%
Availability:         Not yet retired

Profile: Determined and aggressive in battle, he is a British favourite who spent much of his career with Williams and finally won the world title with them in 1992. He is admired for his commitment rather than his natural talent and carved out a fruitful career through sheer hard graft. Having been out for some time, though, his fitness could now be called into question.
Head says: "If Mansell was on the track, he meant business. He was a phenomenal actor and lived at such extreme levels of highs and lows. The difficulty was when he was on a low he wanted all us to be down there as well. He has not yet officially announced his retirement, though. They say he's making a comeback!"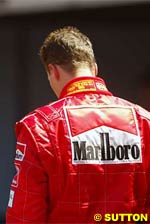 Michael Schumacher
Credentials:

Age:                  35
Nationality:          German
F1 racing experience: 199 starts
F1 Win experience:    75 race wins, 6 WCs
F1 Points scored:     1088
Circuit knowledge:    100%
Availability:         Impossible

Profile: Metronomic in his driving style, perfectionist in his approach, he is a true team driver with an incredible ability to motivate. His six-time World Championship success could come down to as much his ability to gel with a team as his extreme car control. But he is Ferrari through and through and will never move from what has become his surrogate home and his family.
Head says: "There are not many drivers who can drive in their 13th year in Formula One and still be the fastest. I do not know another driver that is as integrated in the development of a team as he is. He is a class act which shows no signs of becoming lazy or idle."