---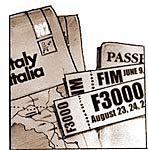 Elsewhere in Racing
Updates from the Rest of the Racing World
---
By Mark Alan Jones and David Wright, Australia
Atlas F1 Magazine Writers
Advice: The points tables for most series covered by Elsewhere In Racing are available here. Individual series are linked to their corresponding points table after each report.
Formula 3000
Liuzzi Takes Three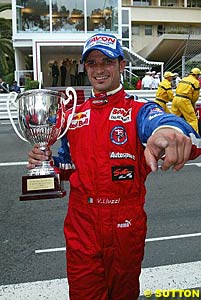 Vitantonio Liuzzi repeated the dose he administered to the International Formula 3000 Championship, racing away to win virtually unopposed on the streets of Monte Carlo, chased by his shadow Enrico Toccacelo with Jose Maria Lopez climbing onto the podium in only his third start.
Pole position was one thing Liuzzi has not owned since the season began, but by the end of qualifying the Arden driver was over two tenths clear of his season-long rival Toccacelo, recording a 1:25.619 lap time. The Italian BCN driver in turn was a similar gap ahead of Lopez, the CMS driver blotting his best performance to date after a heavy accident in qualifying. Jeff van Hooydonk was fourth fastest with the next two rows extremely close on lap times, with hundredths seperating Robert Doornbos, Patrick Friesacher, Raffaele Giammaria and Tomas Enge.
The race was late getting underway but would quickly succumb to the same problems that caused the previous race to run late, and would affect the Grand Prix the following day. The grid cleared cleanly with the top order holding their positions off the line until reaching the hairpin corner at Grand Hotel where the eighth place battle of Tomas Enge and Esteban Guerrieri clashed sending the Italian driver briefly airborne.
Enge returned to the pits while Guerrieri tried to get his damaged car going again, and was mobile when the leaders returned to the scene on the second lap. The field made it past Guerrieri but not without difficulty. By this stage Turkish driver Can Artam was out, having crashed at Massanet.
The pitstops began on lap 12 with Mathias Lauda the first to stop. The first of the front runners to stop was van Hooydonk from fourth place, resuming in eighth, and immediately lost a position to the flying Giammaria who had pitted early. Lopez pitted on lap 22, dropping behind Doornbos and Friesacher. The two leaders stopped on laps 25 and 24, letting Doornbos into a lead he held for two laps until he stopped, resuming only just in front of Giammaria, quickly losing the spot, and a lap later was taken by his race long pursuer Friesacher.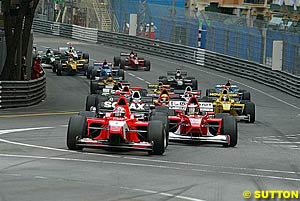 With the stops completed, the remaining 18 laps saw the field stabilise to the point that the only change in the running order was the late race retirement of Rodrigo Ribeiro from ninth.
Liuzzi had a 2.8 second gap over Toccacelo by the chequer with Lopez a lonely third. Once clear of Doornbos, Friesacher chased Giammaria to the flag but fell four tenths short, while van Hooydonk failed to catch Doornbos by a similar margin. Jan Heylen and Alan van der Merwe were the last cars not to be lapped.
Liuzzi is now six points clear of Toccacelo with Giammaria holding down third place in the championship with just over half of Liuzzi's 30 points. Lopez's podium result moves him into fourth in the championship as the series heads for the Nurburgring.
Result of International Formula 3000 Championship, Round 3 of 10, Monte Carlo, Monaco:


Pos  Driver                 Team
 1.  Vitantonio Liuzzi      Arden International Lola-Zytek
 2.  Enrico Toccacelo       BCN Competicion Lola-Zytek
 3.  Jose Maria Lopez       CMS Performance Lola-Zytek
 4.  Raffaele Giammaria     I.E. Engineering Lola-Zytek
 5.  Patrick Friesacher     Super Nova Racing Lola-Zytek
 6.  Robert Doornbos        Arden International Lola-Zytek
 7.  Jeffrey van Hooydonk   Coloni Motorsport Lola-Zytek
 8.  Jan Heylen             Team Astromega Lola-Zytek
 9.  Alan van der Merwe     Super Nova Racing Lola-Zytek
10.  Yannick Schroeder      Durango Formula Lola-Zytek

Standings: Vitantonio Liuzzi 30, Enrico Toccacelo 24, Raffaele Giammaria 16, Robert Doornbos, Patrick Friesacher and Jose Maria Lopez 9, Jeffrey van Hooydonk 5, Tomas Enge and Esteban Guerrieri 4, Yannick Schroeder and Mathias Lauda 2 etc
WRC
Gronholm Stripped Of Win And Championship Lead
Finland's Marcus Gronholm lost his Cyprus Rally win and World Championship lead on Wednesday after the governing FIA excluded his Peugeot on technical grounds. France's Sebastien Loeb, runner-up for champions Citroen in Limassol on May 16, was awarded the victory and took the overall lead.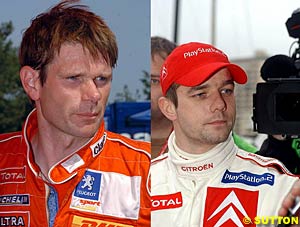 The International Automobile Federation (FIA) said in a statement that stewards had ruled at a meeting with Peugeot representatives in Paris that the water pumps on Gronholm's car did not conform to the technical regulations.
The Finn, twice World Champion, was excluded along with compatriot Harri Rovanpera who finished fifth for the team in Cyprus. The win would have been Peugeot's first with their new 307 car introduced this season.
Loeb's Citroen and that of Spaniard Carlos Sainz, despite sharing many parts with stablemates Peugeot, were found to conform to the rules.
Gronholm had won the Cyprus Rally, fifth round of the championship, by 54 seconds to take a one point lead over runner-up Loeb.
Under revised standings, Loeb now has 35 points with Ford's Estonian driver Markko Martin second on 34. Subaru's World Champion Petter Solberg of Norway is third with 28 while Gronholm is fourth with 24.
Ford will continue to lead the manufacturers' championship with 55 points to Citroen's 54 and Subaru's 40.
Peugeot were reminded of their right to appeal.
Revised result of World Rally Championship, Round 5 of 16, Cyprus Rally:

Pos  Driver/Co-driver                      Car
 1.  Sebastien Loeb/Daniel Elena           Citroen Xsara WRC
 2.  Markko Martin/Michael Park            Ford Focus RS WRC 04
 3.  Carlos Sainz/Marc Marti               Citroen Xsara WRC
 4.  Petter Solberg/Phillip Mills          Subaru Impreza WRC 2004
 5.  Mikko Hirvonen/Jarmo Lehtinen         Subaru Impreza WRC 2004
 6.  Janne Tuohino/Jukka Aho               Ford Focus RS WRC 02
 7.  Alistair Ginley/Rory Kennedy          Subaru Impreza WRC 99
 8.  Miguel Campos/Nuno Rodrigues da Silva Peugeot 206 WRC
 9.  Andreas Tsouloftas/Sawas Laos         Mitsubishi Lancer Evo VII
                                           (Group N)
10.  Kikis Koutsakos/Pambos Laos           Peugeot 306 GTI 6

Standings: Sebastien Loeb 35, Markko Martin 34, Petter Solberg 28, Marcus Gronholm 24, Carlos Sainz 19, Francois Duval 14, Mikko Hirvonen 10, Janne Tuohino 8, Harri Rovanpera, Freddy Loix and Gilles Panizzi 4 etc.
Manufacturers: Ford 55, Citroen 54, Subaru 40, Peugeot 33, Mitsubishi 5
Report provided by Reuters
NASCAR
Kenseth Cashes In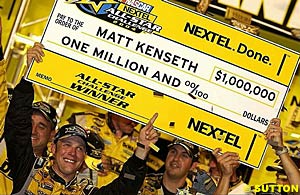 Matt Kenseth isn't known as the best qualifier in the business. So when he qualified third fastest for the Nextel All-Star Challenge it should have been a warning, even if his super-fast pit crew did help him to set the time. He was strong throughout the whole night and proved too strong in the end for Ryan Newman despite Newman's super effort in the final segment on older tyres than anyone else in the field. As usual there were plenty of spills and thrills, and possibly one dill.
Sterling Marlin won the Nextel Open to get into the feature after passing teammate Jamie McMurray in the closing laps and avoiding a multi-car crash at the very start of the event. Ken Schrader was the driver with the most votes in the fan poll still on the lead lap, though Kerry Earnhardt, veteran of two Nextel Cup starts would have gone through had he not suffered major damage in that first lap crash.
The Nextel All-Star Challenge field comprised of 24 cars, made up of winners in the 2002 and 2003 Nextel (nee Winston) Cup seasons, recent Nextel All-Star Challenge (formerly The Winston) winners and previous Nextel Cup champions, with these drivers taking a qualifying run which included a pit stop to determine starting positions, with Sterling Marlin, winner of the Nextel Open and Ken Schrader starting at the back. The Nextel All-Star Challenge itself was again a three segment race: a 40 lap race with a compulsory four tyre stop under green flag conditions; a 30 lap segment; and a 20 lap green flag sprint to determine the winner of the Nextel All-Star Challenge.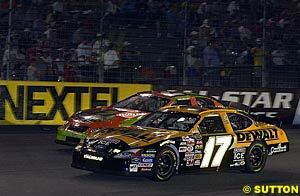 Each restart during the night was double file, with first and second on the front row, third and fourth on the next row etc. down the field. Between segment one and two there was a short break during which race teams were able to do limited work on their car, while the break between segment two and three was more like a caution period. Oh, and the lucky TV crew expert to be drawn out of a lottery determines how many places in the second segment would be reversed before it began, the choices being six, eight ten or twelve. Unlike recent years, the whole field progressed through each segment, with no cars being forcibly eliminated.
Rusty Wallace and teammate Ryan Newman started on the front row for the first segment, with Wallace taking the early lead. But it wasn't long before a caution flew on lap six when Ricky Craven backed into the turn two wall. About half the field made stops under the yellow. The race restarted on lap 10, with Newman taking the lead. However it was back to caution two laps later thanks to Kurt Busch. For some reason Busch thought it would be a good idea to bump draft teammate Greg Biffle down the front straight.
Except that the front straight isn't straight, being a tri-oval, and so Busch sent Biffle into a spin, and himself down into Jimmie Johnson. By the time the incident was over, Jeff Gordon, Robby Gordon, Sterling Marlin, Joe Nemechek, Ken Schrader, Kevin Harvick, Kasey Kahne, Michael Waltrip and Bobby Labonte had also become involved with varied levels of damage. With so many cars damaged the race was red flagged for 15 mins to allow teams to make repairs.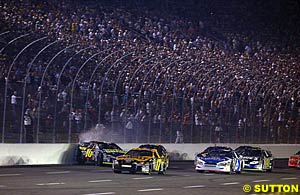 Despite that extra time, Nemechek, Harvick, Marlin, Biffle, Busch and Robby Gordon decided to end their night at the point, their cars too damaged to be competitive. Johnson and Jeff Gordon restarted at the tail of the field as racing resumed on lap 16, Stewart grabbing the lead while Gordon, Johnson and Brian Vickers made their green flag pit stops at the end of the lap. This triggered most of the other cars to pit over the next few laps, Stewart pitting on lap 19 to hand the lead to Newman until he pitted on lap 25, Dale Earnhardt Jr leading for three laps before he came in.
After all the stops were over Tony Stewart regained the lead from Matt Kenseth, Mark Martin, Rusty Wallace and Jimmie Johnson. Kenseth closed on Stewart over the closing laps but was unable to pass. At the end of the segment the winner of the lottery was Larry McReynolds, who had chosen to invert the top eight finishers. This move Stewart and Kenseth to eighth and seventh respectively while Waltrip and Terry Labonte would now be on the front row.
At the start of the second segment Terry Labonte took the lead but lap three saw a caution as Dale Jarrett spun coming off turn four after bouncing off Tony Stewart. A few cars pitted but most of the field stayed out. The race went back to green on lap eight with Ryan Newman taking the lead, Dale Earnhardt Jr close behind. Lap 17 saw the caution out again as Jimmie Johnson spun off turn four all by himself, his wounded car catching him out. This time the whole field pitted except for Newman and Stewart.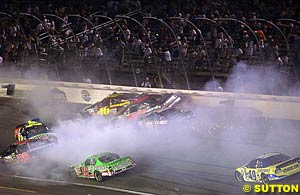 The racing resumed on lap 22 with Newman leading Stewart, Earnhardt Jr quickly making his way back to third place. As the laps wound down Kenseth made a charge, ending with him taking third place from Earnhardt Jr on the final lap of the segment, the top five at the end of segment two being Newman, Stewart, Kenseth, Earnhardt Jr and Waltrip. With the chance to make stops before segment three everyone came in... that is everyone except leader Newman, leaving him somewhat of a sitting duck for the final segment.
Of those that did pit Elliott Sadler took two tyres to move up to second, with Kenseth, Stewart and Wallace taking four tyres to complete the top five behind Newman. At the start of the final 20 lap segment Newman kept the lead as Kenseth and Earnhardt Jr quickly moved up to join Newman in a three car breakaway, Kenseth putting strong pressure on Newman. This saw the leading duo of Newman and Kenseth run side by side on lap five before Newman retook the lead, these two eventually breaking free of Earnhardt Jr.
Lap thirteen saw Newman and Kenseth side by side again, Newman holding on again despite his 'sitting duck' status with his old tyres. On lap seventeen Kenseth got close to the back of Newman and got him aero loose off turn four, the slide allowing Kenseth to sneak past Newman, a lead he held all the way to the chequers to take his first Nextel All-Star Challenge win, with Ryan Newman second, Tony Stewart third and DEI teammates Michael Waltrip fourth and 2003 winner Dale Earnhardt Jr fifth.
Result of NASCAR Nextel All-Star Challenge, Charlotte Motor Speedway, North Carolina, United States:

Pos  Driver              Car
 1.  Matt Kenseth        Ford Taurus
 2.  Ryan Newman         Dodge Intrepid
 3.  Tony Stewart        Chevrolet Monte Carlo
 4.  Michael Waltrip     Chevrolet Monte Carlo
 5.  Dale Earnhardt Jr   Chevrolet Monte Carlo
 6.  Jeff Gordon         Chevrolet Monte Carlo
 7.  Kasey Kahne         Dodge Intrepid
 8.  Elliott Sadler      Ford Taurus
 9.  Rusty Wallace       Dodge Intrepid
10.  Mark Martin         Ford Taurus

OWRS
NHR Dominate Mexico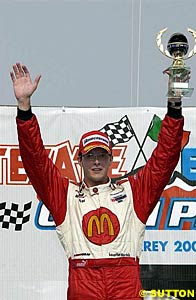 Having answered the critics at Long Beach with their continued existence, OWRS now had to consolidate, but with a month's gap between events, a lot of momentum has been lost. While it might not have impressed some in the US, Mexicans turned out in their thousands to see Frenchman Sebastien Bourdais lead his Brazilian Newman/Haas Racing teammate Bruno Junqueira home for an impressive 1-2 victory at the Fundidora Park facility in Monterrey. The massive crowd did have a hero to cheer for in Mario Dominguez who brought his Herdez Competicion Lola home in third place.
Bourdais dominated qualifying leading both sessions with Dominguez starting alongside. Justin Wilson was quick in only his second event in the series, and his first time on the relatively new Mexican circuit, to be third ahead of Junqueira.
Bourdais led Dominguez over the start line and towards the first corner, while Wilson, inexperienced at rolling starts was jumped by Junqueira to put both NHR cars into the top three with Tracy moving up to challenge the British driver.
Dominguez tossed it away on only the second lap at the middle of the first two turns, falling to the tail of the field, and briefly bringing out the yellows. Nelson Philippe and Tarso Marques both caused short yellows, but it turned ugly for Marques when getting a bump start to resume the race. Having let go of the tow rope at the wrong moment the rope wrapped itself around the suspension arms at the front of the car, snapping the suspension, and ending Marques's race.
On lap 17 Rodolfo Lavin made the first pitstop with Dominguez pitting a lap later, and both getting a boost when Philippe and Gonzalez clash, with Mario Haberfeld ensnared as an innocent bystander. Just after the restart an engine fire put out AJ Allmendinger.
Tracy finally passed Wilson for third position after 29 laps of close racing, but the leaders were soon pitting, putting the three early stoppers in Patrick Carpentier, Dominguez and Lavin at the front of the field. The two NHR Lolas were soon operating together, hunting down Lavin while Dominguez chased Carpentier.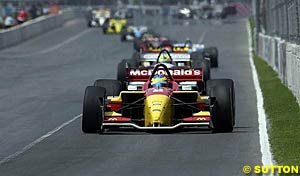 Just past halfway and Servia smacked the wall in turn 11 and the yellows were out again. Jourdain, Caprentier and Dominguez pit over the next few laps as the Newman Haas team, now led by Junqueira return to the front of the field. Junquiera pitted on lap 52 for the run to the finish. With Bourdais pitting a lap later, Carpentier got the chance to lead briefly until his stop, then handing the lead to Wilson.
A better stop for Bourdais put him back in front of Junqueira and when Wilson stopped on lap 56 for a slightly shoddy stop, Bourdais returned to the lead. From there, Bourdais raced on to vicory from Junqueira, Dominguez, Carpentier and Tagliani.
Bourdais now leads the series by five points ahead of teammate Bruno Junqueira, as 62 plays 57 points. Tracy's uneventful seventh position leaves him third in the championship, just a point ahead of Carpentier, and two ahead of Dominguez.
Result of Champ Car World Series, Round 2 of 14, Fundidora Park, Mexico:

Pos  Driver               Car
 1.  Sebastien Bourdais   Newman Haas Racing Lola-Ford
 2.  Bruno Junqueira      Newman Haas Racing Lola-Ford
 3.  Mario Dominguez      Herdez Competition Lola-Ford
 4.  Patrick Carpentier   Forsythe Championship Racing Lola-Ford
 5.  Alex Tagliani        Rocketsports Racing Lola-Ford
 6.  Justin Wilson        Mi-Jack Conquest Racing Lola-Ford
 7.  Paul Tracy           Forsythe Championship Racing Lola-Ford
 8.  Ryan Hunter-Reay     Herdez Competition Lola-Ford
 9.  Roberto Gonzalez     PKV Racing Lola-Ford
10.  Nelson Philippe      Rocketsports Racing Lola-Ford

Standings: Sebastien Bourdais 62, Bruno Junqueira 57, Paul Tracy 49, Patrick Carpentier 48, Mario Dominguez 47, Justin Wilson 40, Alex Tagliani 38, Ryan Hunter-Reay 32, Roberto Gonzalez and Michel Jourdain Jr 20 etc
V8 Supercar
Todd Kelly's Hidden Valley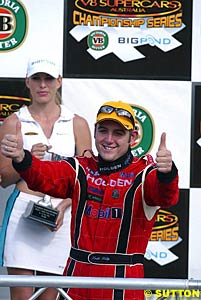 After proclaiming during the preceding week that HRT would struggle at Hidden Valley, Todd Kelly's win must have come as a surprise to himself. A front row start from the shootout, a win and two second places aren't bad results when you are doing well, let alone when you are struggling. Consistent results for Steven Richards and Greg Murphy, a race two blemish for Marcos Ambrose and a race three disaster for Rick Kelly has seen Richards take the points lead back from Ambrose, Richards now ten points ahead, with Murphy 29 behind Ambrose and Rick Kelly a further 21 points behind.
There were three races at Hidden Valley, the first race a 50 km event held on Saturday with the other two 100 km long races held on the Sunday, the second and third races featuring a compulsory stop for tyres. The shootout for pole saw Mark Skaife take pole position ahead of teammate Todd Kelly, followed by Jason Bright and Marcos Ambrose.
At the start of race one Skaife led from Todd Kelly, Bright, Ambrose and Russell Ingall until lap nine saw Todd Kelly lose three places to Bright, Ambrose and Ingall at the hairpin after the two HRT cars battled side by side, the top five remaining closely bunched as they had been all race long. With three laps remaining Bright locked his brakes at the final corner and ran wide, allowing Ambrose, Ingall and Todd Kelly to sweep through. But there was still more to come. On the final lap at the same turn, Ambrose saw an opportunity and dived up the inside. The cars made contact as Skaife turned in with Ambrose fully alongside, Skaife ending up off track while Ambrose stayed on track but lost momentum, allowing Ambrose's teammate Ingall to sneak through for the win with Skaife's teammate Todd Kelly taking second, Ambrose in third while Skaife limped to fourteenth.
Race two began with more drama at the front, as Ambrose and Bright on row two got better starts than Ingall and Todd Kelly on the front row, the second duo closing in on those in front as they ran to turn one. At the same time, Bright continued to move Ambrose closer and closer to the wall. All this ended in the braking area with Ambrose being squeezed out from behind Ingall and spinning Ingall around. This saw Ambrose lead from Bright, who had right front damage after hitting the back of Todd Kelly who was fourth, Steven Richards moving up to third as Ingall dropped down to 27th. Meanwhile Max Wilson was already out after a front suspension failure on the formation lap.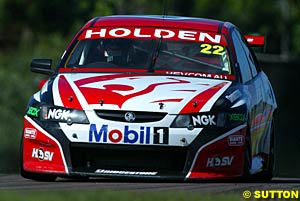 Bright's damage was holding the rest of the field up as Ambrose skipped away. Most of the field were quickly in for their compulsory tyre stops, Richards, Rick Kelly and Ingall on lap three with Kelly passing Richards in the stop while Todd Kelly took Bright for second on track on lap five, Bright pitting at the end of the lap, losing more time as the crew tried to fix the damage. Lap seven saw Todd Kelly pit while one lap later Ambrose was in. Despite building an early lead, Ambrose came out behind Rick and Todd Kelly and Richards. Things got worse when Ambrose received a drivethrough penalty for losing a wheel (one of the ones that had come off the car) in the pitstop, dropping him to 29th, coming back out just in front of Bright!
When all the cars had made their stops Rick Kelly led from his brother Todd with Richards in third, Greg Murphy fourth and Craig Lowndes fifth. The two Kellys were close together but Todd was unable to get close enough to make a move, Richards joining them as the laps wound down. Further back in the field there had been contact between Garth Tander and Paul Radisich at the hairpin. Tander was passing Radisich, and on the exit went to use all the road, hoping Radisich would give way but he didn't, both cars going for a spin. In the closing laps Lowndes caught Murphy but as with the trio ahead, the order didn't change, Rick Kelly beating Todd Kelly, with Richards, Murphy and Lowndes completing the top five. Ingall recovered to eleventh despite a run off the track while Ambrose made it to 13th.
The start of race three by comparison to race two was relatively calm, with Rick Kelly leading brother Todd, Richards third and Murphy fourth, though Lowndes had almost stalled and ended lap one in 26th place, while Tander made up five to ten positions by taking the outside line into and around the hairpin! The leading four began to break away before the pit stop flurry began again, Todd Kelly and Ambrose pitting on lap three, Rick Kelly, Richards and Ingall on lap four, Murphy on lap five. Lap four had also seen Glenn Seton and Paul Radisich pit, contact occurring between them as Radisich exited his stop and Seton entered his, Seton suffering very minor damage to his left rear.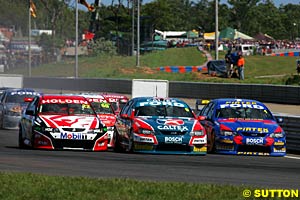 These stops had seen both Todd Kelly and Murphy move ahead of Rick Kelly, with Richards and Ambrose next in line. Jason Bright was yet to pit though, as he cranked out fast lap after fast lap to recover from his poor starting position. Lap six saw more drama exiting the hairpin, as Warren Luff and Craig Baird made contact. Luff had just been passed by Seton at the left handed hairpin, and Baird tried to follow past. The only problem was the next corner was a right hander, and so Baird was going to be on the outside. Luff kept closing the door as he went to take the racing line, while Baird kept trying to keep the door open, aiming for the same point on the track on entry. Eventually the two paths crossed and Luff was spat off the track, in scenes reminiscent of Eastern Creek last season, Baird was lucky to be as much as halfway alongside Luff's car. However Luff only lost two places as he was already near the tail of the field.
The front runners who had pitted remained close together as ten laps were completed but Bright was still out there, opening a gap, fifteen laps and still he went, the only car yet to pit. Meanwhile Radisich received a drivethrough for his minor contact with Seton in the pits. At the last corner on lap 15 Rick Kelly ran wide, allowing Richards to get alongside on the exit, Ambrose just behind. Richards and Kelly went door handle to door handle down the straight, but Richards made it through under brakes, Ambrose following through as Kelly ran wide and almost allowed Ingall to make it past as well.
Finally on lap 22 Bright made his stop, and with his fast lappery he was in with a chance of maybe maintaining the lead, or probably a top five at worst. Unfortunately he had a problem with a wheel nut, losing about 15 seconds in the process, resuming his race in twelfth place. Elsewhere on lap 22 Richards moved past Murphy after he ran wide in the right hander before the hairpin. Just as he resumed the safety car came out for Paul Weel's car, which was stopped in the run off at the end of the long main straight, which bunched the field back up and gave a chance for drivers to make some moves in the closing laps.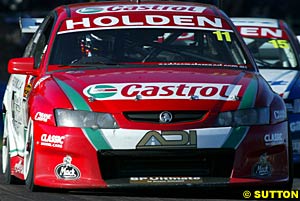 The race went back to green on lap 27, the order being Todd Kelly, Steven Richards, Greg Murphy, Marcos Ambrose, Rick Kelly and Russell Ingall. Ambrose took third on lap 29 when Murphy ran wide on entry after locking a brake, Murphy only losing one place, while Ambrose's teammate Ingall moved ahead of Murphy's teammate Rick Kelly when Kelly ran off into the grass, dropping himself from fifth to sixteenth. At the front Richards was harassing Todd Kelly for the lead, while Ingall did the same to Murphy for fourth, while Ambrose sat just behind the middle watching what was going on. Lap 32 saw Kelly run off the road again, this time at the right hander before the hairpin, dropping him down further to 22nd.
On lap 33, three laps to go, Ingall got his nose ahead of Murphy after Murphy went too deep into the right hander again, but Murphy was able to hold on to fourth place as he was on the inside for the following hairpin. Two laps to go and Ambrose was with the leading duo, hoping for any opportunity to make a last minute move. His arrival saw Richards lose touch with Kelly. Ambrose thought about making the same move as he did in race one but Richards made sure he couldn't. However, because Richards went so deep under brakes he ran a little wide in the middle of the corner, giving Ambrose a run as they came onto the straight. As Kelly went on to take the win, Ambrose began to claw back the gap as they headed to the start/finish line. By the time he got there, he had nosed in front, Ambrose taking second from Richards, with Murphy fourth and Ingall in fifth.
Result of V8 Supercar Championship Series, Round 4 of 13, Hidden Valley, Australia:

Race One

Pos  Driver                   Car
 1.  Russell Ingall           Ford Falcon BA
 2.  Todd Kelly               Holden Commodore VY
 3.  Marcos Ambrose           Ford Falcon BA
 4.  Jason Bright             Holden Commodore VY
 5.  Steven Richards          Holden Commodore VY
 6.  Rick Kelly               Holden Commodore VY
 7.  Jason Bargwanna          Ford Falcon BA
 8.  John Bowe                Ford Falcon BA
 9.  Paul Radisich            Ford Falcon BA
10.  Max Wilson               Ford Falcon BA

Race Two

Pos  Driver                   Car
 1.  Rick Kelly               Holden Commodore VY
 2.  Todd Kelly               Holden Commodore VY
 3.  Steven Richards          Holden Commodore VY
 4.  Greg Murphy              Holden Commodore VY
 5.  Craig Lowndes            Ford Falcon BA
 6.  John Bowe                Ford Falcon BA
 7.  Jason Bargwanna          Ford Falcon BA
 8.  Paul Weel                Holden Commodore VY
 9.  Mark Skaife              Holden Commodore VY
10.  Mark Winterbottom        Ford Falcon BA

Race Three

Pos  Driver                   Car
 1.  Todd Kelly               Holden Commodore VY
 2.  Marcos Ambrose           Ford Falcon BA
 3.  Steven Richards          Holden Commodore VY
 4.  Greg Murphy              Holden Commodore VY
 5.  Russell Ingall           Ford Falcon BA
 6.  John Bowe                Ford Falcon BA
 7.  Mark Skaife              Holden Commodore VY
 8.  Garth Tander             Holden Commodore VY
 9.  Craig Lowndes            Ford Falcon BA
10.  Jason Bright             Holden Commodore VY

Standings: Steven Richards 704, Marcos Ambrose 694, Greg Murphy 665, Rick Kelly 644, Jason Bright 593, Russell Ingall 514, John Bowe 484, Todd Kelly 457, Jason Bargwanna 438, Garth Tander 434 etc.
Upcoming Events Calendar
May 28 - Asia Pacific Rally Championship, Round 2 of 6, Rallye de Nouvelle-Cale'donie, New Caledonia, New Caledonia
May 29 - International Formula 3000 Championship, Round 4 of 10, Nurburgring, Germany
May 29 - European Formula 3 Championship, Round 3 of 9, Pau Street Circuit, France
May 30 - Indianapolis 500, Indy Racing League, Round 4 of 16, Indianapolis Motor Speedway, Indiana, United States
May 30 - NASCAR Nextel Cup, Round 12 of 36, Charlotte Motor Speedway, North Carolina, United States
May 30 - FIA GT Championship, Round 5 of 11, Brno, Czech Republic
May 30 - European Touring Car Championship, Round 5 of 11, Brno, Czech Republic
May 30 - European Formula 3000 Championship, Round 2, Estoril, Portugal
May 30 - World Superbike Championship, Round 5 of 11, Oschersleben, Germany
May 31 - British Formula 3 Championship, Rounds 9 & 10 of 24, Snetterton, Great Britain
June 4 - World Rally Championship, Round 6 of 16, Acropolis Rally, Greece
June 5 - Champ Car World Series, Round 3 of 14, The Milwaukee Mile, Wisconsin, United States
June 6 - World Motorcycle Championship, Round 4 of 16, Mugello, Italy
June 6 - NASCAR Nextel Cup, Round 13 of 36, Dover Downs International Speedway, Delaware, United States
June 6 - Le Mans Endurance Series, Round 2 of 4, Nurburgring 1000, Germany
June 6 - Deutsche Tourenwagen Masters, Round 4 of 10, Lausitzring, Germany
June 6 - European Formula 3 Championship, Round 4 of 9, Lausitzring, Germany
June 6 - All-Japan Formula Nippon Series, Round 3 of 9, Motegi, Japan
June 6 - European Formula 3000 Championship, Round 3 of 10, Jerez, Spain
June 12 - Le Mans 24 Hours, Le Mans, France
June 12 - Indy Racing League, Round 5 of 16, Texas Motor Speedway, Texas, United States
June 13 - World Motorcycle Championship, Round 5 of 16, Catalunya, Spain
June 13 - NASCAR Nextel Cup, Round 14 of 36, Pocono Raceway, Pennsylvania, United States
June 13 - V8 Supercar Championship Series, Round 5 of 13, Barbagallo Raceway, Australia
June 13 - British Touring Car Championship, Round 5 of 10, Mondello Park, Northern Ireland, Great Britain
June 13 - World Superbike Championship, Round 6 of 13, Silverstone, Great Britain
---
© 1995-2005 Kaizar.Com, Inc. . This service is provided under the Atlas F1
terms and conditions
.
Please
Contact Us
for permission to republish this or any other material from Atlas F1.