Road Test: Astra is New Star
Mention the word Astra to me and the last thing I picture in my mind is a desirable car.
The old Vauxhall Astra was worthy but dull, competent but unexciting. If it were a pupil in school it would not fail any subject but wouldn't get anything higher than Grade C.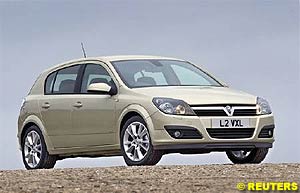 Well it may not be as classy as a VW Golf, nor as fun to drive as a Ford Focus, but Vauxhall's all-new Astra comes amazingly close to being a star pupil. In fact it may even be the best all-rounder in this market segment. Certainly this fresh-looking hatchback has a feel-good factor about it that the old Astra never dreamed of.
Coming so close behind the launch of VW's all-new MkV, Vauxhall's new MkV Astra inevitably draws close comparisons. Like the Golf, it's a bigger car than before. Again, like the Golf, it comes loaded with safety gear and luxury equipment. And it's far more fun to drive than before.
Its chunky, fresh looks draw on Vauxhall's plush Vectra and Signum and from just about every angle its proportions succeed in looking harmonious. The only styling gimmick is a 'fold' that runs right the way down the centre of the car from front to back, even inside the cabin. The interior is one area where any Astra driver will notice an immense improvement: quality is way up and the design is refreshing, especially the clear, elegant centre console and circular dials.
Sixes and Sevens
From launch, the new range is available in a choice of six engines and seven trim levels. There are four petrol engines - a 1.4 (90bhp), 1.6 (105bhp), 1.8 (125bhp) and 2.0 Turbo (170bhp). If you want diesel, there are two 1.7 CDTi turbodiesels with 80bhp and 100bhp, while a hot 150bhp 1.9 CDTi arrives later this year. The most popular choices in the market will be the 1.6 petrol and 100bhp 1.7 CDTi. Not only are the engines more powerful than most equivalent Golf units, the range also undercuts the Golf on price, starting with the 1.4 Expression at £10,995 and spanning Life, Club, Design, Elite, SXi and SRi badges.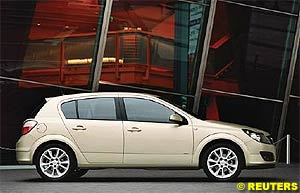 All models include central locking, ABS, side airbags and electric windows as standard, while the Club gets curtain airbags, alloy wheels and air conditioning. The Design adds half-leather sports seats, rain sensor and a trip computer. The range-topping Elite gets a full leather interior, climate control and electric folding mirrors. At 350 litres (or 1270 litres with all seats folded), luggage space is also up, although it still doesn't match the new Golf.
Rewarding Drive
Vauxhall claims the driving experience is now "truly rewarding." You can't deny Vauxhall has tried very hard, tailoring each model's suspension to suit each individual engine. That approach has got results, for the Astra now holds the road extremely well, handling with great assurance. Electro-hydraulic steering delivers sharp steering response. There's even an optional £500 sports chassis package, unfortunately named IDS Plus, that musters the combined talents of ESP, traction control, ABS and continuous damping systems to deliver a very safe, more sporty feel. Whether enthusiasts, the only people likely to order this option, will ever be attracted to the Astra is a more vexed question.
If you can afford the 2.0 T and 1.9 CDTi engine, you'll get a superb six-speed manual gearbox offering great ratios and clean changes. However the five-speed 'box that is fitted to almost all Astra models is much less satisfying, with a rather imprecise feel between ratios if you hurry changes. As for the ride quality, it's reasonable but nothing special.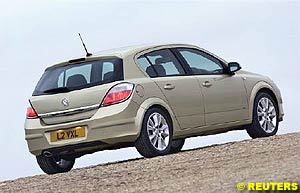 Unless you absolutely have to have a diesel, go for one of the petrol engines. Even the 1.4 and 1.6 are pretty lusty and certainly economical. In contrast, the 1.7 CDTi is frankly too unrefined for the 21st century. If you must own a diesel, wait for the 1.9 CDTi which, with 150bhp, is a 50mpg diesel GTI with very strong performance - 0-60mph in 8.6 seconds. Only the 2.0 Turbo beats it on paper, but somehow the 2.0T conspires to feel really not very sporty.
So here's the rub: for all its competent handling, the one thing the Astra doesn't do is excite. It doesn't have the handling or steering fun of a Focus or Mazda3 and it doesn't match the quality feel of the VW Golf. And for all its smart design, it remains remarkably average in feel.
No, the new Astra doesn't yet beat the Golf. While it is stylish, has an attractively designed cabin, a very competent chassis, some strong engine choices and keen pricing, it doesn't have that unique spark of appeal, that oomph to elevate it from being company car fodder to something truly desirable. Is it just a case of the wrong badge? Perhaps, but Vauxhall is clearly going in the right direction.

Renault Gears Up for Modus Launch
French carmaker Renault has the capacity to build 300,000 of its new Modus models per year as it revamps its product range to boost profit margins this year and beyond, Chairman Louis Schweitzer has said.
The Modus -- a roomier version of the Clio -- will be launched in September. The firm expects its factory at Valladolid in Spain to run at full capacity, churning out some 1,350 cars per day as it battles to maintain sales in an increasingly cut-throat western European market.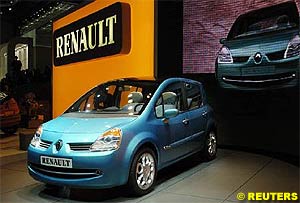 Schweitzer told reporters during a visit to the factory last week that while production of the mini multi-purpose vehicle (MPV) would hit 300,000, he could not give a firm sales forecast.
"This figure shows Renault's ambitions for the Modus," Schweitzer told a news conference at the site near Madrid. "I have said production capacity is 300,000 but giving a sales target with a new model is always difficult to do."
Schweitzer said new models like the Modus plus the re-vamped Clio and Twingo small cars would help Europe's fourth biggest carmaker boost its operating margin this year and beyond.
"We are in line with our target of having a model line-up that is among the youngest in Europe with an average age of between three and 3.5 years," Schweitzer said. "The aim is to progress in terms of operating margin in 2004 and beyond thanks to the renewal of the range."
Key Platform
The Modus shares a platform with the Micra -- the top-selling small car made in Britain by the French firm's Japanese partner Nissan. Its launch marks the first time both firms have used the so-called platform B, which will also serve as the basis for the plain-vanilla Clio, due in showrooms next year.
Like other European carmakers, Renault is under pressure to launch models in new segments to maintain sales in a competitive market.
The Modus is the company's first mini MPV, and while the firm is counting on it to boost sales and profits, Schweitzer also conceded it could steal market share from the company's other cars -- particularly the Clio and Twingo.
"Of course there will be some cannibalisation, but that will be limited," he said.
Jesus Morentin, head of production at Renault Spain, noted the car was the first of Renault's models to be made entirely outside France.
"The Modus-- the first Renault model entirely 'made in Spain' will contribute to the group's target of selling four million vehicles by 2010," he said.
Renault invested some 540 million euros (364 million pounds) in the Modus. It spent 300 million on modernising the Valladolid plant, and paid suppliers 240 million euros to make new parts. The Spanish site currently makes the Clio, although this will stop in July, after which it will be dedicated to the Modus. Production of the Clio will switch to two other Renault sites in Europe.